These letters graciously have been shared with the Victorian Web by Eunice and Ron Shanahan; they have been taken from their website. The letters give an insight into the daily lives and concerns of 'ordinary' people without whom history would not exist. The letters are a wonderful example of how much history may be gleaned from such sources.
The first letter is dated April 12th, 1824, and addressed to Wm Phillips Esq 23 Cavendish Square London, from T Hensman, 7 Dowry Square Hot Wells. It has four postal markings: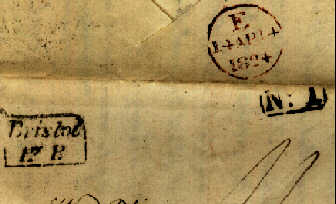 a boxed two-line Bristol Py.P in black — in use from 1822 — 1828
a boxed No.1 stamp of Bristol Penny Post Receiving Office — ÎHot Wellsâ. This was originally at the New Inn, Dowry Square, Hotwells, so Mr Hensman would not have had to go far to put his letter in the post]
a manuscript charge mark 11 — to show the amount of postage to be collected from the addressee and finally
a red circular morning duty date stamp 14 April, 1824, applied by the Inland Office in the London General Post . This has the date on either side of the month and was in use there from 1810 to 1840.
The letter is a short note to explain some financial dealings, but it has a P.S. that says " I find I am too late for Post today, that must detayn this till tomorrow".
The second letter is dated Sepr 16th, 1824 from Harriet Whish, 13 Crescent, Clifton addressed to W.G. Daniel Tysson,
Esqre, Foley House, MAIDSTONE, Kent. Three of the postmarks are of the same type as the previous letter.
Boxed Bristol Penny Post, manuscript charge mark of 11d and
a circular London General Post morning duty stamp in red for transfer to Kent, but this one is dated 17 September 1824.
The Receiving office stamp however, is a boxed No.2. This was allocated to the Clifton Receiving Office.
---
3 December 2002