These letters graciously have been shared with the Victorian Web by Eunice and Ron Shanahan; they have been taken from their website. The letters give an insight into the daily lives and concerns of 'ordinary' people without whom history would not exist. The letters are a wonderful example of how much history may be gleaned from such sources.
This letter is written by Polly Massingberd on 20 October 1717. It is hard to believe it is more than 270 years old, as it is so clearly legible. It is marked ĪPost Pd.ā But there are no other postal markings, and there is no indication of where it was posted.
The address is typical of that time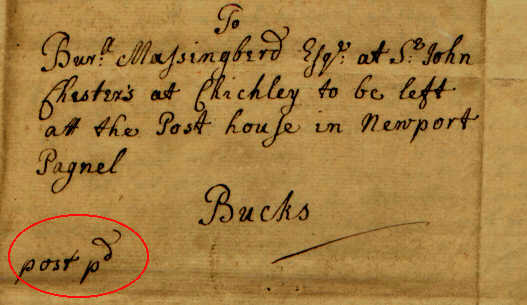 To
Burll. Massingberd Esqre at Sr. John
Chesterās at Chichley to be left
at the Post Houfe in Newport
Pagnel
Bucks.
---
3 December 2002