This letter was written by Euphemia Drummond of Brighton, Sussex on 22 March 1827 — and this town has a history with Royal connections. Brighthelmstone was a little fishing village in Sussex, but when sea bathing was thought to be of benefit it grew in popularity, particularly with the Prince Regent — later King George IV. He made it almost his second home, but decided that the name was too cumbersome, so suggested it be shortened to Brighton. He commissioned John Nash to build houses for him down there, and finally between 1815 and 1822 had the costly and extravagant Royal Pavilion built for his pleasure. It met with ridicule, and condemnation for the expense, but where the 'court' went, the rest of society followed. This ensured the growth and development of Brighton and as a result there was a marked increase in traffic, and the road was kept in good repair.
The letter was written to Euphemia's brother John Drummond of 26 Smith St Chelsea (which was off the Kings Road).
Postal Markings

Incompletely struck dated Mileage mark BRIGHTON 58. Mileages for postal charges were based on John Cary's survey of the roads which was published in 1802 — but as the roads were improved or the routes changed the mileages were amended. Cary's list of 1802 shows Brighthelmstone as 60 miles from London, but the list in the 1826 Pigot's shows the distance to Brighton as 55 miles, as it also notes that this coach goes via the New Road, that could explain it.

London General Post arrival datestamp in red — morning duty stamp, 24 Mar 1827 with the day either side of the month and the year in a straight line.
London transfer stamp applied at the Chief Office of the London Penny Post (month before day) before being sent out for delivery.
The charge mark '8' is the correct rate in force from 1812-1839 for distance between 50 and 80 miles, but this does not include delivery charge which should have been applied as it was delivered through the Twopenny Post.
Chelsea was, at that time, in the Country area of the London post, and a map of 1826 shows that it was really 'out in the sticks' with only about 10 streets then developed. The delivery from the TwoPenny Post would have been the afternoon of the 24th.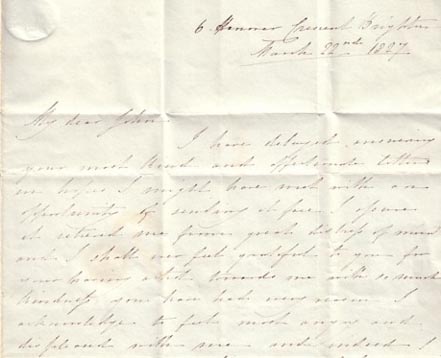 Because this letter was written was before the introduction of the use of the envelope, the letter was sealed with black wax impressed with a very clear seal with the letters HUSH at the bottom. The figure looks like a winged angel carrying what may be a lantern . It is very difficult to reproduce a clear image from this seal.
The Letter
The letter begins with a sentence that gives an idea as to why there was such an appeal for the reduction in the postage rate, as she did not want to pay the 8 pence, but as she could not get a Free Frank, her brother would have had to pay the 8 pence when he received it.
6 Hanover Crescent Brighton March 22nd 1827
My Dear John,
I have delayed answering your most kind and affectionate letter in hopes I might have met with an opportunity of sending it free. I assure (you?) it relieved me from great distress of mind and I shall ever feel grateful to you for your having acted towards me with so much kindness. You have had every reason I acknowledge to feel most angry and displeased with me, and indeed I quite dreaded meeting you, but your last kind letter has taken the fears from my mind — As I now know you will act with friendship and kindness towards me I will not now think of concealing any thing from you.
I have not heard from Mr Jessopp till the day before yesterday he only wrote to know if I had received an answer from William as he requested me to answer it immediately. I have done so, telling him that I have not heard from William — and as I have promised to wait for his answer I must remain as I am till then. I was sorry I could not write to you when Betsy & George were here, but I was so much occupied with them that I had not time.
I shall now see you very soon as Miss Worthington has had a letter about her house in Piccadilly which obliges her to go to town immediately, we propose starting on Sunday morning about twelve and I shall be with you in the evening. I shall be most happy to accept your kind invitation but you must not feel angry with me when I tell you I expect you will allow me to pay my share towards the housekeeping, your family so large and your expenses so great that I hope you will allow me to do so.
The next paragraph gives information that can be readily checked from old directories, and is another of the reasons I find these old letters so interesting.
I have just taken our places in the Coach2 that starts from this place at eleven oclock on Sunday morning, they tell us we are to be at the White Bear in Piccadilly at half past five, there will not be the least necessity for your coming into town to meet me, as we shall take a coach from there, and I shall first go to No 9 Queen Street with Miss W., and then come on to Smith St — we shall dine on the road.
Give my kind love to Elizabeth and <Nisse?> and accept the same from your affectionate sister
Euphemia Drummond.
A previous owner has added pencilled notes, giving information about the writer and the addressee: Euphemia Drummond — John Drummond her brother
Euphemia Drummond was my grandfather's sister married Mr Joseph Jessopp of Waltham Abbey Essex, Solicitor. She was aunt to my aunt Effie / Mrs Robertson.....F.D.
I could not find any reference to John Drummond in the Pigot's directory, so he did not fit into the categories of tradesmen listed. On the other hand, an entry in the directory had to be paid for, and from the reference to the large family, and the great expenses, maybe he could not afford it. The Mr. Jessop referred to in the letter is presumably the man Euphemia married.
---
Last modified 25 May 2010