[Eunice and Ron Shanahan have shared with readers of the Victorian Web this material from their website, Letters from the Past. Click on thumbnails for larger images.]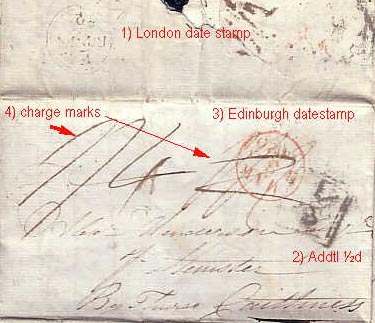 London evening duty date stamp, a faint impression of the double ring with date in the centre circle 29 Feb 1820, (it was a leap year, and 29 February was a Tuesday )
London Additional 1/2d mark type H&S Fig 135(which is a1/2 in a frame), listed as being in use from 8th Feb 1817 to 29/9/1823.
Edinburgh morning duty 3-line date stamp with B M on either side of Mar 3 1820.
manuscript charge marks, 1/1, crossed out and replaced with 1/4. This was the cost for sending a single letter between 600 and 700 miles, the 1/1 is for a distance of between 300 and 400 (Edinburgh is 396), but according to the mileage list, Thurso is actually 775 miles, so the cost SHOULD have been amended to 1/5.
Related Material
---
8 December 2004<! -- #EndDate -- >