These letters graciously have been shared with the Victorian Web by Eunice and Ron Shanahan; they have been taken from their website. The letters give an insight into the daily lives and concerns of 'ordinary' people without whom history would not exist. The letters are a wonderful example of how much history may be gleaned from such sources.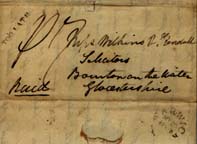 [Click on the thumbnail for a larger image.]
This letter was addressed to Messrs Wilkins & Kendall, Solicitors Bourton on the Water Glocestershire [sic]. It was prepaid, and the cost was 7d, which covered a distance between 30 and 50 miles. It has a Warwick dated postmark, and an unframed, straight-line TOO LATE mark.
The TOO LATE stamp was applied to mail that was received after the post had closed for the day's despatch.
"Marble House,
May 26th 1834

Gentlemen

I have a son who I wish to bind to the law, who will have completed his education this Midsummer twelve months — My Uncle Mr Hiron of Campden speaks highly of your office and informs me he thinks you would have no objection to take him into your family, which with me is an object of great consideration.

If you should have a vacancy about that time, and you have no objection to receive him into your House as one of the family, will you have the goodness to inform me your terms, amount of Premium &c &c.

He has been as well Educated as a young many could possibly be, and I believe in every respects well disposed. I write this early so he may have a situation to to go immediately on his leaving School.

If you will at your earliest convenience inform me on what terms you would take him, you would oblige,

Gentlemen,
Your Obedient Servt
Thos. Hiron.
The letter is a good example of what was involved to fix employment for his son, at that time. He would have had to pay the solicitors a sum to take the boy, plus the cost of his board and lodging for about four years. I wonder if his concern was for the boy being properly cared for in a private family, or whether he thought that if his son was in the solicitor's home, his studying would be controlled and he would be unable to run wild.
The interesting and unusual thing about this letter is that on the other side of the page is a draft of the reply, in abbreviated notes, for example, it is headed BW, which is Bourton on the Water. The draft explains their situation, giving a good excuse for not being able to meet the request. A 'fair copy' would have been made of this and posted to Thomas Hiron, showing that they were into 're-use, re-cycle' even then!
"B.W. May 29 1834

Sir

Mr Hiron of Campden mentd the subject of yr. concrn to us a few weeks since & we were unable to give him a reply having a Gentmn under articles to whom we have given verbally the option of leaving us at the xpiration of 4 years which terminate next October twelvemonth — had he declined to avail himself of it, we could have received your son about the period you have named.

This ...... (gap here where there is a hole in the letter caused by tearing off the wax seal!) friend's of our present clerk have in cons. of our prev. appln to them declined to avail themselves of our offer, feeling anxious that he should remain with us to the close of his articles in October 1836 & as we cannot accommodate a second pupil we shall not be able to rec your son.

We should if differently situated have been happy to treat with you.

We are sir
yr mos obt servt &c &c

Thos. Hiron Esq Marble Ho. Warwick"

There is then a little comment in the bottom left hand corner....

"Your letter is dated/addressed from "Marble House' only, but having heard your name in connection with Warwick, we presume that we are correct in addressing you there."
I checked with the Warwick County Record Office, to see if there was any information about The Marble House and amazingly, it is still standing today in Warwick. The present owners are a firm of Birmingham solicitors, who moved in there earlier this year. There is a description of the house, and a continuous record of the owners during the past 350 years, recorded in the Victoria County History, vol VIII.
| | |
| --- | --- |
| Year | Owner |
| 1650 | Mr Yardley |
| 1724 | Humphrey Yardley |
| 1738 | William Yardley |
| 1747 | Elizabeth Stokes |
| ? | Francis Stokes |
| 1788-96 | William Parkes Snr |
| ?-1819 | Wm Parkes Y'nger |
| 1819 | John Parkes |
| 1822 | Charles Lamb |
| 1850 | Charles Mason |
| 1850 | Henry Couchman |
| 1850 | EE and John Mollady |
| ? | Mr Kershaw |
| 1936 | Mr E. G Tibbits |
"The Marble House is of local sandstone ashlar. It consists of a central tower-like structure of four stories and three bays, having two brick chimneys at the rear and twin gables with ogee-headed parapets at the front. A central projecting three-storied porch has a round-headed entrance and is flanked by four-storied stone-mullioned bay windows. In 1812 Williams Parkes, the younger, added two-storied side wings of ashlar with crenellated parapets." 'The Firs' built about 1690, or possibly earlier, of three stories, was also enlarged about 1812."
In his Buildings of England, Pevsner comments that the Marble House is '...a Jacobean sandstone house of impressive height, especially when looked at from a distance. The three bays are two of canted bay windows and a porch. The bay windows are very odd in that they are set back in the wall and by their canted projection only end up flush with the wall.'
More recently, during the second World War, it was used as a hostel and later divided into flats. A former tenant says that there is a story that the nursery wing is haunted. 'Marble House' was bought in 1970 for development, but as it is a listed building, it could not be demolished. The Council also 'listed' the other house, The Firs, which saved it from being demolished.
This information was kindly supplied to me by a volunteer, working with the Warwickshire County Records Office, Rosalyn Foster, who just happened to be researching the history of the Marble House when my e-mail arrived. The interesting thing is that their records do not show Thomas Hiron, the writer of my letter, as having been an owner at all. When this letter was written in 1834, it apparently belonged to Charles Lamb the hat manufacturer. The street directory for Warwick in 1835 has only one entry for Hiron, and that is for Surgeons Hiron and Willcox in the High Street. However, it is possible that the entry for the High Street, may have been as a joint owner with the other surgeon, but that he lived as a tenant in Marble House.
Also, the only other entry for a Mr Hiron is in the 1851 census listed as 'aged 31, head of household, practising as surgeon', also in the High Street. I wonder if in fact the son referred to in my letter ended up being educated to be a surgeon, not a solicitor and lived in Warwick 17 years later. Rosalyn Foster is now following up this letter to see if she can tie it in with other records held in the archives.
---
3 December 2002