Eunice and Ron Shanahan have shared with readers of the Victorian Web this material from their website, Letters from the Past. Click on thumbnails for larger images.
I have had this letter for a long time and had been unable to find out anything about it. Recently however, from the internet, I have found an astonishing amount of information. The letter was written to Mr Royde of Newgate St London on 24 January 1822, by A. Sparrow from Christs Hospital, Hertford.
Postal Markings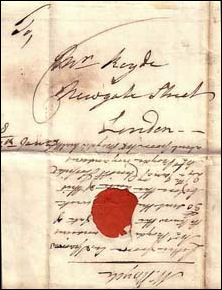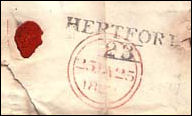 There are three postal markings. First, there is the HERTFORD 23 Mileage Mark. In 1784 new provincial postmarks were issued which included the mileage from London, so the receiving clerk was able to check the charge. However, the mileages were often inaccurate so in 1797 it was ordered that mileage marks should be removed from the office name stamps. John Cary was commissioned to check the mileages on every post road, and once this was done, the mileage marks were re-introduced in 1801. During the period of their use, these mileage stamps were issued in various forms — straight line, circular, dated, undated, boxed or framed and with the mileage figure after, above or below the office name. To make it more interesting to the collector at least, some towns used more than one type. This example used in the Hertford office was one of the types in use from about 1804 to 1840.
Next is the charge mark 6, was six pence to cover the cost of a single sheet letter over a distance of between 20 and 30 miles. Finally, there is the London date stamp 25 JA 25 1822. This was a morning duty stamp, identified as such because the year is in a straight line. The double ring stamp was an 'extra' one used when there was a big rush of work. The mails came into London overnight from all over the country, and it was a very busy time of the day as the mails were received, stamped up, and then sorted for outward delivery.
The Letter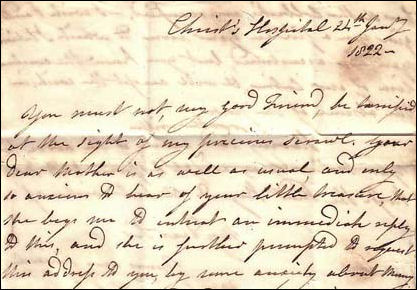 The letter was written by A. Sparrow and I have learned that Miss Ann Sparrow became the Head Mistress of Christ's Hospital in 1793, and held the post for 37 years, having to relinquish it as she became blind. The letter is as follows:
Christs Hospital 24th Jany 1822
You must not my very good Friend be horrified at the sight of my precious scrawl. Dear Mother was well as usual and only so anxious to hear of your little treasure, that she begs me to instruct an immediate reply to this, and she is further prompted to request this address to you, by some anxiety about money that was transmitted to you early in last week, of which the Colbecks have received an account that it reached you. In addition to the above I know that she experiences much serious solicitude for your own health, and will become very uneasy if you do not write or come.
I hope that you recollect that there will be a well-aired bed, if you prefer the latter, though hers and the Colbecks are occupied — I wish I could give you a fire in your room, to which I believe you are accustomed but you know the construction of our cabins and will accept the wish in the absence of the power.
Having said, or rather written much of the above for your mother, pray accept & present to Mrs Royde the kind regards and best wishes of
my dear sir
yours very sincerely
A. Sparrow
If Mrs Hopkins is still with you, pray wish kind remembrances, assure her of my best thanks for her great attention to a poor fidgetting traveller
On the outside there is a note written in a different hand
W. Royde letter from A Sparrow, Mrs Royde anxious to know the fate of £30 sent last week before the date of this 24th January Christ's Hospital Mrs Royde very anxious about poor Mr Royde's health.
I found two different websites relating to the school, and I am very grateful to Chris Reynolds and his website for some amazing information about the people mentioned in the letter. He was able to check in the book A History of the Girl's School of Christ's Hospital, London and confirmed for me that Miss Ann Sparrow, became Head mistress in 1793. Her comment on the "precious scrawl" may well relate to the fact that she resigned from her post because of blindness in 1826, and her sight — and hence handwriting — could have been failing badly by 1822.
Mr. Royde the Writing master was relieved of part of his duties — though retaining the instruction of the girls in Writing — and was appointed Steward. This was an important office, whose duty was to ward all the boys on admission and to keep a list of their names, ages etc, and of the names of the girls. His wife was appointed Matron. Mr Thomas Colbeck was appointed as the Medical Officer in 1803 and served until 1834.
The worried Mrs Royde who sent money to her son, Mr Royde, in Newgate Street, London was almost certainly the elderly Mary Royde (who had been Matron at the Hospital) who died in 1823. Stephen Joseph Royde was her husband, former Steward at the Hospital who died in 1803, and father of the Mr Royde, to whom the letter was addressed in London.
From the website Discover Hertford Online I learned the background information to the Christs Hospital in Hertford. The History of Hertford by Dr.F.M.Page relates that it was a charitable institution, established in 1552 to care for the homeless or unfortunate children in London, and was unusual in that it catered for girls as well as boys. It was not only a hospital, but a school of reading, writing and arithmetic and opened with 380 children. No records show exactly when the school opened in Hertford, but it is likely to have been when the Plague was rife in London, and orphaned children were removed from the capital. As early as 1684 cottages were built to house 400 children and attendant nurses, and you can still see where girls and boys etched their names into the brickwork of the buildings. The girls school was not moved to Hertford until 1778, when it had expanded and took over land previously occupied by the Congregational Church. This probably explains Ann Sparrow's comment about not being able to provide a fire in his bedroom, the cottages were over 150 years old, and fires in the bedrooms would be an unnecessary luxury for orphan girls or their carers. Christs Hospital has a 400 year record of caring for orphans, and the students are known by the uniform of blue coats. The entrance to the school featured the figures of two Bluecoat boys donated by Sir John Dimsdale in 1721.
Between 1902 and 1906 the boys were moved to new premises in Horsham, Sussex, and the seventeenth-century cottages that housed them were demolished to make way for eight new blocks and a chapel that were opened in 1906 by the Prince and Princess of Wales. The school is no longer there. By 1985 both the girls and boys were housed in Horsham in Sussex, and the Hertford school was sold.
---
Last modified 26 May 2010