Vestry Interest — Real Estate Dealings: Swinstead – 1832

These letters graciously have been shared with the Victorian Web by Eunice and Ron Shanahan; they have been taken from their website. The letters give an insight into the daily lives and concerns of 'ordinary' people without whom history would not exist. The letters are a wonderful example of how much history may be gleaned from such sources.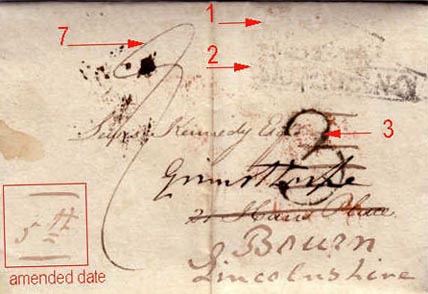 There are seven postal markings of varying quality which tell the story of its journey.
1 and 2 Sloane St, N. O. – twice as two attempts were made at delivery, the postage marks 5 and 6 show when this was done. Sloan St N.O was in the Country area of the Twopenny post in the 1828 listing and so this explains the next mark
3 — Handstruck '3' for payment for delivery from one part of London to another, crossed through, as the letter had to be transferred to the General post for delivery to Grimsthorpe, Bourn, Lincolnshire.
7 — the charge mark of '9' which was the cost of final delivery to Mr Kennedy when it caught up with him in Lincolnshire. This was for a distance of between 80 and 120 miles and Bourn was 94 miles from London, but that seems to ignore the 3 pence due for the Twopenny post.
---
13 January 2005<! -- #EndDate -- >