These letters graciously have been shared with the Victorian Web by Eunice and Ron Shanahan; they have been taken from their website. The letters give an insight into the daily lives and concerns of 'ordinary' people without whom history would not exist. The letters are a wonderful example of how much history may be gleaned from such sources.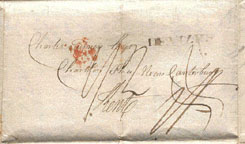 This letter is quite hard to read, as it was written with a quill pen, and in a very fancy handwriting. It was addressed to Charles Turner Esq. Charlton Place Near Canterbury Kent , by his sister, Sarah Spalding, from Devizes 29th April 1800.
click here for larger image
.
The postal markings are:
on the front of the letter, DEVIZES town name stamp and the manuscript charge marks of 1/- altered to 1/2.
on the back of the letter the London morning duty dated stamp for April 30 1800.
At this time it was not possible to send a letter directly from Devizes to Canterbury — the letters had to go in to London and then out again. Devizes was 88 miles from London and Canterbury 56, so the combined mileage was 144. The rates in force between 1796 and 1801 for a distance of between 100 and 150 miles was 7d, but this has incurred double that rate 7d x2 = 14d or one shilling and twopence. The first sentence seems to explain why. If there had been an enclosure, or the weight of the letter was more than ¼ of an ounce, the cost was doubled. The paper the letter is written on has a beautiful watermark dated 1799.
The letter begins with discussions on finances — obviously, even 200 years ago, this lady was considered capable of understanding finance as she has been appointed an executrix. I wonder why she addressed her brother so formally.
Dear Sir
Since you think it necessary to alter the wording of the Draft, I have sent you another which I hope will please. I cannot see any material consequence that could result as I drew for Ten Pounds on Messrs Stephensons & Co who are accustomed to receive my Drafts as Executrix and I mentioned as subjected to the Will of Mrs Watkins, which would have check'd me if wrong: However, in Money affairs too much Accuracy cannot be observed and indulge your wish.
Be so kind as to send me the draft in question, and oblige me by directing it to John Spalding Esq, Hill Street Berkeley Square London, under cover and he will forward your letter. I wish to see where the defect lay as I cannot account how you think it Unsafe — whether mentioning half-years Dividends or interest it appears the name of Money talks.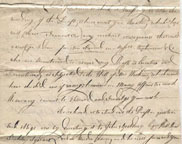 Fig 2 showing the handwriting click here for larger image.
She then continues with information about family health, and it sounds like something written by Charles Dickens much later in the century.
We are all rejoiced you are well. We share with you the blessings of Health being much better from the fine Weather.
Dr. Spaldings complaint was on his Lungs more a kind of Vertigo in the head the same my poor Father suffered. I hope mine will not return, or extend towards Ninety years. I hold that a greater misfortune than anything else — we then are Children, and the Dupes of Art and chicane, and have no sense to rectify its weakness of credulity — I have seen enough dear Sir to sigh over — the extention of Bodily Strength over mental imbecility.
The next two paragraphs pose a lot of questions — who was Captain Watkins? What was the West India Transaction? What was the business she had to attend to in London?
Captain Watkins is said, I see, without a line to satisfy me in any point I lament his want of punctuality. He forgets I have the Papers of the whole of the West India Transaction where he drew without Claim, and Feigned a right disallow'd. I am hurt I repeat at his conduct.
I shall go to London to transact the conclusion of a business which hangs on my Spirits, tis best to finish it Legally to prevent my Childs having trouble when I am gone.
She then finishes with requests for information about people in London, and mention of the report of the death of Lady Miller of Wiltshire.
We write in Love I ever am happy to hear of your welfare pray mention where Mr Turners Mother lives and her name and poor Mrs Franklins address I want to cheer her a little if I had not lost her residence — Lady Millers death was in the Papers the Salisbury, died in Upper Grosvenor Street. The Lady of Sir Thomas Miller Bart of Froyle in this County. You surprise me by not seeing it as printed
I ever am with affectionate remembrance to you all, your affectionate sister
Sarah Spalding.
When the letter is opened, on one 'wing' is written in a different handwriting, "Mrs Franklin 9 White Hart Place, Kennington Cross." So a note has been made of Mrs Franklin's address as requested. On the other wing is a filing note: "From Mrs Spalding dated 29 April / Recd 1 May
/ Ansd 1 do 1800.
I find a letter like this very interesting as it is obvious that Sarah Spalding is educated, and capable. Yet the general impression of women 200 years ago is that they were useful only for housekeeping and motherhood.
Update
A visitor to this website has been able to add the following information:
I happened upon the web page entitled "Devizes, Wiltshire to Canterbury, Kent, 1800" where you look at a letter from Sarah Spalding to her brother in law, Charles Turner.
In fact, you wondered who Captain Watkins was. He was my great-great uncle. Sarah Spalding was Sarah Watkins, the daughter of Joseph Watkins,a merchant in London, and Magdalene Gibbes. Sarah married Samuel Spalding, a doctor of physics from Devizes.
Sarah Spalding was born in Hackney in 1746, so she was around 54 when she wrote the letter. Her father, Joseph Watkins, whom she mentions, was a merchant who died aged 88. Joseph married Sarah's mother — the Mrs Watkins who wrote the will — in Lisbon, Portugal, in 1735. You don't really imagine that people travelled much in those days, but obviously many did.
Magdalene died in Devizes in 1794. She left her money to her children, including Sarah and another daughter, Magdalene, who was married to Charles Turner. Magdalene Snr's son, Joseph (my great-great-great-great grandfather), had already died on the Aurora, shipwrecked off the Cape of Good Hope sometime after 1769. Joseph's sons were Charles Watkins, a merchant for the East India Company, and Captain John Watkins, also in the EIC.
I was amazed to find the letter on the web! Strangely, I'd previously browsed your website before I'd even realised the connection. Thank you for putting your information on the web.
Susan
Contact with Susan in England can be made through my e-mail address and I will forward any messages.
---
Last modified 24 August 2016