Mr. Harman of London, 1798, and the 'Swan with Two Necks'

These letters graciously have been shared with the Victorian Web by Eunice and Ron Shanahan; they have been taken from their website. The letters give an insight into the daily lives and concerns of 'ordinary' people without whom history would not exist. The letters are a wonderful example of how much history may be gleaned from such sources.
This letter is interesting because of the reference to the London coaching inn The Swan with Two Necks. The letter was addressed to Charles Upton, from Jermyn Street No.38 in London dated Novr the 5th, 1798. There are only two postmarks — the circular London evening duty double ring with the day 5 in the centre, NO for the month at the top and 98 for the year at the bottom. This type of postmark was in use from 1795 to 1799 . The other is the manuscript charge mark of 7 (7 pence). From 1796 to 180 this was the cost for a single letter being carried a distance of between 100 and 150 miles, and Derby was 126 miles from London . The paper is a heavy woven type with the watermark RUSSELL & CO 1797.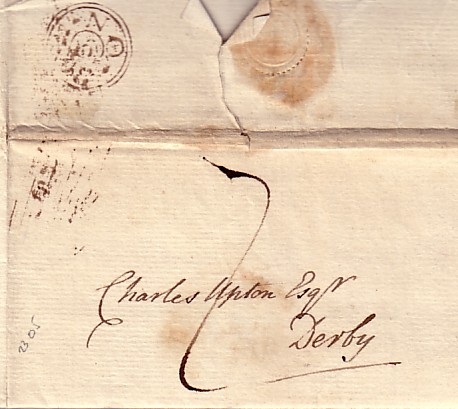 Related documents
Article: Mr. Harman of London, 1798, and the 'Swan with Two Necks'
Image of the commencement of the letter
Image of the Bath mail coach 1784
---
9 April 2007