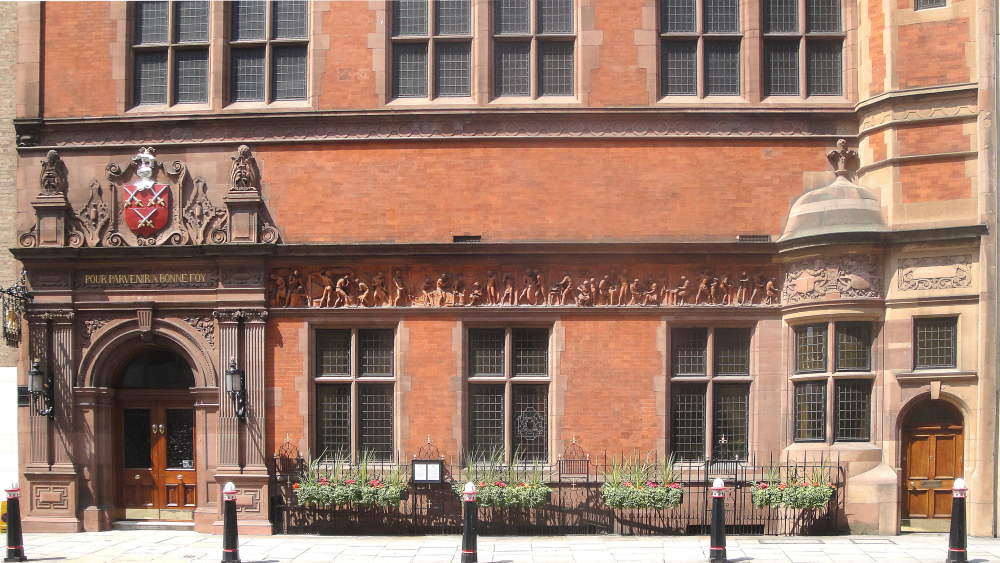 Cutler's Hall Frieze (1887; click on image above to enlarge it). Sculptor: Benjamin Creswick Architect: T. Tayler Smith. Terracotta, 84cm high x 9.4m long. [Entire façade] Signed: in three different places — to the right of the furnace in the left-hand panel — B.Creswick/ 1887; beneath the old man buffing knives in the panel second from left — B.Creswick/ 1887; on grinding stone in second panel from the left — B.Creswick.
The freize depicts four main subjects (reading left to right): Forging, Grinding, Hafting and Fitting. According to Philip Ward-Jackson, "[a] full description of the action of each of the 33 figures is provided in the British Architect magazine of 6 April 1888. . . . . The products being worked on are knives and scissors, and the workers, all male, are aged between seven and seventy."
Forging

The first stage of this pre-industrial-revolution technology shows asmith in which two groups of men hammer at heated metal while at the center a young man in a classical pose operates the bellows that produces greater heat. A man at the extreme left takes up something, probably coal, from a barrel.
Grinding

In the next series nine men and boys either engage in grinding the cutlery or bring in supplies, new grindstones, unsharpened knives and scissors, and carry them to the next manufacturing stage.
Hafting

At various stations, the cutlers make handles for knives. A young boy watches a seated craftsman.
Fitting

Here, at the final stage, artisans fit the handles and do a final sharpening of the implements' blades.
Photographs and captions by Robert Freidus. Formatting and perspective correction by George P. Landow. [You may use this image without prior permission for any scholarly or educational purpose as long as you (1) credit the photographer and (2) link your document to this URL in a web document or cite it in a print one.]
Bibliography
Ward-Jackson, Philip. Public Sculpture of the City of London. Liverpool: Liverpool University Press, 2003.
---
Last modified 13 June 2011 2011