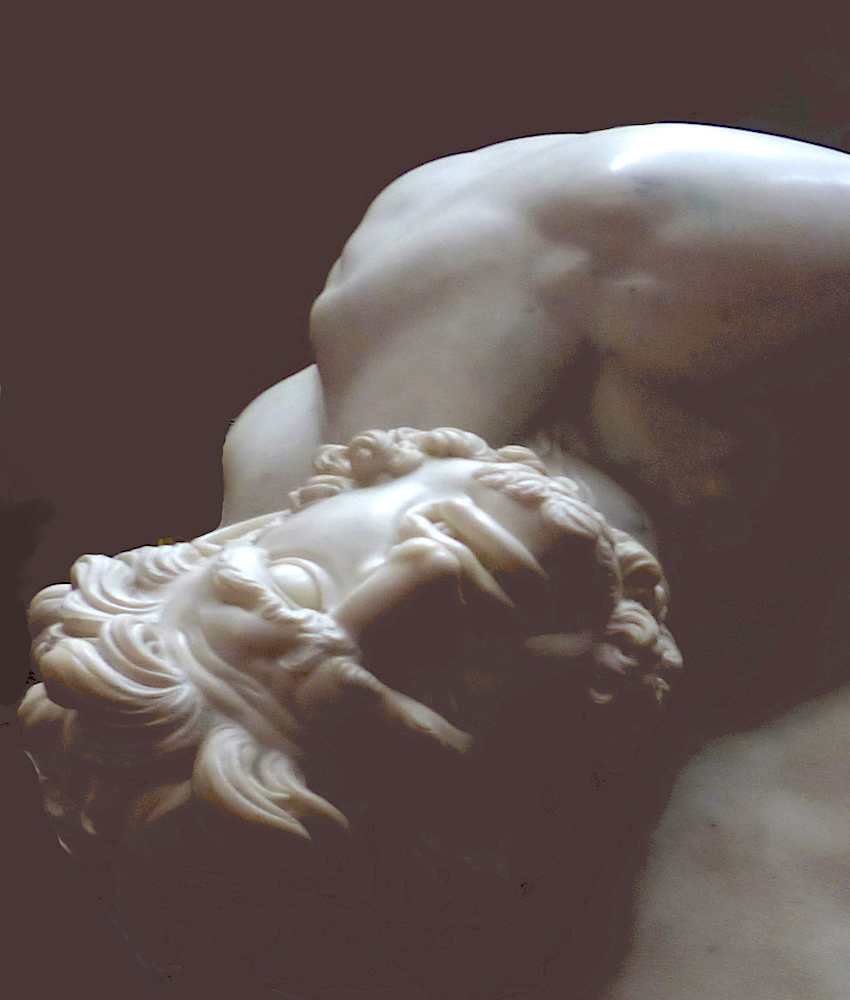 St Michael Overcoming Satan, the finished work in situ at the the North Gallery, with a close-up of Satan's head. John Flaxman (1755-1826). Signed 1826. Marble. 3440 mm high. Photographs, commentary and formatting by Jacqueline Banerjee. The background of the close-up has been digitally removed. Photographs reproduced by courtesy of the National Trust (NT 486401). [Click on the images to enlarge them.]
This is the marble version of the plaster cast in the Flaxman Gallery of University College London. In Lord Egremont's house, it stands directly opposite Flaxman's Pastoral Apollo, facing visitors as they enter, so that two exemplary neo-classical works mark either end of this part of the gallery. As explained in writing about the plaster version, this one was based on Raphael's painting of 1518, of the same subject (now in the Louvre), and depicts St Michael as a young hero, about to strike his foe who is already pinned down by his left foot. For all the power of the composition, and despite (pr even because) of the inevitable shadows here, it is the snarling face of Satan that attracts our attention.
Related Material
Bibliography
"St. Michael overcoming Satan." National Trust. Web. 19 July 2020.
"St. Michael overcoming Satan." UCL Arts Museum. Web. 19 July 2020.
---
Last modified 19 July 20207