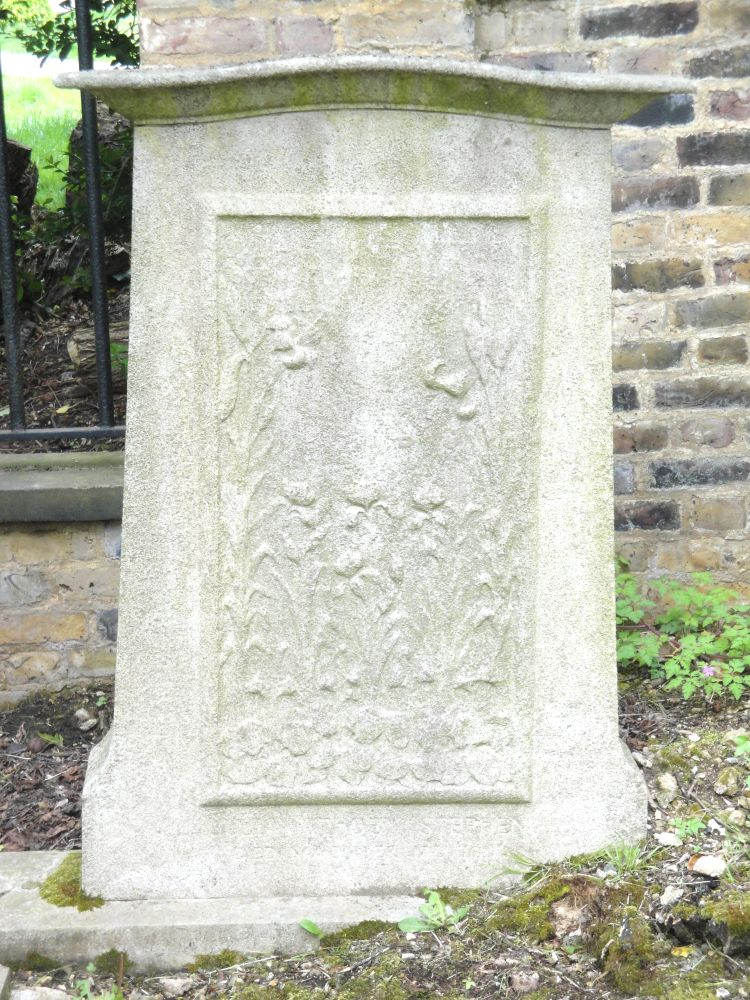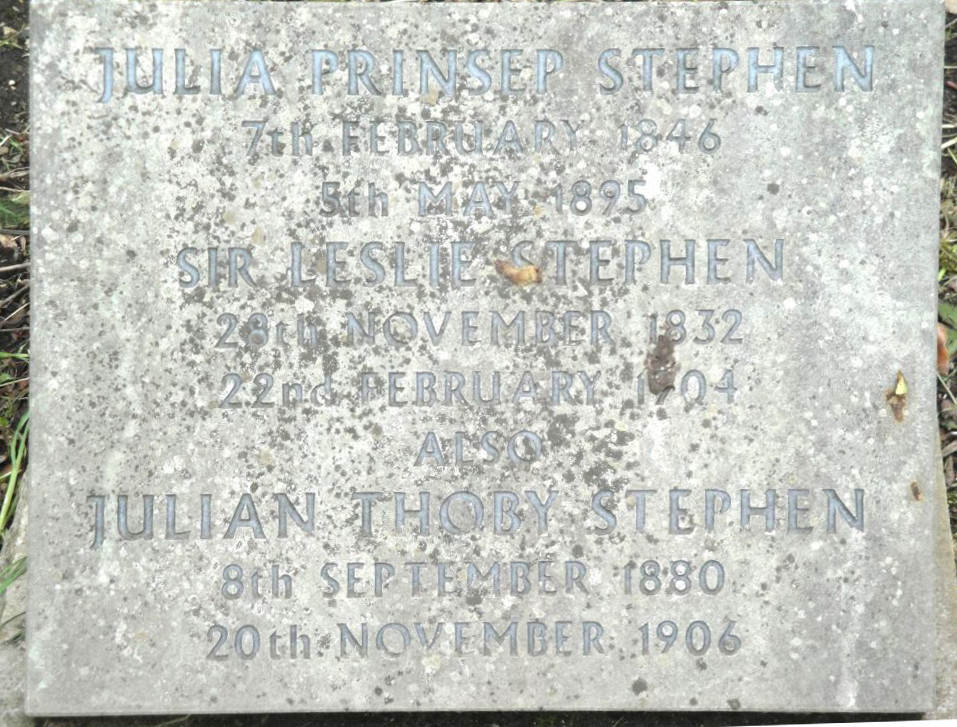 The headstone and (separate) plaque over Sir Leslie Stephen's grave in the Eastern Cemetery of Highgate Cemetery, Swain's Lane, London N6. A Grade II listed structure, the headstone is made of granite and has a delicate relief of lilies and leaves. It is next to one commemorating Stephen's step-daughter Stella Hills, who died in 1897 (see listing text).
Sir Leslie Stephen (1832-1904) died on 22 Febrary 1904 and was cremated at Golder's Green crematorium on 24 February 1904. The next morning, a casket containing his ashes was interred at Highgate so that he could be remembered along with his second wife Julia Prinsep Stephen (1846-1895), whose sudden and premature death had been a great blow to him. Later, the ashes of their son Thoby (1880-1906) were also brought here. These were Virginia Woolf's parents and brother.
The carving on the headstone, originally for Julia Stephen, is of Alpine flowers. The lilies are probably Alpine lilies, but it is difficult to see any details now, or to make out the rest. Stephen himself explained,
It was done by a poor little Italian sculptor, cheaply and I guess not very artistically. Yet I liked the thought, and I like the stone. Some of the flowers are cyclamens. We had brought home some roots of the purple sweet-scented cyclamen from Primiero, and I have always loved them since, and taken them as a kind of emblem. ... I only know that the sweet, delicately formed shy little cyclamen, nestling in the Alpine meadow under the great cliffs, somehow represents her for me. [qtd. in Maitland 256]
The design suits Stephen as well as his wife, as "not only did he love flowers, especially certain flowers which spoke to him of those whom he had lost, but also he had made himself, so a high authority tells me, 'a very fair British field botanist'" (Maitland 4). Alpine flowers gave him particular pleasure though, because in early manhood he had been a keen mountaineer, and one of the first members and presidents of the Alpine Club. He remained a member of the club until he died, last visiting the area in 1894.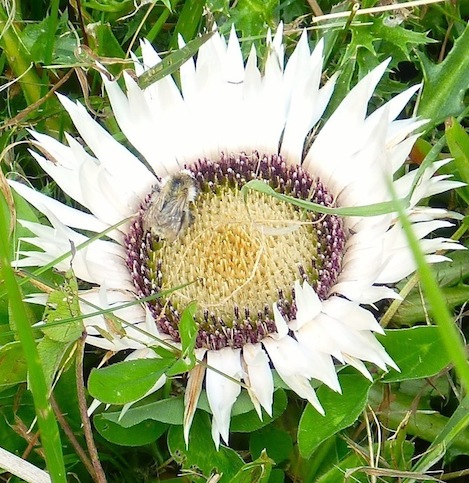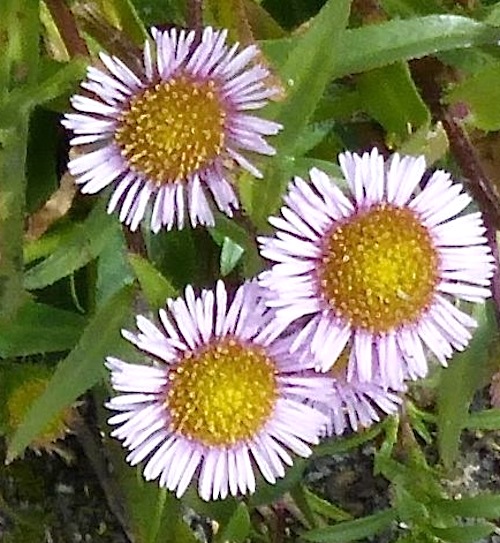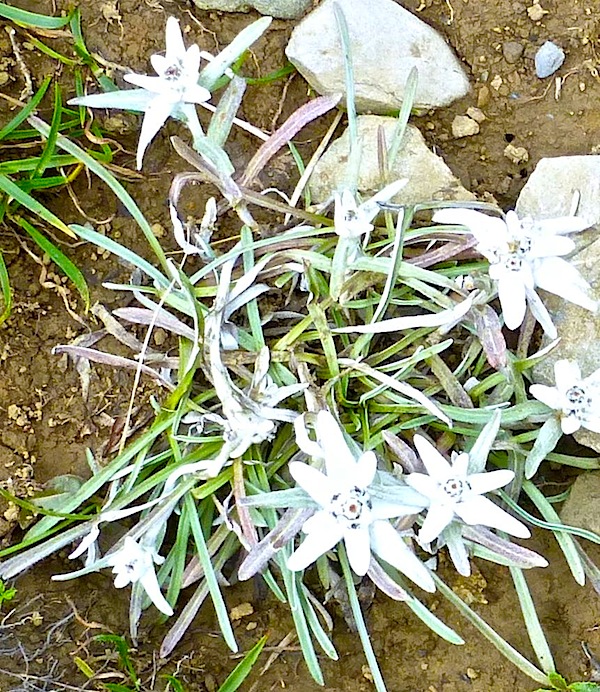 A selection of the other flowers that might have been included on the now-worn headstone, from the Alpine slopes which Stephen loved. Left to right: (a) Bellflower. (b) Field Gentian. (c) Stemless thistle (with bee). (d) Alpine asters (e) Edelweiss.
Stephen was a close friend of the novelist and poet George Meredith, who wrote to him in May 1902 when he heard that he had cancer: "What I most wish for you I know you to have, fortitude to meet a crisis, and its greater task, to endure. We have come to the time of life when the landscape surrounding 'haec data poena diu siventibus,' the tomb-stones of our beloved and the narrowing of our powers, throws a not unpleasant beam on the black gateway, as we take it to be in the earlier days" (637; Meredith quotes from Juvenal's depressing 10th Satire on the ills of old age, especially here on the death of loved ones). In fact, Stephen battled his illness, went on writing till the end, and died peacefully in his sleep (see Bell).
Top two Photographs by Robert Freidus, who also supplied the information from the listing text. These photographs are reproduced here by kind permission of Highgate Cemetery. Remaining photographs by the author. You may use these images without prior permission for any scholarly or educational purpose as long as you (1) credit the photographer, and (2) link your document to this URL in a web document or cite the Victorian Web in a print one [Click on the images to enlarge them.]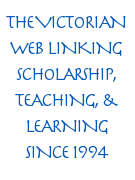 Related Material
Bibliography
Bell, Alan. "Stephen, Sir Leslie (1832–1904)." Dictionary of National Biography. Online ed. Web. 29 September 2014.
"Death of Sir Leslie Stephen." Times. Tuesday, 23 February 1904: 10. The Times Digital Archive. Web. 29 September 2014.
"The Late Sir Leslie Stephen." Times. Thursday, 25 February 1904: 6. The Times Digital Archive. Web. 29 September 2014.
Maitland, F. W. The Life and Letters of Leslie Stephen. London: Duckworth, 1906. Internet Archive. Contributed by the University of Michigan. Web. 29 September 2014.
Meredith, George. Letters, Vol. 2. New York: Scribner's, 1913. Internet Archive. Web. 29 September 2014.
"Monument to Leslie Stephen" British Listed Buildings. Web. 29 September 2014.
Siskin, Alex. "Peaks and Valleys: Leslie Stephen, Mountaineer." Paris Review Daily. 26 November 2012. Web. 29 September 2014.
---
Last modified 29 September 2014