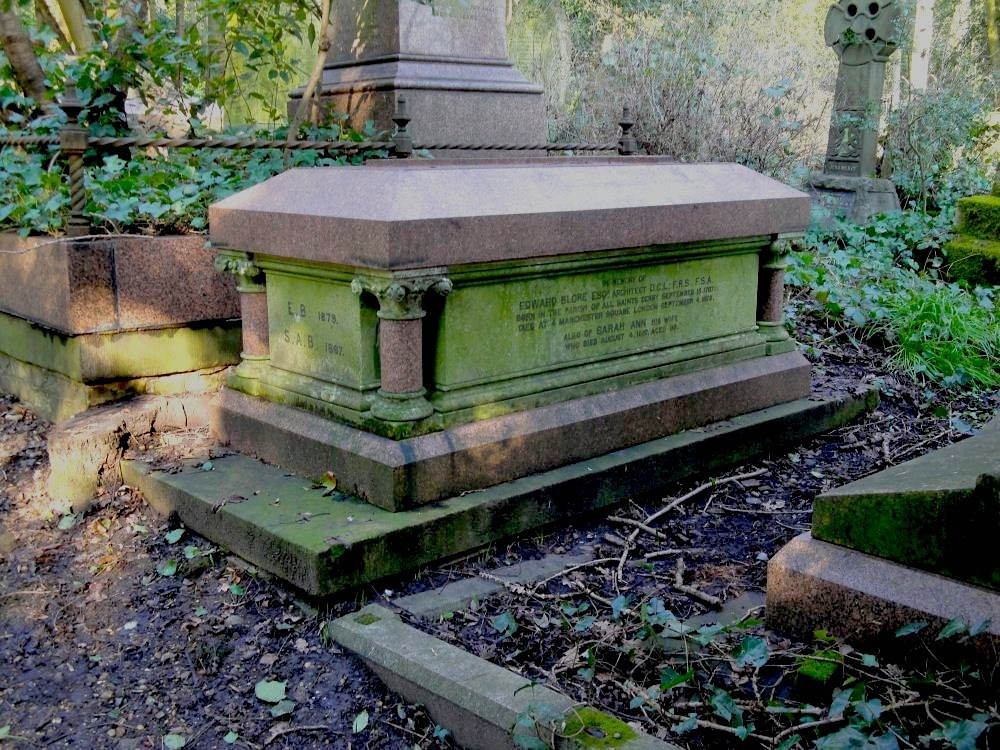 Tomb of Edward Blore (1787-1879), and his wife Sarah, in the Western Cemetery of Highgate Cemetery, Swain's Lane, London N6. The well-known architect and fine draughtsman died in his ninety-first year after a "long and painful" illness ("Obituary"). However, he had had a generally productive and sociable retirement. Although his wife Sarah had predeceased him, dying at the age of 68, four of their eight children, two sons and two daughters, had survived to cheer him through his old age.
In view of the fact that Blore's wife died years before him, and that he had early shown a keen interest in tomb-chests and effigies, it seems likely that he designed their elegant tomb-chest himself. Noting his major commissions, the Pall Mall Gazette pointed out in its notice of his death that Blore was "one of the earliest architects to revive the taste for the Gothic" ("Summary"). But the tomb is classical in style, of polished granite and stone in contrasting colours, with sturdy Corinthian columns at each corner.
Photograph by Robert Freidus, reproduced here by kind permission of Highgate Cemetery. Text and formatting by Jacqueline Banerjee. [Click on the image for a larger picture.]
Bibliography
"Obituary." Times. Monday, 8 September 1879: 12. The Times Digital Archive. Web. 14 Aug. 2013.
Port, M. H. "Blore, Edward (1787–1879)." Oxford Dictionary of National Biography. Online ed. Web. 14 August 2013.
"Summary of the Morning's News." The Pall Mall Gazette. Monday, 8 September 1879: 4.19th Century British Newspapers. Web. 14 August 2013.
---
Last modified 14 August 2013