With thanks to George P. Landow, who put the original brief entry online in 2006, and Shirley Nicholson, who spotted that it needed updating. Photographs (2019) by the present author. [These images may be used without prior permission for any scholarly or educational purpose as long as you (1) credit the photographer and (2) link your document to this URL in a web document or cite the Victorian Web in a print one. Click on the images to enlarge them.]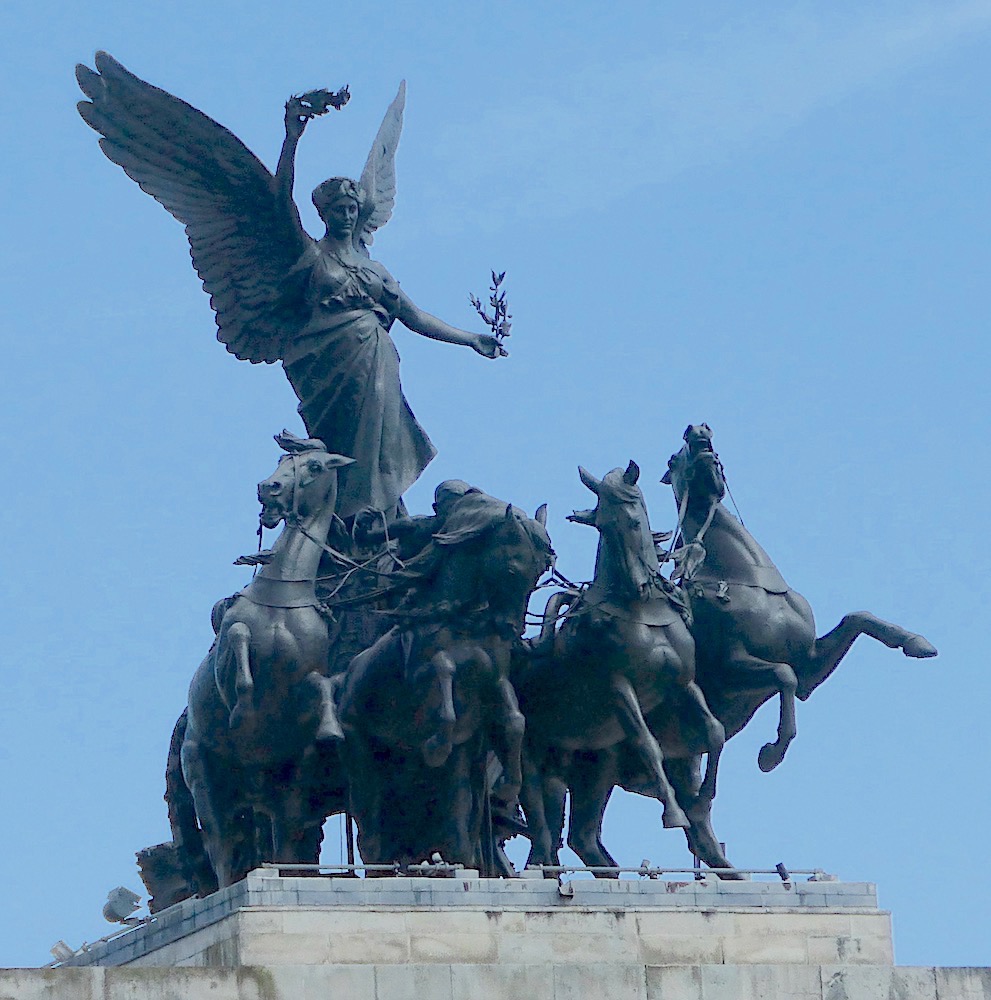 The Angel of Peace Descending on the Chariot of War by Adrian Jones (1845-1938). 1912. Bronze, much larger than life-size — Jones invited his friends to tea inside the horses before the work was fully assembled (Baker 54), much as Benjamin Waterhouse Hawkins had held a dinner inside the mould of one of his enormous dinosaurs at Sydenham on New Year's Eve, 1853. The group shown above crowns the Wellington (or Constitution) Arch on the traffic island at Hyde Park Corner, London W1.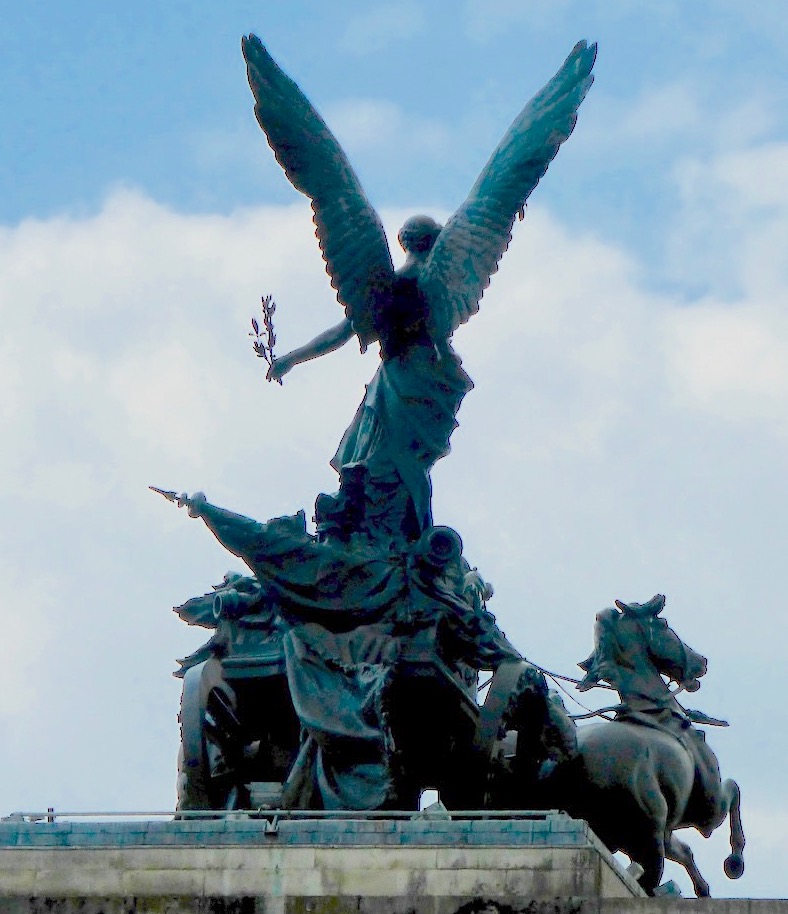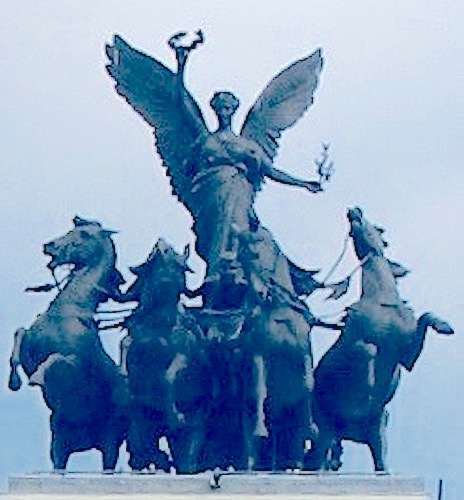 Left: Three-quarter view from the rear, showing the trophies of war loaded on the chariot (cannon, and seized standards). Right: The young driver, leaning forward as he holds the horses' reins, is just visible in the middle here, below the central figure of Peace.
This sculptural group by Jones replaced Matthew Cotes Wyatt's gigantic — and much criticized — equestrian statue of Wellington that was taken down and not replaced when the arch moved from its first location opposite Apsley House, a short distance away, to Hyde Park Corner in 1882-83. Wyatt's statue was transported to the military town at Aldershot, where it stands on a more suitable grassy mound, and can still be seen.
Coming later, the new installation was much grander in conception, and much more powerful and dynamic in effect. Its (then) enormous cost of £17,000 was the gift of the wealthy merchant banker Herbert Stern, first Baron Michelham (1851–1919), who presented the work to the nation in 1912 "as a mark of deepest loyalty and respect to his late revered Majesty Edward VII" (plaque on the west side). The whole group takes the form of a quadriga (a racing chariot with four horses used in both the ancient Olympic Games in Greece and later in ancient Rome). In a personal touch, the little boy at the reins was modelled by Baron Mickleham's son, Herman Alfred Stern (1900–1984), who was eleven when Jones first started work on it.
Jones, who had spent many years with the cavalry, also spent a long time — four years — preparing the group, which is generally, as Margaret Baker says, "regarded as his crowning achievement" (53). The main figure, carrying a wreath to symbolise victories won, and an olive branch to symbolise peace established, is as vibrant as the horses. So too is the young driver of the chariot, who leans forward eagerly, reins in hand. Ironically, for all its message of peace and hope, the First World War woud break out little more than two years after the sculpture's installation.
Since classical times, the quadriga has served as an emblem of victory, appearing, for example, on Berlin's Brandenberg Gate and Paris's Arc du Triomphe. The German and French quadrigas form part of major monuments that have become symbols of the cities in which they appear; standing atop its arch on a traffic island near Hyde Park, this one has not had quite the same effect. The arch itself, designed by the architect Decimus Burton and erected in 1828, is one of two such grand free-standing ceremonial arches of this era, and, apart from the quadriga itself, it is less sculpturally embellished than the other one — Marble Arch. The latter was designed by John Nash and erected in 1827, first in front of Buckingham Palace, and later (in 1851) at the other end of the park, facing Oxford Street at its junction with Park Lane and Edgware Road.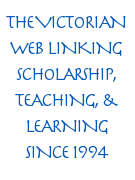 Bibliography
Baker, Margaret. London Statues and Monuments. Princes Risborough, Buks: Shire, 1995.
Brindle, Steven. ""History of Wellington Arch." English Heritage. Web. 24 November 2021.
Cork, Richard. Foreword. The Great War and the British Empire: Culture and Society. Ed. Michael J. K. Walsh and Andrekos Varnava. London: Routledge, 2017. xv-xxiv.
"Description of Wellington Arch." English Heritage. Web. 24 November 2021.
Orbell, John. "Stern family (per. c. 1830–1964), merchant bankers." Oxford Dictionary of National Biography. Online ed. Web. 17 May 2019.
Weinreb, Ben, Christopher Hibbert, Julia Keay and John Keay. The London Encyclopaedia. New ed. London: Macmillan, 2008.
---
Created 21 August 2006

Last modified 24 November 2021