Bertram Mackennal (1863-1931) was the most significant Australian sculptor of the nineteenth and early twentieth centuries. Born in Melbourne in 1863, the son of Scottish immigrant and architectural sculptor J. S. Mackennal, Bertram Mackennal studied at the National Gallery Schools in Melbourne (1878-1882) before he departed for Europe in 1882, seeking further training and greater opportunities for sculptural success.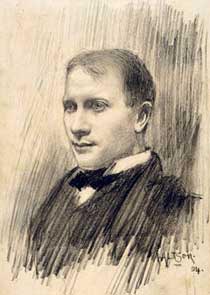 Bertram Mackennal by Abbey Altson. Art Gallery of New South Wales Accessioned 2004.
Mackennal became an exceptional avant-garde artist in the 1890s. He was immersed in a radical new sculptural movement subsequently known as 'the New Sculpture' and was inspired by Symbolist, Art Nouveau and new classicist tendencies. Living in Paris in the mid 1880s and again in the early 1890s, Mackennal became a commanding sculptural synthesiser, tempering the radical innovations, expressive surfaces, and sexualised subjects of Rodin with the style and sentiments governing more establishment conceptions. He was also strongly influenced by the progressive French interest in Florentine Renaissance traditions and its preoccupation with the eroticised body.
Based in London from the mid-1890s, Mackennal rose to sculptural prominence & creating the memorial tomb to King Edward VII and Queen Alexandra at Windsor, Britain's national memorial to Thomas Gainsborough in Sudbury, Suffolk, as well as sculptural projects for Britain's royalty and social elites, including Lord Curzon the Viceroy of India, and the Duke of Norfolk. Mackennal is renowned for the national memorial to Edward VII at Waterloo Place as well as works in Westminster Abbey, York Minster, Winchester Cathedral, the Palace of Westminster and St Paul's Cathedral, amongst others.
Mackennal was known as the creator of beautiful, empathetic portraits of many of the era's leading 'new women', including the actress Sarah Bernhardt and singer Nellie Melba. Similarly he established a reputation in both Paris and London as the creator of bold, sensual female nudes. His mythological and allegorical female figures, including Circe 1893, Truth 1894 and Salomé c 1895 for example, are archetypal New Sculptural works and attest to Mackennal's strength as an artist who refined upon nature yet retained a direct sense of the life model.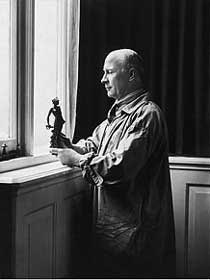 Bertram Mackennal with Salome. Courtesy of Pauline Kraay.
Mackennal returned to Australia only three times, yet he maintained close ties with this country and completed a significant number of public works for Australian sites - including the Martin Place cenotaph, the figures of Archbishop Kelly and Cardinal Moran at St Mary's Cathedral, and the Shakespeare memorial in Sydney, along with the monument to Edward VII, located in Adelaide, the monumental statue of Queen Victoria in Ballarat, the King Edward VII and Springthorpe memorials in Melbourne, and various statues of civic dignitaries in Brisbane and Perth. Mackennal's Springthorpe memorial is without question the most spectacular example of Art Nouveau and Symbolist inspired sculpture in this country.
Mackennal's status as an Australian 'cultural hero' is undeniable. His work directly influenced the growth and directions of sculpture in this country.
Related Material
---
Last modified 13 June 2007