Left: Monument to Sir Robert Peel (1788-1850), by William Calder Marshall (1813-1894). Bronze on a granite pedestal, with two bronze supporting allegorical figures. Piccadilly Gardens, Manchester. Right: Detail of main figure. Peel came from Bury in Greater Manchester, and is one of the region's best-loved sons. He was particularly popular for his Repeal of the Corn Laws in 1846. Besides, his death in office as Prime Minister, as the result of a riding accident in Hyde Park, had sent shockwaves through the nation. The committee set up to organise the memorial collected over £3,000 in four days ("Politicians"), and sights were set on a really splendid monument. Here, Peel is shown larger than life (7.6 metres high), scroll in hand, making a speech. Even the seated figures are 2.13m. high (measurements taken from Wyke 111); a contemporary commentator called them "colossal" (Perrin 146).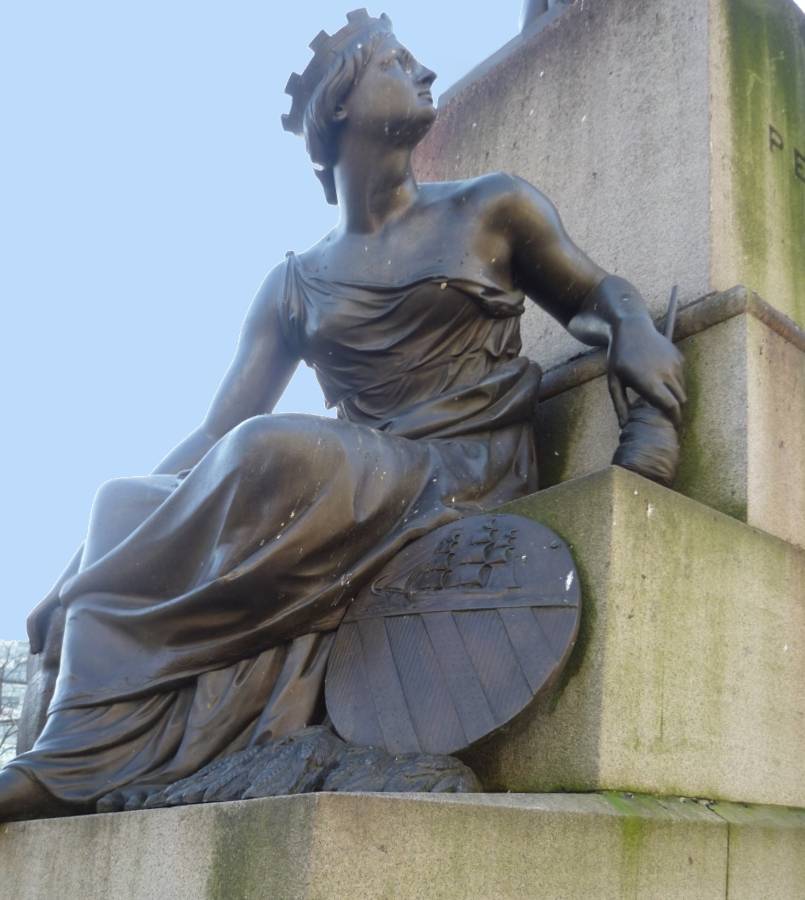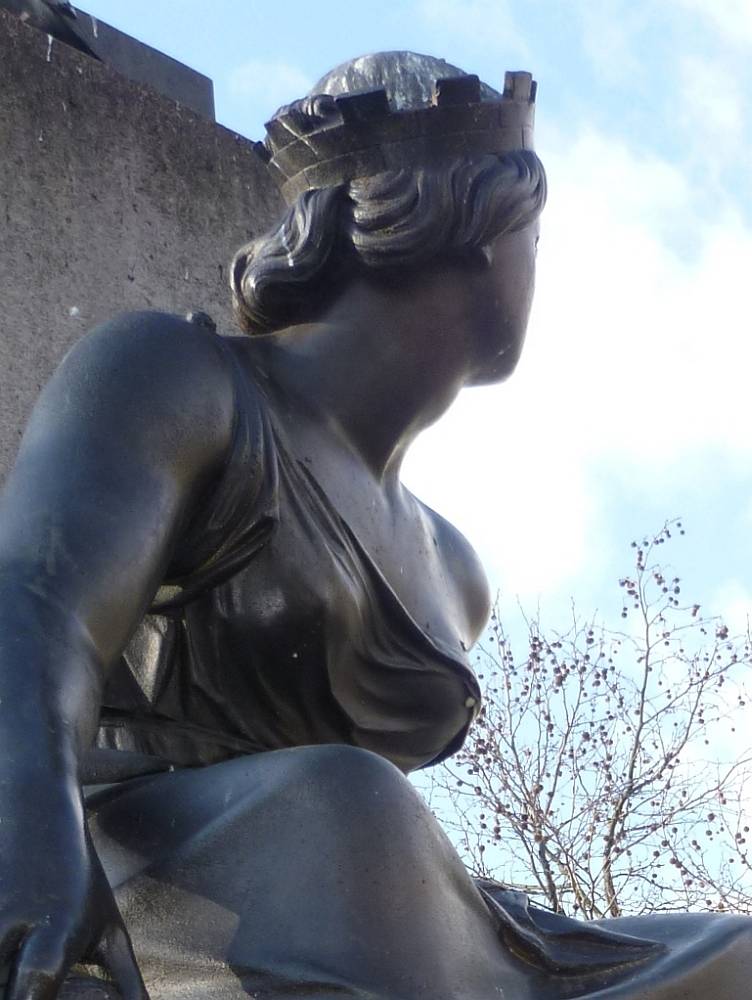 Left: One of the two seated figures, this one representing Manchester (Wyke 111) and/or "Trade, Commerce, Agriculture etc" (Read 149). This figure wears a mural crown, and looks up admiringly or gratefully to Peel. In one of her hands she holds a spindle; the other rests on a bale of cotton. These properties are all the more appropriate since Peel's own family's wealth was derived from the textile trade. Earlier Peels had also been farmers: a sheaf of corn lies at the figure's feet. This also reminds us of the town's importance in the campaign against the corn laws. Resting on the sheaf is a shield displaying Manchester's coat of arms, with the sailing ship representing trade — Manchester is not far from the west coast, and the Bridgewater Canal, the "first modern canal in Britain" (Hartwell 259), had been operating since the eighteenth century. Compare the crowned figure of Manchester with Commerce on the Holborn Viaduct in London, which represents the wealth of the City. There was a limited vocabulary for suggesting attributes, which anyway needed to be easy to interpret rather than original. Right: The same figure from the side. Note the elegant turn of the neck and the attractive drape of the bodice.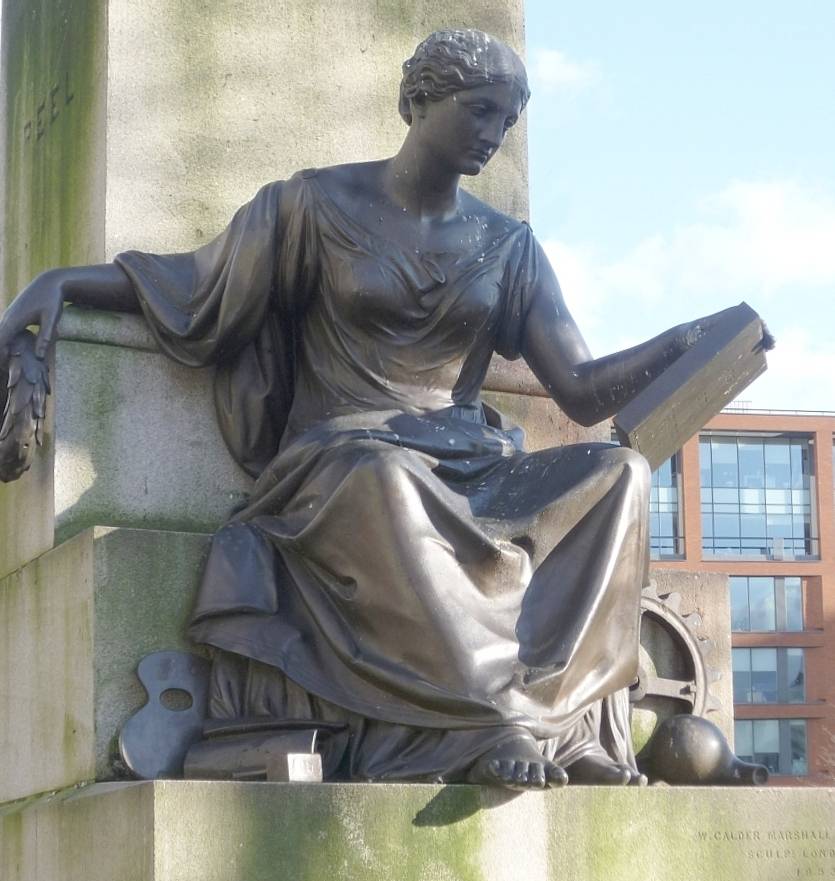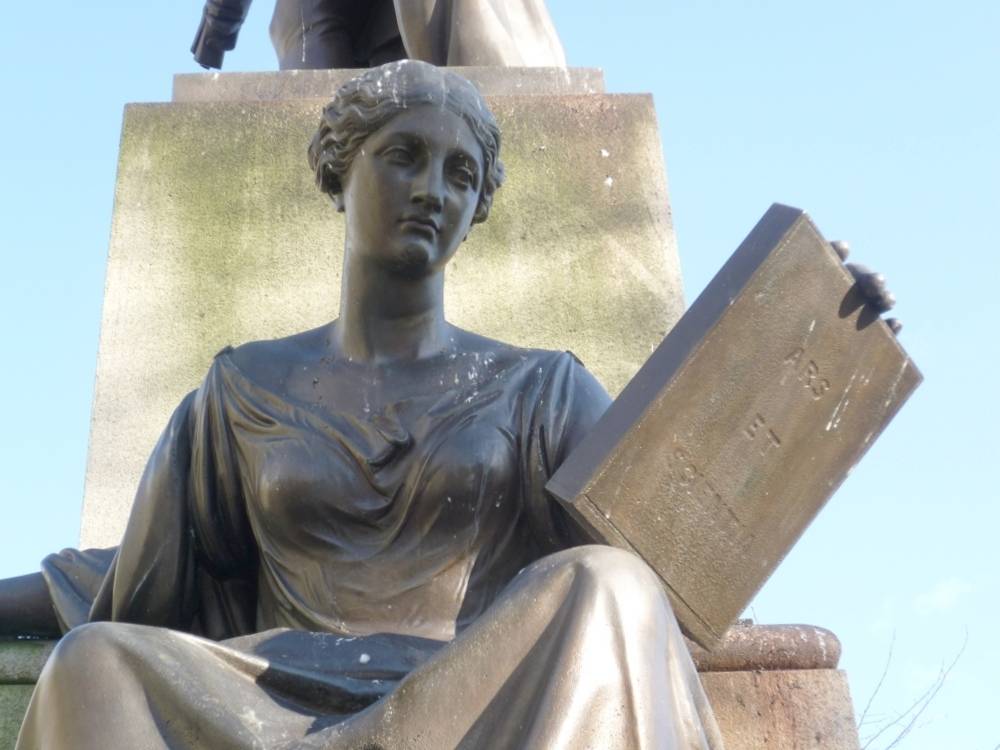 Left: "Art, Learning, Science and Industry" (Read 149). This figure holds a wreath, probably symbolising peace, in one hand, and a book in the other. Her accoutrements are (on the left) an artist's palette and a sculptor's mallet, and (on the right) a cogged wheel and a scientist's retort. Right: Close-up of the figure. On the book are inscribed the words, "ARS ET SCIENTIA."
This monument has a special significance in the history of public sculpture in Manchester. It was the first monument to be installed here in Piccadilly Gardens, originally in front of the Manchester Royal Infirmary (demolished in 1909). It was also the first of Manchester's outdoor statues to have been funded by public subscription: According to Terry Wyke: "It was the great wave of public commemoration following the death of Sir Robert Peel in 1850 that proved the decisive event in the history of public statuary in the region" (x), producing a new, much more favourable attitude to this kind of memorial in the 1850s — just as happened in "many other provincial towns" (Wyke 3). Next to come on the other side of the flagged space would be Matthew Noble's Wellington Monument (1853), followed by William Theed's bronze copy of Chantrey's John Dalton (1855, but moved in 1966 to outside the John Dalton Building, Manchester Metropolitan University) and his lovely bronze version of Chantrey's James Watt (1857). Pride of place would eventually go to Edward Onslow Ford's extravagantly robed figure of Queen Victoria.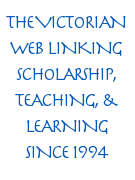 Related Material
Photographs and text by Jacqueline Banerjee, Associate Editor, the Victorian Web. [You may use these images without prior permission for any scholarly or educational purpose as long as you (1) credit the photographer and (2) link your document to this URL in a web document or cite the Victorian Web in a print one. Click on the images for larger pictures.]
Bibliography
Hartwell, Clare. Manchester. Pevsner Architectural Guides. London: Penguin, 2001. Print.
Perrin, Joseph. The Manchester Handbook. Manchester: Hale & Roworth, 1857. Google Books. Web. 1 April 2012.
"Politicians, Law & Social Reformers (2)" Papillon Graphics' Virtual Encyclopedia of Manchester. Web. 1 April 2012.
Read, Benedict. Victorian Sculpture. New Haven & London: Yale University Press, 1982.
Wyke, Terry, with Harry Cocks. Sculpture of Greater Manchester. Liverpool: Liverpool University Press, 2004.
---
Last modified 2 April 2012