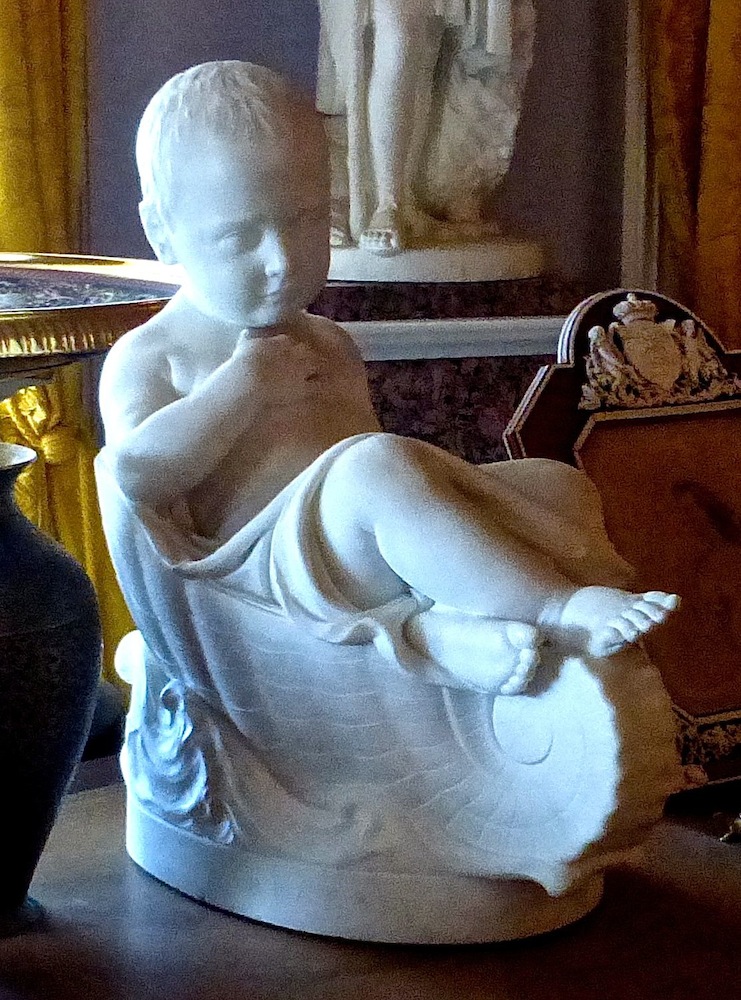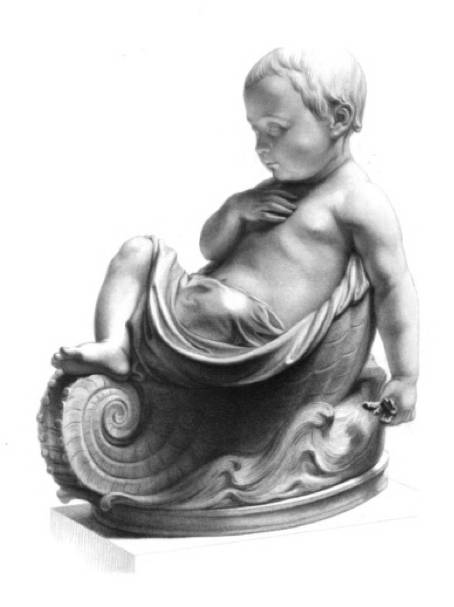 This lifesize marble sculpture of the infant Princess Beatrice cupped in a nautilus shell is seen (left) in situ in the drawing-room of Osborne House and (right) in a fine engraving from the Art-Journal of 1865, which ran the following commentary:
The child . . . represented in sculpture as a kind of ocean-sprite, is the Princess Beatrice, the youngest member of the Royal Family, and now in the fourth year of her age. As daughter of the monarch who is styled' and, it is still to be hoped, truthfully, not withstanding all which has been written and said of late respecting our naval armaments in comparison with those of foreigners' "mistress of the seas," Mrs. Thornycroft has cradled the royal child in a huge marine shell, and launched her on the broad waters without rudder or compass, but merely holding in her hand a sprig of coral.
'Tis a pretty, fanciful idea, if we caunot accord to it the merit of novelty, and so far as each separate part is considered, is well carried out. But, speaking nautically, the boat is not "trimmed;" it would scarcely live on a sea whose surface is as smooth as glass, so disproportioned is the size of the vessel to that which it is made to carry. The sculptor, doubtless, had sufficient reasons for treating the subject in the manner she has, but in the engraving the disparity is too obvious to produce harmony to the eye; in the original work this is not so apparent, because, from the comparatively low elevation in which the work is placed, far less of the cradle is seen than of the figure. The pose of the latter is easy and natural, and the modelling vigorous and true. The work was a commission from the Queen, and is in the possession of her Majesty.
According to Michael Turner, Thornycroft made sculptures of all nine of Queen Victoria and Prince Albert's children over a fifteen-year period. These sculptures are all on display in the drawing room of Osborne House. The Queen gave this one to Prince Albert as a Christmas gift in 1858 (see "Princess Beatrice").
Art-Journal image and commentary added by George P. Landow; photograph and last paragraph added later by Jacqueline Banerjee. You may use both images without prior permission for any scholarly or educational purpose as long as you (1) credit the photographer or source (including the Hathi Trust Digital Library and the University of Michigan for the black-and-white image), and (2) link your document to this URL in a web document or cite the Victorian Web in a print one.
Bibliography
"The Cradle from the sculpture" by Mrs Thornycroft." Art-Journal. (1860): 370.
"Princess Beatrice (1857-1944) in the Nautilus Shell." The Royal Collection Trust. Web. 1 September 2017.
Turner, Michael. Osborne. Rev. reprint. London: English Heritage, 2016.
---
Last modified 31 August 2017