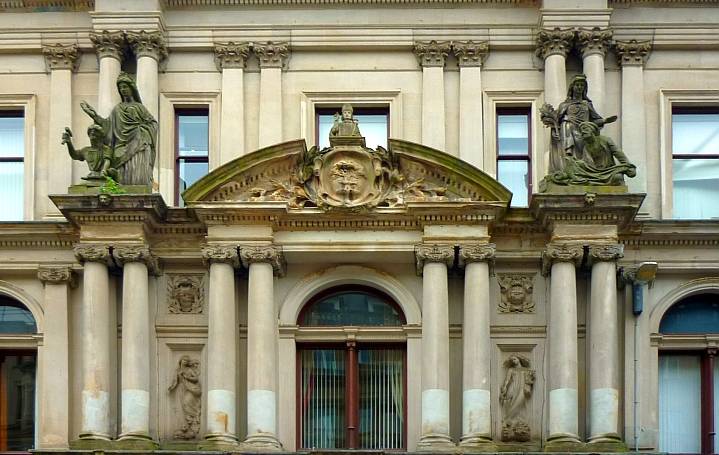 Industry and Trade by John Mossman (1817-1890). 1871-4. Yellow freestone. Clydesdale Bank, St Vincent Place, Glasgow. [Closer view of Trade] Text and photograph 2006 by Jacqueline Banerjee. [This image may be used without prior permission for any scholarly or educational purpose.]
This architectural sculpture is on the façade of a bank designed by the important Scottish architect John Burnet (1814-1901), with alterations" by his son John James Burnet (1857-1938; later to be architect of the Edward VII Galleries at the British Museum). Each of Mossman's full-size tableaux shows a muse in classical drapery overlooking a figure symbolic of the subject: Industry has a blacksmith with his hammer raised high, and Trade an "oriental cloth vendor" displaying his wares beseechingly (McKenzie 367). Contemporary commentators criticised Burnet for over-use of ornament (McKenzie 368), but that does not detract from the vitality of these figures, or the skill with which they were rendered.
Bibliography
McKenzie, Ray, with contributions" by Gary Nisbet. Public Sculpture of Glasgow. Liverpool: Liverpool University Press, 2002.
---
Last modified 18 October 2009