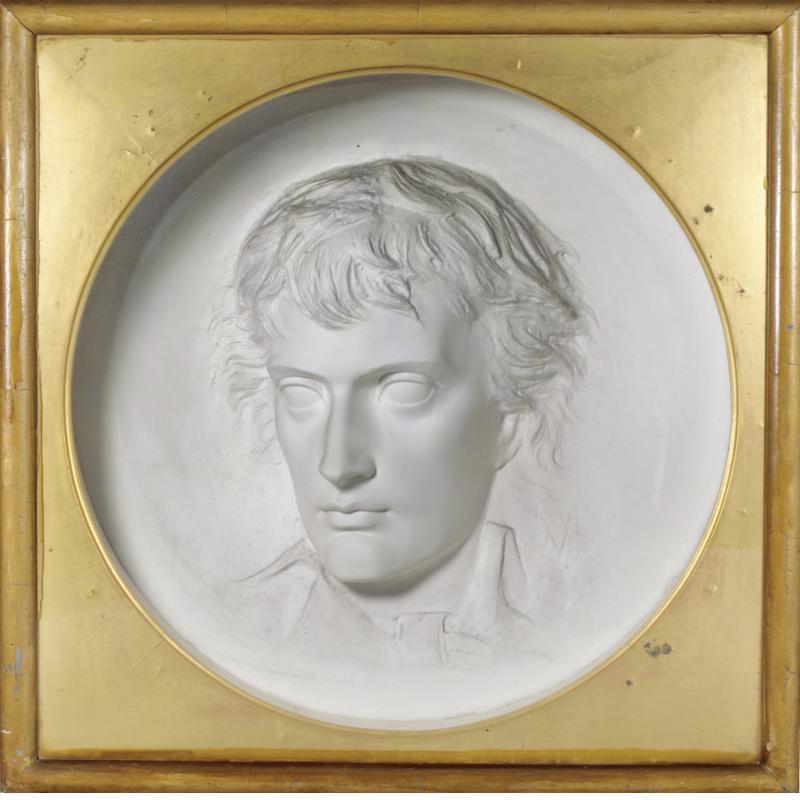 David Scott R.S.A. Alexander Munro (1825-1871). c.1860. Plaster sculptural high relief, in giltwood frame, 20 ½inches (52 cm). Private Collection, Canada. [Click on image to enlarge it.]
While still a student at the Royal Academy Schools Munro began to produce the portrait relief sculptures and portrait busts that were to remain the mainstay of his livelihood throughout his career. In contrat to the work of Thomas Woolner, who favoured low-relief profiles, Munro developed a technique of head-on faces that projected from the plaster or marble block. In the c ase of this portrait relief of David Scott, Munro has modelled Scott's face full-on and in such high relief that it is virtually in the round. This high relief portrait sculpture is therefore totally characteristic of Munro's work in portraiture.

Scott's funerary monument erected in 1860 in Dean Cemetery in Edinburgh.
This cast was sold at Sotheby's, London, in 2006 as an image of William Bell Scott, but subsequent research has shown that it is, in fact, a portrait of his elder brother, the painter David Scott (1806-1849). This work was subsequently cast in bronze for Scott's funerary monument erected in 1860 in Dean Cemetery in Edinburgh. William Bell Scott designed the monument and the stonework was executed by P. B. Smith. Bell Scott must therefore have commissioned the sculptural relief of his brother from Munro and the plaster cast was given to his mistress Alice Boyd upon his death. It remained in the Penkill Castle collection until sold by its then owner, Elton K. Ekstrand, at Christie's in 1992.
This was certainly not the first posthumous portrait that Munro was commissioned to do and, in such circumstances, the question always arises as to the accuracy of the likeness. This is particularly so in this case because the portrait medallion of David Scott was executed in c. 1860, eleven years after his death. In W. B. Scott's possession at Penkill was a daguerreotype of a cast of David Scott at age twenty-five done by his former fellow student Steall [sic] (Waisman, Penkill Papers). Steall was undoubtedly the sculptor Sir John Robert Steell R.S.A. (1804-1891) who modelled many of the leading figures of Scottish culture and was a contemporary of David Scott. Munro could potentially have used this daguerreotype as the basis for this own sculpture. Certainly David Scott appears to be about this age in Munro's sculpture, rather than age forty-two which is how old he was at his death. J. R. Steell's bust of Scott is in the collection of the National Galleries of Scotland.
Bibliography
Waisman, Y. "The Penkill Papers A Preliminary Inventory of the Papers of William Bell Scott and Alice Boyd," University of British Columbia Special Collections, 1978, photograph 5-2.
---
Last modified 27 April 2021