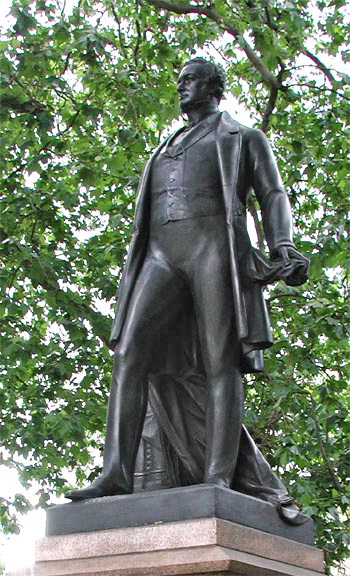 atthew Noble (baptised in 1817, d. 1876) became a highly prolific sculptor in the mid-Victorian school of naturalistic portraiture, and "the leading provider for statuary for Manchester and surrounding areas" during this period (Greenwood).. He was also the subject of some controversy.
The third of nine children of a Yorkshire stonemason living in Hackness, he was apprenticed to his father, and then came to the notice of the local landowner, Sir John Johnstone of Hackness Hall. Sir John sent him to London to study. Here, as a pupil of the sculptor John Francis (father of Mary Thornycroft), Noble lived up to his patron's expectations, and started exhibiting at the Royal Academy in 1845. His first important public work was the statue of Peel for St George's Hall, Liverpool (1853). In the same year he was chosen to produce the statue of the Duke of Wellington for Manchester's Piccadilly. There was some opposition to this, because he was a relative newcomer to the sculptural scene, but more commissions came in, so many in fact that Noble was able to take on assistants and turn out work which was done more under his direction than by his own hand. This was quite normal for the bigger studios, but he was felt to carry it too far. Thomas Woolner called him "a person who never touches the work that goes under his name. — This is true, for I know the sculptors who do his work" (qtd. in Read 66). This may account for the snide comments made about him by Sir Francis Palgrave, who criticised his "dead dullness," and saw him as one of the followers of Sir Francis Chantrey — "founder of that coarse and careless style in modelling and execution ... which has gone far to destroy the credit of English sculpture on the continent" (qtd. in Read 19-20). Few escaped Palgrave's criticism, since he was generally jaundiced in his attitude to the state of British sculpture in the 1860s. But, as he wrote to one correspondent in 1869, he was well-qualified both by background and knowledge of "Tricks of the Trade" to make such judgements (100).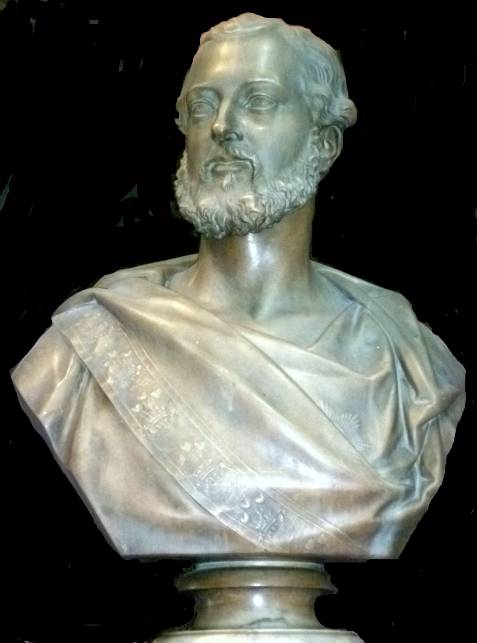 Nevertheless, Noble fulfilled many important commissions, among the best known of which are his Albert Memorial in Albert Square, Manchester (1862-67), his statues of Sir James Outram (1871) on the Victoria Embankment, and Edward Stanley, Lord Derby (1874) in Parliament Square. He produced many portrait busts and funerary monuments, and has work in both Westminster Abbey and St Paul's Cathedral.
In 1855, Noble had married John Francis's granddaughter Mary, and they had had four sons. One died in 1874 at the age of sixteen, and another at the age of nineteen in a train accident in 1876. Noble, a kindly and generous man by all accounts, had never been robust, and these dreadful blows seemed too much for him. He died later in 1876, before turning sixty, and was buried in Brompton Cemetery. — Jacqueline Banerjee.
Works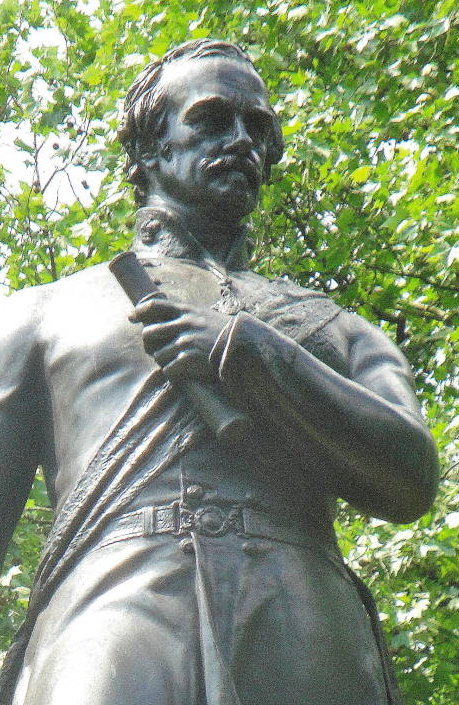 Bibliography
Bullus, Claire, and Ronald Asprey. The Statues of London. London & New York: Merrell, 2009.
Byron, Arthur. London Statues. London: Constable, 1981.
Greenwood, Martin. "Noble, Matthew (bap.1817, d. 1876)." Oxford Dictionary of National Biography. Online ed. Web. 8 July 2011.
Mass, Jeremy. The Victorian Art World in Photographs. London: Barrie & Jenkins, 1984.
Palgrave, Francis Turner. His Journals and Memories of His Life. Compiled by Gwenllian F. Palgrave. London: Longman, 1899. Internet Archive. Online ed. Web. 8 July 2011.
Read, Benedict. Victorian Sculpture. New Haven: Yale University Press, 1982.
"Statues and Inscriptions." Discovering Leeds: Leeds Town Hall. Leeds City Council site. Web. 8 July 2011.
Steggles, Mary Ann, and Richard Barnes. British Sculpture in India: New Views and Old Memories. London: Frontier Publishing, 2011.
---
last modified 10 June 2016