Introduction
According to the Mapping Sculpture site, Palliser, a "stone carver, sculptor, wood engraver, architect, [and] teacher of sculpture . . .trained as an architect." Bob Speel adds,
HW Palliser was one of the sculptors who started his art training in an Edwardian world, spent most of his career in the 20th Century, and while producing work in an art deco style, kept something of earlier artistic sympathies.
He was born in Northallerton in 1888, and studied at the Central School of Arts and Crafts, and then at the Slade. There are three main works of architectural sculpture" by him in central London, all in stone. In King William Street, in the City, is what is now a Russian bank, but was once the London Life Association, with three pairs of figures of seated figures, male and female. On the north side of Southwark Bridge, close to Cannon Street, is Vintners Place, with woman representative of the spirit of the grape harvest, flanked" by two goats and with doves above her head, and swans on the supporting blocks — a strange thing. Most ambitious, and unfortunately most difficult to see because it is high up in a road too narrow to get the proper distance, is the pediment group for a large building facing Southampton Row, — it consists of three figures with machinery. Among his other work, though I have not been to see it, are stations of the cross and a font for Kenton Church, Harrow.
Palliser's central London works are in the tradition prevailing from after WW1 which led to the art deco style in the 1930s. His men are muscular, square shouldered, and with close-cropped hair. His girls have a deco hardness of expression, shortish hair close to the scalp, lithe rather than full figures, and again a certain muscularity to arm and leg. Clothes, where present, are sparely classical. The Vintners Place statue is rather more rounded in form which would reflect its rather earlier date.
Works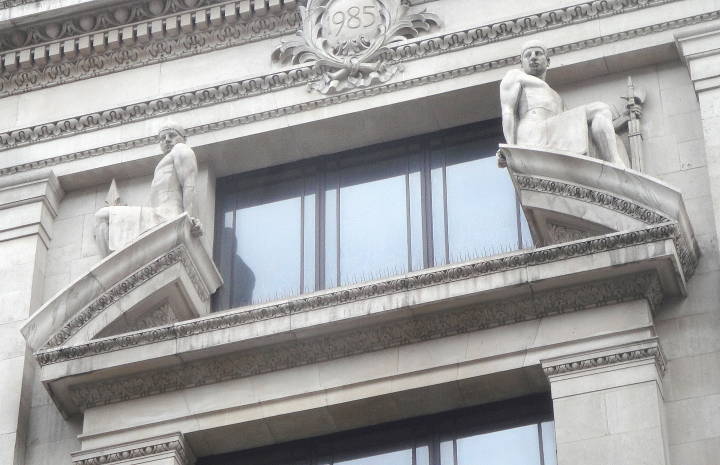 Bibliography
"Herbert William Palliser." Mapping the Practice and Profession of Sculpture in Britain and Ireland 1851-1951. University of Glasgow History of Art and HATII, online database 2011. Web. 11 May 2011.
Speel, Bob. "Herbert William Palliser (1883-1963)" Web. 23 June 2011.
Ward-Jackson, Philip. Public Sculpture of the City of London. Liverpool: Liverpool University Press, 2003.
---
Last modified 22 June 2011