Introduction: Obituary in the 1875
Art-Journal
We have seen 'with much regret the death of this sculptor announced: he died, on the 2nd of March, after a very short attack of bronchitis, at the comparatively early age of fifty. Mr. Philip's talents were chiefly devoted to ornamental sculptures, and his works of this class were numerous and, for the most part, of an excellent order. They comprise, among others, the alto-relievo over the porch of St. Michael's Church, Cornhill, representing Michael and Satan contending (1858); three designs forming portions of the series of subjects executed for the reredos in St. George's Chapel, Windsor (1863); four panels representing respectively Jamaica, Canada, China, and India, for the monument to the memory of the late Lord Elgin (1869); and 'Suffer little children,' &c., also a monumental panel (1874). Other sculptures from the hand of Mr. Philip are a monumental effigy of Queen Catherine Parr, in the chapel of Sudeley Castle, Gloucestershire, where she lies buried (1859); a bust (posthumous) of the late Lord Herbert of Lea, and a recumbent figure of the same nobleman for his monument in Wilton Church (1863); a posthumous bust of Dr. Lyall, late Dean of Canterbury (1858); a posthumous bust of the late Countess of Pembroke (1861); a bust of Richard Cobden (1867); statues of 'Geology' (1868) and of 'Geometry' (1872) for the Prince Consort Memorial, Hyde Park; of King Alfred, in the Houses of Parliament (1869); 'The Wise Virgin' (1871); 'Narcissus' (1873); 'Waiting,' a monumental statue (1874).
These works are especially mentioned because all of them have been exhibited, either in the model or in marble, in the Royal Academy at the dates annexed. But besides the above, Mr. Philip executed one half of the beautiful sculptures on the podium of the Prince Consort Memorial, which were engraved last year in the Art Journal: conjointly with Mr. Armstead, A.R.A., he executed the whole of the figures [Law, Agriculture, Art, Science, Commerce, and Manufacture] which ornament the façade of the new Government Offices, Whitehall. The statues of Richard Oastler, at Bradford, Yorkshire, and of the eminent Nonconformist minister, Robert Hall, at Leicester, are also from his hand.
[According to Roscoe etc al., chief assistant modeller was Ceccardo Fucigna who oversaw the completion of all the works in the studio when Philip died in 1875.]
Works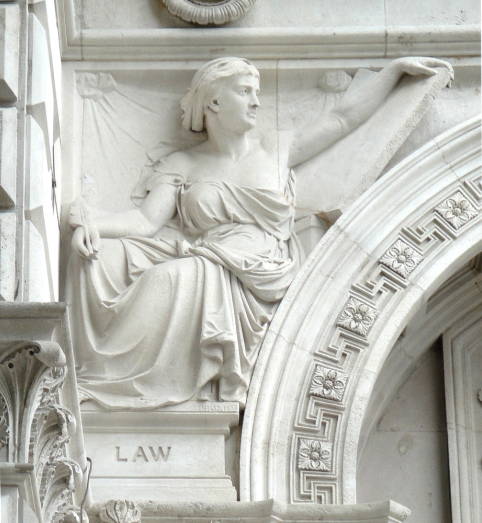 Bibliography
Beattie, Susan. The New Sculpture. New Haven: Yale University Press, 1983.
"Obituary: John Birnie Philip." Art-Journal. (1875): 144. Hathi Trust version of a copy in the University of Michigan Library. Web. 24 March 2014.
Roscoe, Ingrid, Emma Hardy, and M. G. Sullivan. Biographical Dictionary of Sculptors in Britain 1660-1851. New Haven and London: Yale University Press. 2009.
Speel, Bob. "Whitehall." Web. 5 June 2011.
Ward-Jackson, Philip. Public Sculpture of the City of London. Liverpool: Liverpool University Press, 2003.
---
Last modified 11 January 2022