Introduction
James Redfern (1838-76) was born at Hartington in Derbyshire, the only surviving son of a mason there (see "James Redfern, Sculptor"). He soon developed a talent for carving, which brought him to the notice of A. J. Beresford Hope, the influential journalist and politician, and long-time chairman — then President — of the Ecclesiological Society. Described by Joseph Mordaunt Crook as "a gothicist to his heart's core," Beresford Hope was also, from 1865-67, the President of RIBA. This powerful friend introduced Redfern to the top-class stained-glass makers, Clayton and Bell, and so into the circle of artists working on the rich decoration of churches during a boom period for restoring cathedrals and churches, and building new places of worship. Hope also sent him to Paris to study for six months, on the recommendation of Clayton himself. After that, Redfern entered into partnership with two other artists: Bell, Redfern and Almond, Sculptors and Glass Painters (see Ward-Jackson 475). Initially a "fine art sculptor" (Read 266), he worked with George Gilbert Scott on the Albert Memorial, executing the figures of the Virtues, and on several cathedrals, as well as on Westminster Abbey. From about 1873-75 he also worked with William Burges on the decoration of Cardiff Castle, and was also employed by Burges elswhere, for example at the church of Christ the Consoler in Skelton, Yorkshire.
Philip Ward-Jackson sees Redfern as "one of the foremost contributors to the 'restoration' of England's medieval cathedrals," having invented "a Victorian equivalent of the thirteenth- and fourteenth-century sculptural style," though this, he suggests, came to seem "quite inauthentic"; his work at 7 Lothbury, however (the Progress Relief), wins more approval: "the miniature scale of Redfern's reliefs, the proportion of the figures, with their large heads, and the crowded variety of activities represented, all suggest a more imaginative response to the task of creating a convincing revivalist sculpture" (Ward-Jackson 237). Benedict Read points out that although this sculptor had started out by exhibiting religious works with such titles as Cain and Abel (1859) at the Royal Academy, he produced portrait statues as well, including one of the Duke of Devonshire in Cambridge (267). — Jacqueline Banerjee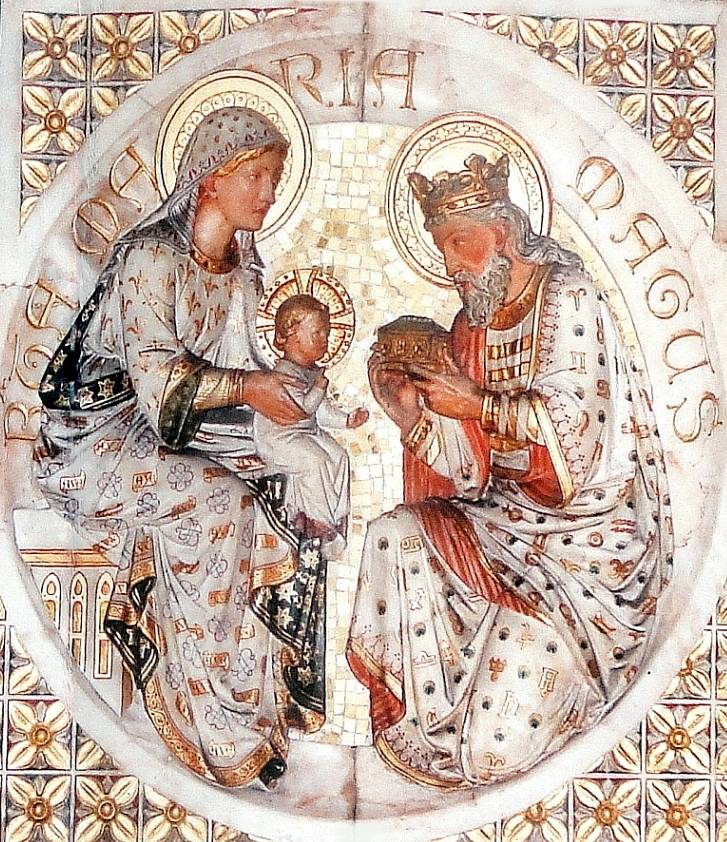 Works
Bibliography
Crook, J. Mordaunt. ""Hope, Alexander James Beresford Beresford (1820-1997)." Oxford Dictionary of National Biography. Online ed. Web 3 Dec. 2011.
"James Redfern, Sculptor." The Church Quarterly Review, Vo. 62, London: Spottiswoode & Co., 1906. 334-356.
Read, Benedict. Victorian Sculpture. New Haven: Yale University Press, 1982.
Ward-Jackson, Philip. Public Sculpture of the City of London. Liverpool: Liverpool University Press, 2003.
---
Last modified 3 December 2011