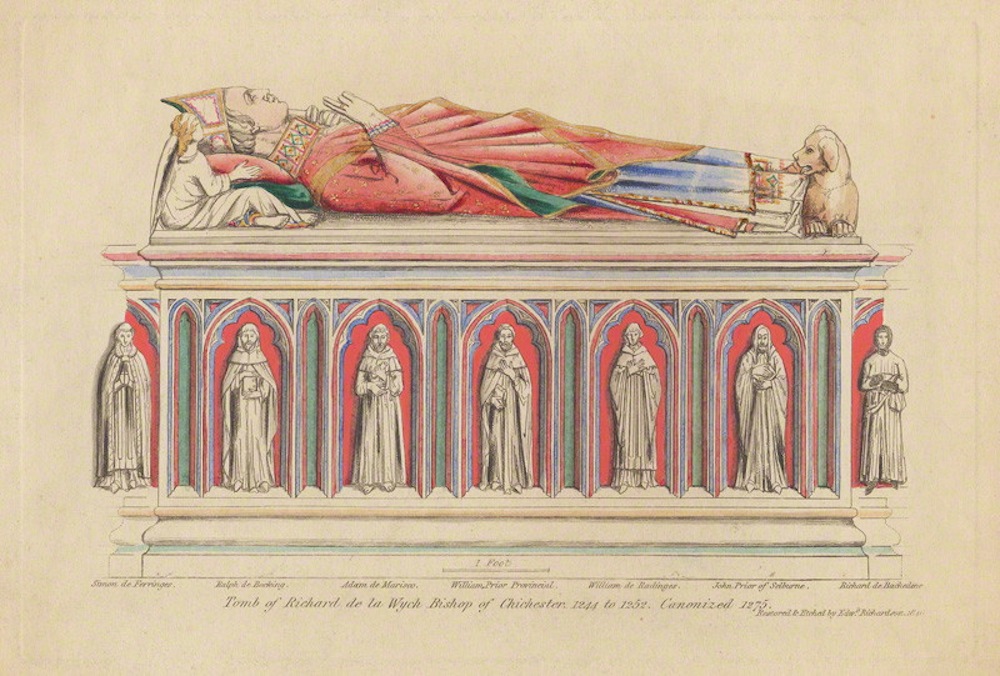 Monument to Richard de la Wych, by Edward Richardson, a hand-coloured etching of the planned restoration/addition of 1846. 6 in. x 8 7/8 in. (151 mm x 225 mm) plate size; 7 1/2 in. x 11 in. (191 mm x 279 mm) paper size. © National Portrait Gallery. Purchased with help from the Friends of the National Libraries and the Pilgrim Trust, 1966. Reference Collection, NPG D4931.

Plate 7: Effigy of Richard de la Wych (closer view).
Having previously restored the Arundel monument in Chichester Cathedral, in 1846 Richardson was given the task of restoring the monument of Bishop Richard de la Wych there. The Bishop, who was canonised, served from 1245-53, and had been given a shrine in the cathedral, which became a popular object of pilgrimage. Richardson not only undertook the restoration, but added the figures of seven other worthy divines around the tomb-chest . — Jacqueline Banerjee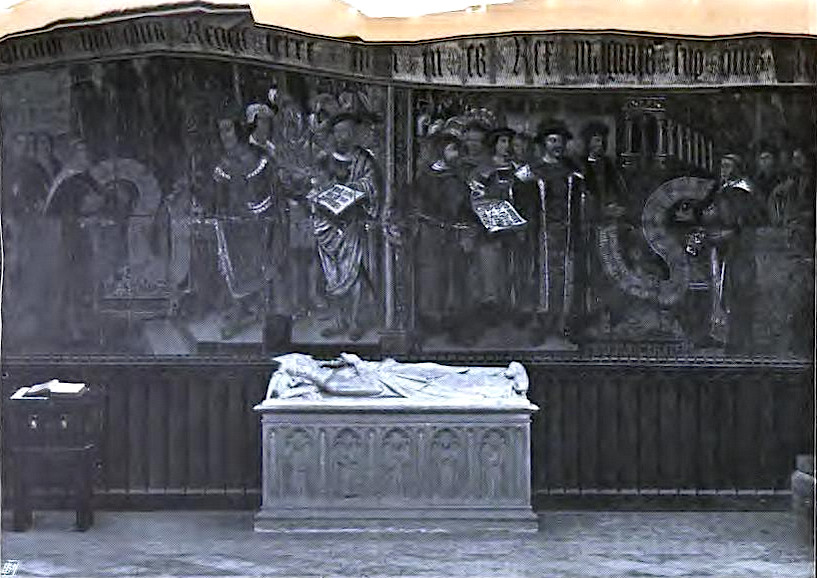 The tomb in situ at the turn of the century. Source: Corlette, facing p. 112.
Related Material
Bibliography
Corlette, Hubert Christian. The Cathedral Church of Chichester: A Short History & Description of Its Fabric with an Account of the Diocese and See. London: George Bell, 1901. Internet Archive. Book from the collections of New York Public Library. Web. 6 January 2017.
Dodgson, Campbell, rev. Jason Edwards. "Richardson, Edward M. (1812–1869), sculptor and archaeologist." Oxford Dictionary of National Biography. Web. 6 January 2017.
---
Created 6 January 2017