Portal Figures
The north side of the West Portal, St John the Baptist Church, Holland Road, Kensington, London, showing the Foolish Virgins by J.E. Taylerson. The architect of this Grade I listed church was James Brooks (1825-1901), but the west front had not been completed before his death. Brooks had designed a "cathedralesque entrance, French in manner" (Sheppard), with three porches, and had intended the central one to be the main entrance from the street. His former assistant, J. S. Adkins, decided to enclose all three porches, making the central one a baptistery. Nevertheless, he still had the sculptural work for the entrance carried out "according to Brooks's intentions" (Cherry and Pevsner 458). So the Wise and Foolish Virgins are ranged on either side, the wise about to be admitted, the foolish to be turned away. The sculptures belong to the period 1909-11, when the firm of E. A. Roome and Co. was contracted for the building, and Taylerson was commissioned for the carving (listing text). The church's own website dates the figures to 1911. [Click on this and the following image for larger pictures.]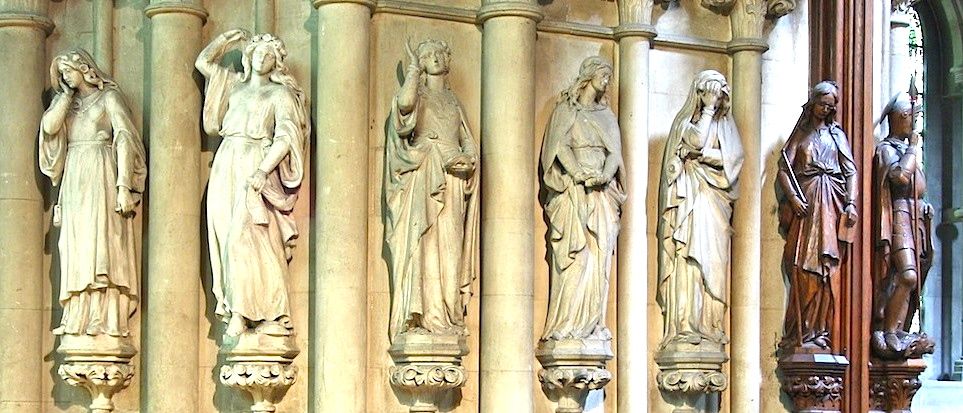 Closer view of the Foolish Virgins, followed by the wooden carvings of Synagoga (representing the Old Law, and looking equally downcast) and a triumphant St George, where the baptistery screen begins.
The less fortunate virgins, the ones who have not brought oil for their lamps and will be turned away by the Bridegroom, are shown in various nicely differentiated attitudes of distress. Had there really been a large double doorway here, the figure of Christ as Bridegroom would probably have presided as a figure between or above the two sides of the opening.
Baptistery Screen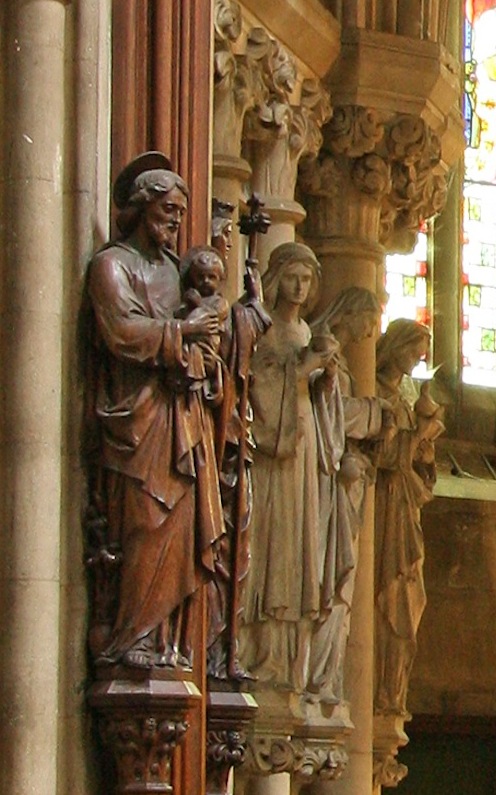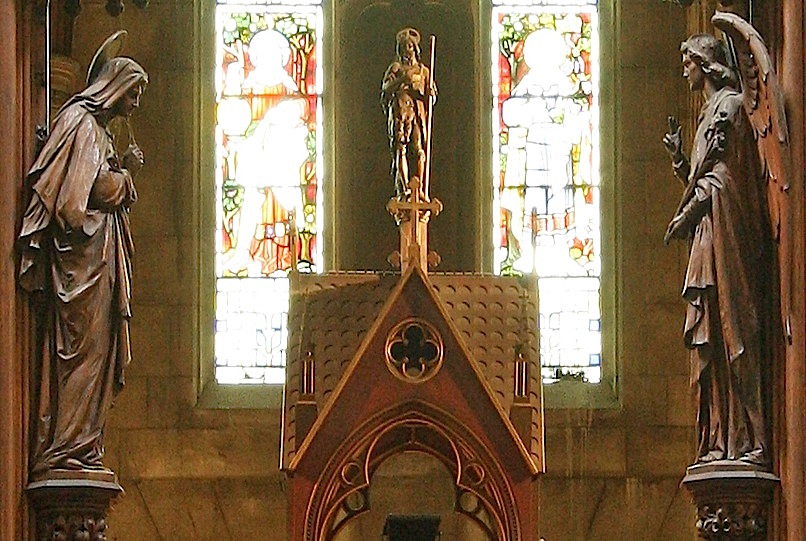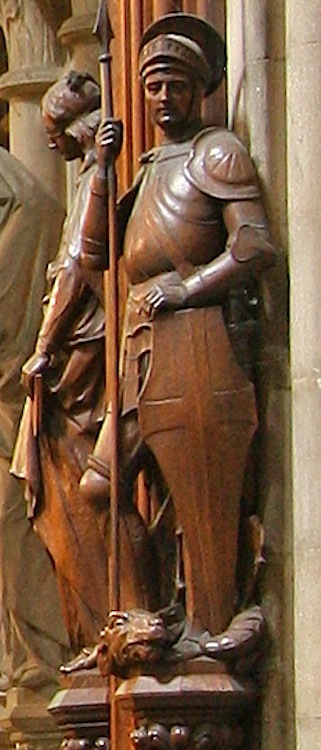 Left to right: (a) Joseph. (b) Mary and Gabriel. (c) St George.
Adkins marked the Baptistery off from the nave by a fine wooden screen. The figures here were by Taylerson as well, since he was a skilled carver not only in marble but also in wood (and ivory too). The figures on the south side, following on from the Wise Virgins and matching Synagoga and St George opposite, are Ecclesia (representing the New Law, and holding a chalice) and Joseph in his role as earthly parent — he is shown tenderly holding the baby Jesus, in a particularly warm-hearted representation of him. In the middle stands Mary with eyes modestly lowered in the presence of Saint Gabriel, as in the Annunciation. St George on the north side carries his long spear, with the dragon vanquished at his feet, and rests one hand on his shield with its raised emblem — the cross.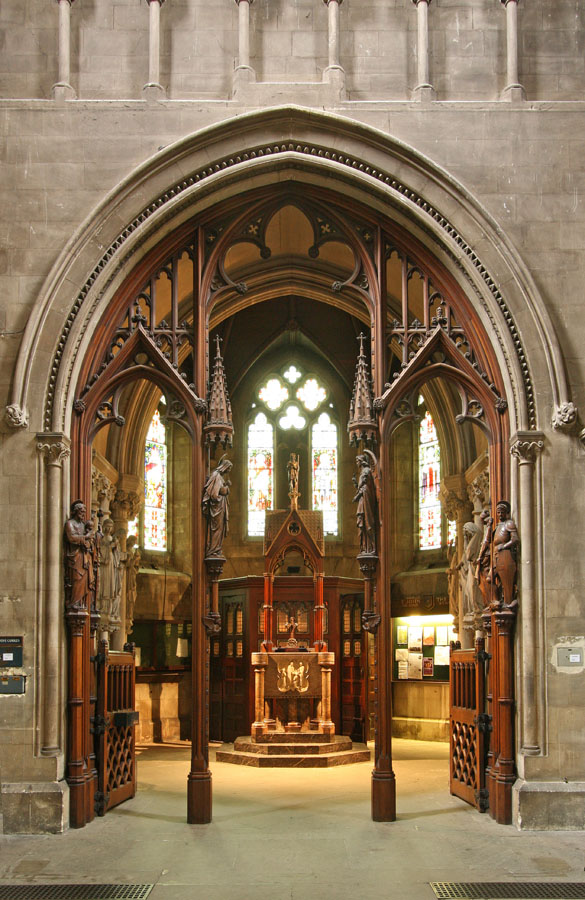 In the photograph alongside, the tall middle arch of the screen beautifully frames the large font inside the Baptistery. Brooks had designed this, but it had originally been placed in the north aisle. It is crowned by the figure of John the Baptist. Although not what Brooks had expected, the total effect is both splendid and replete with meaning.
Photographs by John Salmon. Formatting by the author. You may use these images without prior permission for any scholarly or educational purpose as long as you (1) credit the photographer and (2) link your document to this URL in a web document or cite the Victorian Web in a print one.]
Related Material
Bibliography
Cherry, Bridget, and Nikolaus Pevsner. London 3: North West. London: Penguin, 1991.
"List Entry" (for St John the Baptist, Holland Road). Historic England. Web. 18 May 2015.
"St John the Baptist, Holland Road" (Church website). Web. 18 May 2015.
---
Created 18 May 2015