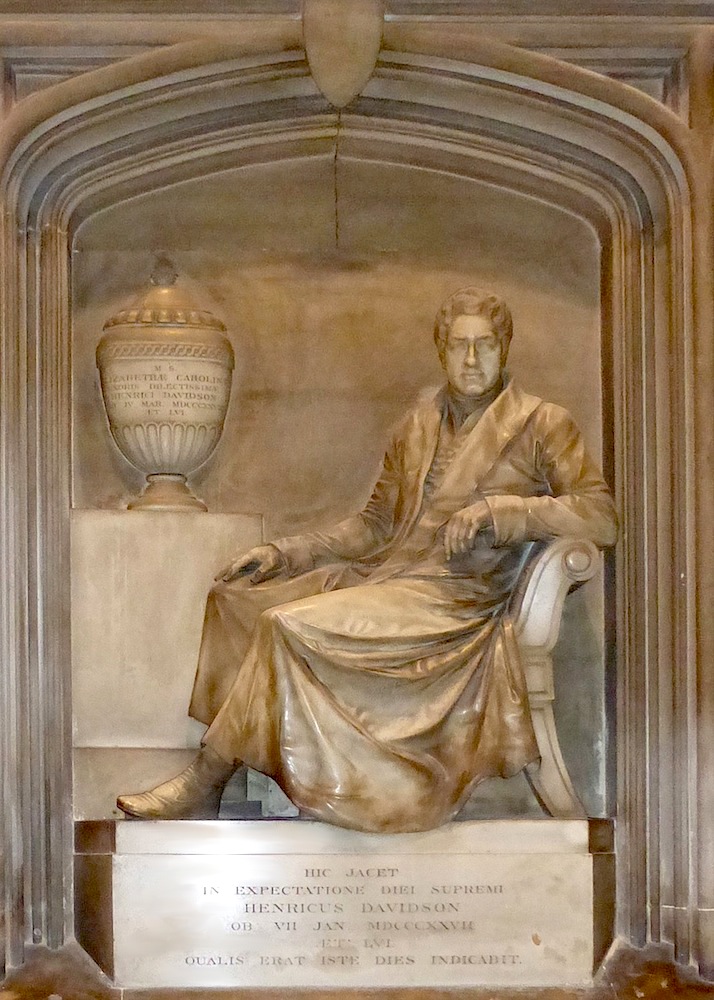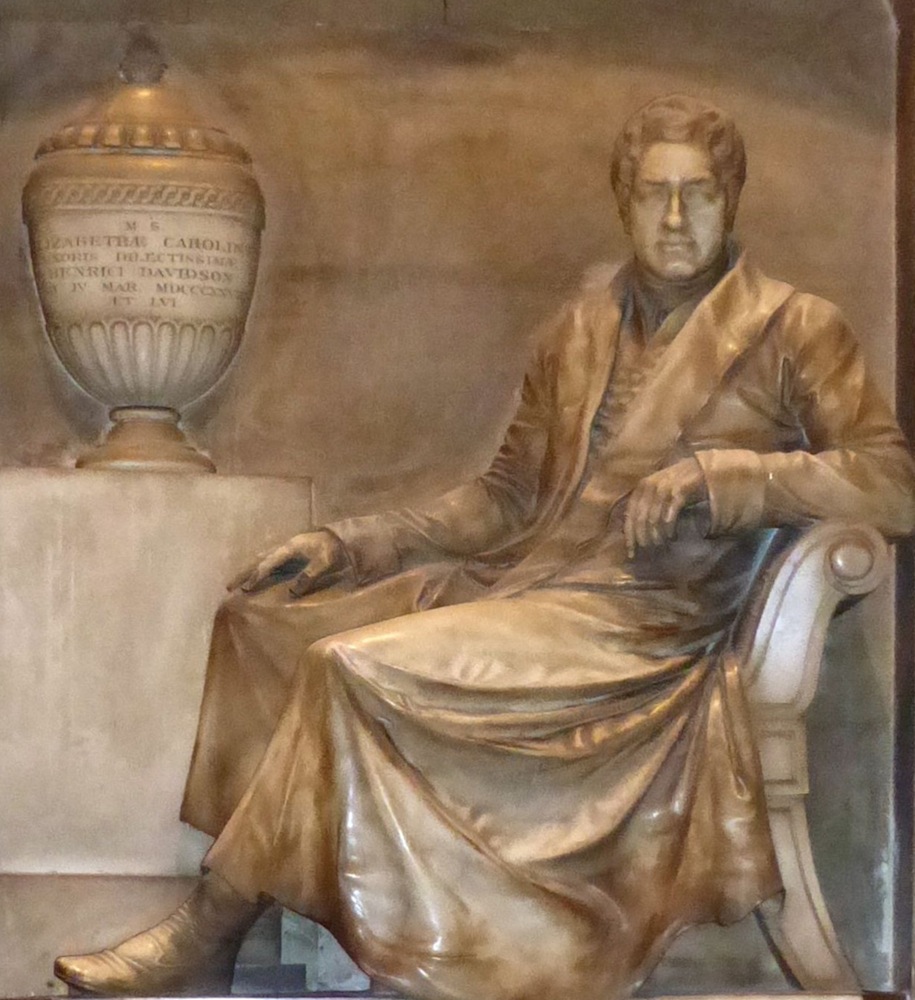 Memorial to Henry Davidson by John Ternouth (1796-1848). After 1827. Marble. South transept of All Saints Church, Market Place, Kingston-upon-Thames, Surrey. Henry Davidson, shown in close-up on the right, is seen sitting on a low-backed chair in a dignified but relaxed fashion, with one arm resting along its back. Beside him is an urn, bearing the name and details of his wife, Elizabeth Caroline, who outlived him by not much more than a year. The monument has a particular historical resonance, because of the source of Davidson's wealth. [Click on all the images to enlarge them.]
The inscription below Davidson's figure reads: "Hic jacet in expectatione diei supremi Henricus Davidson, ob. vii Jan. 1827, aet. 56. Qualis erat iste dies indicabit" ("Here lies in expectation of the Last Day Henry Davidson, who died on 7 January 1827, aged 56. What sort of man he was, that Day will show"). This has been seen as "a specimen of modesty rarely to be met with under similar circumstances" (Biden 49), but nowadays it might be seen rather differently. Davidson, from an old Scottish family, was a wealthy merchant with plantations in the West Indies, and, apparently, some sizeable debts (see "Henry Davidson senior"). His wife died on 4 May 1828.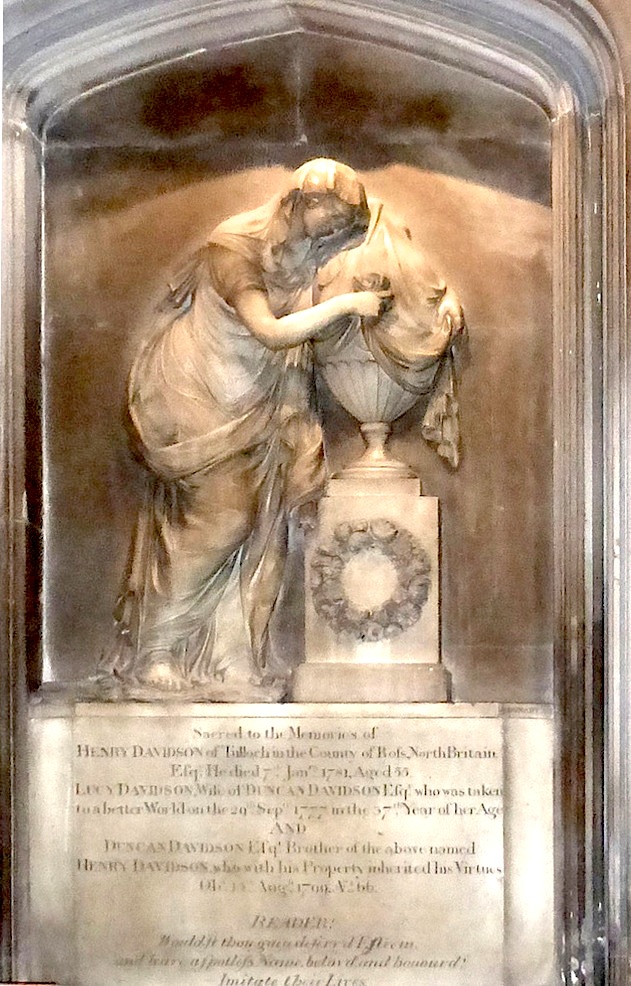 Several generations of the Davidson family are buried here. Davidson's monument is next to that of his father Duncan and mother Lucy, memorialised along with his grandfather, an earlier Henry Davidson, a West India merchant who had died in 1781. Duncan is said to have inherited his forebears' virtues along with his property. This neighbouring eighteenth-century monument depicts a diaphanously-robed woman weeping over an urn, and was sculpted by a funerary sculptor responsible for many such monuments of the late eighteenth and early nineteenth centuries – Charles Regnart. These therefore were very fine memorials for a family whose standing was ultimately based on slave-ownership. However, it is interesting to note that the next Duncan (c.1800-1881), eldest son of the Henry Davidson shown seated above, "played no part in the family business," despite the fact that part of his inheritance was "Mount Gay plantation, Grenada" ("Duncan Davidson").
Ternouth's monument reminds us of a whole class of men — like Jane Austen's fictional Mr Bertram in Mansfield Park — who derived their wealth from plantations, and, more generally, of how close the Victorians were to the slave trade. After all, the Slavery Abolition Act was only passed in 1833.
Related Material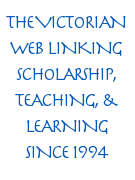 Photographs, text and formatting by Jacqueline Banerjee. You may use these images without prior permission for any scholarly or educational purpose as long as you (1) credit the photographer and (2) link your document to this URL or cite the Victorian Web in a print document.
Bibliography
Biden, William Downing. The History and Antiquities of the Ancient and Royal Town of Kingston-upon-Thames. Kingston: William Lindsey, 1852. Internet Archive. Contributed by Oxford University. Web. 9 May 2015.
"Duncan Davidson." Profile & Legacies Summary. Legacies of British Slave-ownership (a University College London project). Web. 9 May 2015.
"Henry Davidson senior." Profile & Legacies Summary. Legacies of British Slave-ownership (a University College London project). Web. 9 May 2015.
Nairn, Ian, Nikolaus Pevsner, rev. Bridget Cherry. The Buildings of England: Surrey. 2nd ed. London: Penguin, 1971.
"Regnant, Charles – Sculptor." Oxford Index. Web. 9 May 2015.
---
Created 9 May 2015