Sir W. Hamo Thornycroft, R. A. (1850-1825)

[Victorian Web Home —> Visual Arts —> Sculpture]
Biography
Born in London, son of sculptors Thomas and Mary Thornycroft. Entered R.A. Schools in 1869 while working with his father. Greatly admired the Elgin Marbles. Visited Italy in 1871. Exhibited at R.A. from 1872; in 1875 won gold medal with "Warrior Bearing Wounded Youth from the Field of Battle" acquired" by the Art Union of London. "Artemis" commissioned by the Duke of Westminster for Eaton Hall, 1879.
From 1882-1914 taught at R.A. Schools and received many public commissions including memorial to Gladstone, Strand; General Charles Gordon; and Oliver Cromwell, Westminster. Also executed a frieze for Institute of Chartered Accountants building, London. R.B.S. Gold Medal, 1923; joint memorial exhibition with F. Derwent Wood at R.A. 1927. A.R.A. 1881, R.A. 1888, Knighted 1917. [British Sculpture 1850-1914, p. 35.]
Thornycroft's Home on Melbury Road, London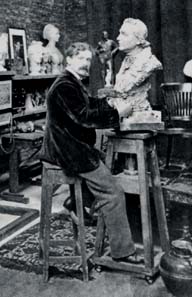 Works
Freizes for the Institute of Chartered Accounts building

General Charles Gordon Memorial

W. E. Gladstone Memorial
Bibliography
Beattie, Susan. The New Sculpture. New Haven: Yale University Press, 1983.
British Sculpture 1850-1914. A loan exhibition of sculpture and medals sponsored by The Victorian Society. London: Fine Art Society, 1968.
---
Last modified 27 August 2006