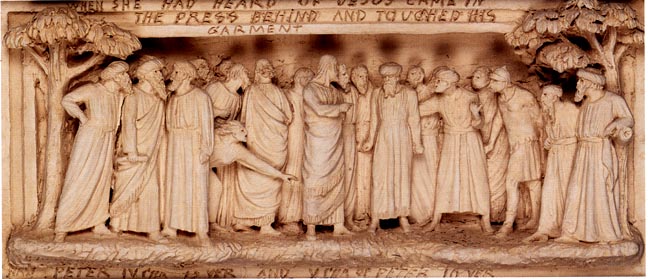 The Hem of His Garment by George Tinworth, 1843-1913. Terracotta. c. 1875. Signed "G. TINWORTH" and monogram, and inscribed: "When she heard of Jesus came in the press behind and touched his garment / Peter IV cha 1 ver and cha of Peter 10 ver / H. Doulton & Co. Lambeth." 5 1/4 x 12 inches. Manufacturer: Doulton & Co. The original panel of this plaque was exhibited at the 1875 Royal Academy.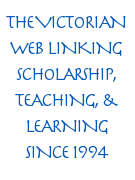 The Fine Art Society, London, has most generously shared information, images, and text with the Victorian Web. Copyright on text and images from their catalogues remains, of course, with the Fine Art Society. [GPL]
Bibliography
Gosse. A Critical essay on the Life and Works of George Tinworth. London: The Fine Art Society, 1883, p. 55.
Spring '99. London: The Fine Art Society, 1999. Catalogue Number 37.
---
Last modified 5 January 2005