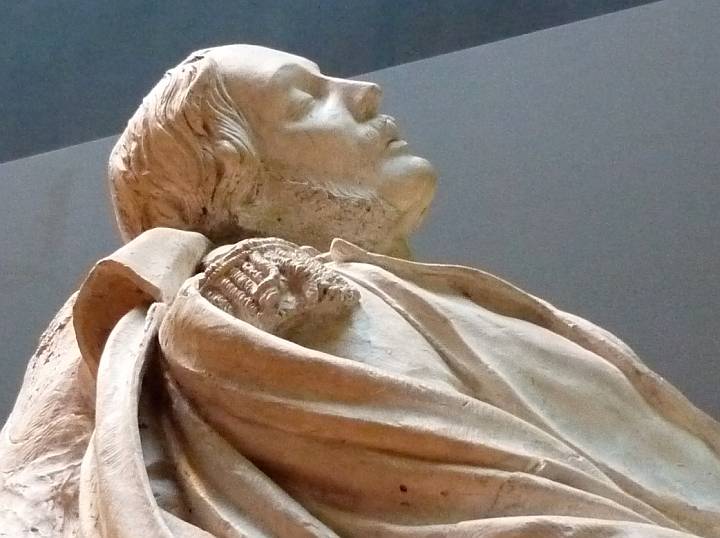 Recumbent Duke of Orléans (detail) by Baron Henri de Triqueti (1803-74). 1842. Plaster. The Triqueti room of the Musée Girodet, Montargis, France. Photographs by the author 2009/10 with kind permission of the Musée Girodet.
This is a detail from the full-size maquette of Duke Ferdinand of Orleans, prepared as an effigy for his tomb. Friend and patron of Triqueti, the duke was the eldest son of the Louis-Philippe, King of the French, and his wife Marie-Amélie of Bourbon-Sicily. As such, he was Prince Royal, and his death as a result of a carriage accident, at the age of only 32, was not only a family tragedy but a national event. The king decided to commemorate his son with a splendid memorial chapel — Chapelle Royale Saint-Ferdinand, also known now as the Chapelle Notre Dame de la Compassion, near the Place des Ternes, Paris. Triqueti, to whom the king's son had been both friend and patron, was commissioned for the sculptural decoration of the tomb. This was executed to the design of the artist Ary Scheffer (1795-1858), who was drawing and painting master to the royal children, but with great skill and feeling: The young prince is shown at the very moment of death, his uniform loosened in a hopeless bid to ease his breathing; he seems to have lapsed into sleep, the folds of his robes giving him a relaxed, romantic air (see Galliot-Rateau 16). The low-relief figure of "The Spirit of France Lamenting" on the side of the tomb was entirely of Triqueti's own conception and design. An angel at the duke's head, not part of the maquette in the museum, was sculpted by Princess Marie d'Orléans, the duke's sister. Louis-Philippe and his wife were fated to die in exile at Claremont, Surrey, during the mid-Victorian period.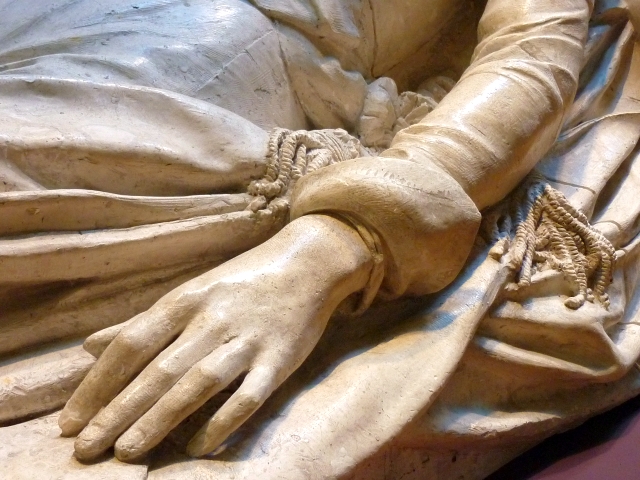 Left to right: (a) Detail of the duke's hand. (b) The Spirit of France Lamenting, on the side of the tomb. [Click on thumbnails for larger images.]
Other Views
Bibliography
Galliot-Rateau, Véronique. Henry de Triqueti, 1803-1874, Sculpteur: Collection du Musée des Beaux-Arts d'Orléans. Orléans: Musée des Beaux-Arts d'Orléans, 2009.
"La Chapelle Saint Ferdinand" (a French site about little-known places of interest in Paris). Viewed 8 May 2010.
Price, Munro. The Perilous Crown: France Between Revolutions, 1814-1848. London: Pan Macmillan, 2008.
Rykner, Didier. "Henry de Triqueti (1803-1874)." This site relates to a major exhibition of Triqueti's work in France, in 2007/8. Viewed 8 May 2010.
---
Last modified 18 November 2010