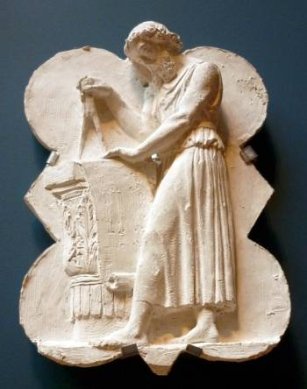 Left: Le Sculpteur de Bouclier. Right: Hiram — both by Baron Henri de Triqueti (1803-74). 1867. Plaster. [Photographs by the author taken by kind permission of the Musée Girodet, Montargis.]
Both maquettes are for bas-reliefs for the panel, "Solomon receiving gifts from the kings of the world," for the decoration of the Albert Memorial Chapel at Windsor Castle. These delightful depictions of craftsmen remind us of Armstead's similar depictions on the memorial to George Edmund Street in the Royal Courts of Justice in London, designed at a time when the Arts and Crafts movement was in full swing.
The right maquette, labelled simply "Hiram" in the museum, must refer to Hiram's having sent Solomon architects and other workmen, and materials, to help build his temple in Jerusalem: "So Solomon's builders and Hram's builders and the men of Gebal did the hewing and prepared the timber and stone to build the house [of the Lord]" (1 Kings 4, Ch. 5, v.18).
Bibliography
Factual information from the museum's information plaque.
---
Last modified 8 May 2010