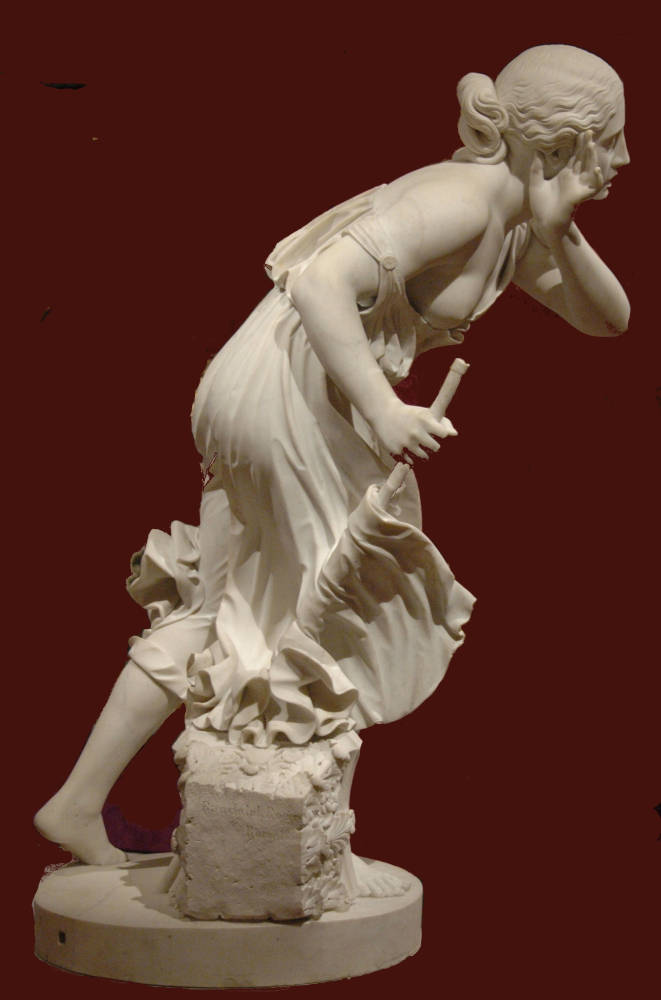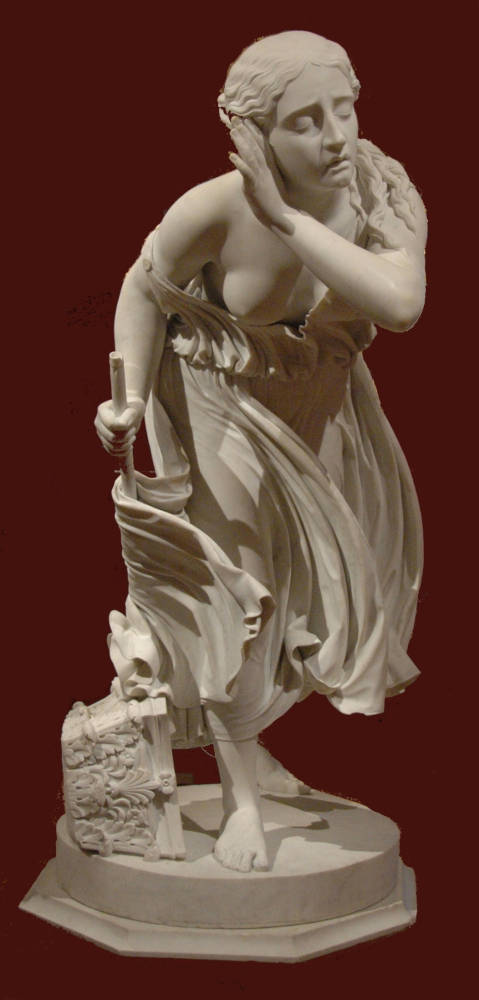 Nydia, the Blind Girl of Pompeii by Randolph Rogers (1825–1892). Sculpted in Rome, 1856. Marble. Overall: 137.16 x 61.6 x 91.44 cm (54 x 24 1/4 x 36 in.) Weight (approximate): 1100 lb. (1100 lb.) Block (marble base attached object --3/8 pin hole under socle): 8.26 x 57.79 x 60.33 cm (3 1/4 x 22 3/4 x 23 3/4 in.) Museum of Fine Arts, Boston. Gift of Dr. and Mrs. Lawrence Perchik. Accession number 1973.617. [Click on these images for larger pictures.]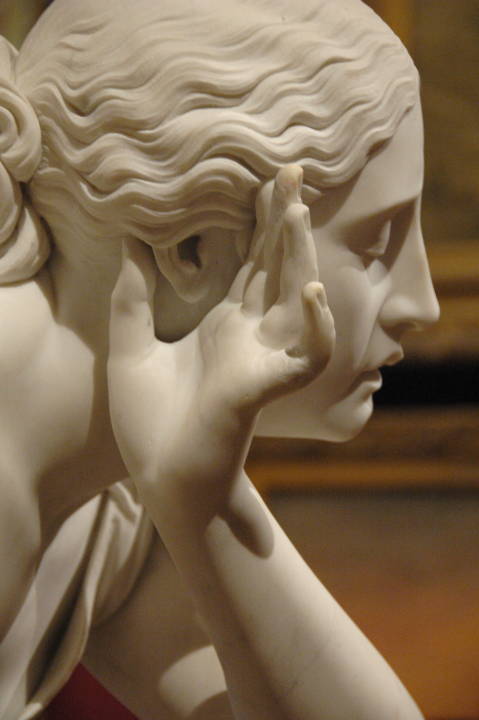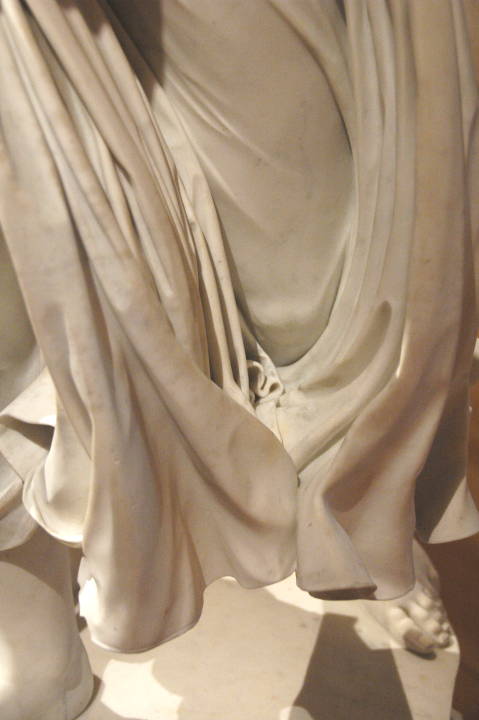 Although the museum site does not mention that Rogers here represents a famous scene from Sir Edward Bulwer-Lytton's enormously popular The Last Days of Pompeii, the statue realizes the following passage from the chapter entitled "The Despair of the Lovers. The condition of the multitude":
Meanwhile Nydia, when separated" by the throng from Glaucus and Ione, had in vain endeavored to regain them. In vain she raised that plaintive cry so peculiar to the blind; it was lost amidst a thousand shrieks of more selfish terror. Again and again she returned to the spot where they had been divided—to find her companions gone, to seize every fugitive—to inquire of Glaucus—to be dashed aside in the impatience of distraction. Who in that hour spared one thought to his neighbor? Perhaps in scenes of universal horror, nothing is more horrid than the unnatural selfishness they engender. At length it occurred to Nydia, that as it had been resolved to seek the sea-shore for escape, her most probable chance of rejoining her companions would be to persevere in that direction. Guiding her steps, then," by the staff which she always carried, she continued, with incredible dexterity, to avoid the masses of ruin that encumbered the path—to thread the streets—and unerringly (so blessed now was that accustomed darkness, so afflicting in ordinary life!) to take the nearest direction to the sea-side.
Poor girl!—her courage was beautiful to behold!—and Fate seemed to favor one so helpless! The boiling torrents touched her not, save" by the general rain which accompanied them; the huge fragments of scoria shivered the pavement before and beside her, but spared that frail form: and when the lesser ashes fell over her, she shook them away with a slight tremor,' and dauntlessly resumed her course.
The Metropolitan Museum of Art has another marble version of Nydia, the Blind Girl of Pompeii (accession number 99.7.2), which was carved in 1859, three years after the Boston one. The Rhode Island School of Design Art Museum in Providence, Rhode Island, also has a copy. According to the Metropolitan Museum website,
"Nydia, the Blind Flower Girl of Pompeii" was the most popular American sculpture of the nineteenth century. According to Rogers, it was replicated 167 times in two sizes. The subject was drawn from "The Last Days of Pompeii" (1834), a widely read novel" by Lord Edward Bulwer-Lytton, which ends with the eruption of Mount Vesuvius in a.d. 79. Rogers's evocative portrayal of Nydia highlights her heroic attempt to lead two companions out of the burning, ash-covered city. Her closed eyes and staff allude to her blindness, while the hand raised to her ear refers to her acute sense of hearing. The destruction of Pompeii is symbolized" by the broken Corinthian capital beside her right foot.
Additional images
Photographs and digital removal of background by the author. You may use these images without prior permission for any scholarly or educational purpose as long as you (1) credit the Museum of Fine Arts, Boston, and (2) link your document to this URL in a web document or cite it in a print one.]
Bibliography
Bulwer-Lytton, Sir Edward. The Last Days of Pompeii. Project Gutenberg text, which John T. Horner and David Widger scanned and proof-read. [Complete text in the Victorian Web\.
. "Nydia, the Blind Girl of Pompeii." Museum of Fine Arts Website. 31 October 2015.
---
Last modified 31 October 2015