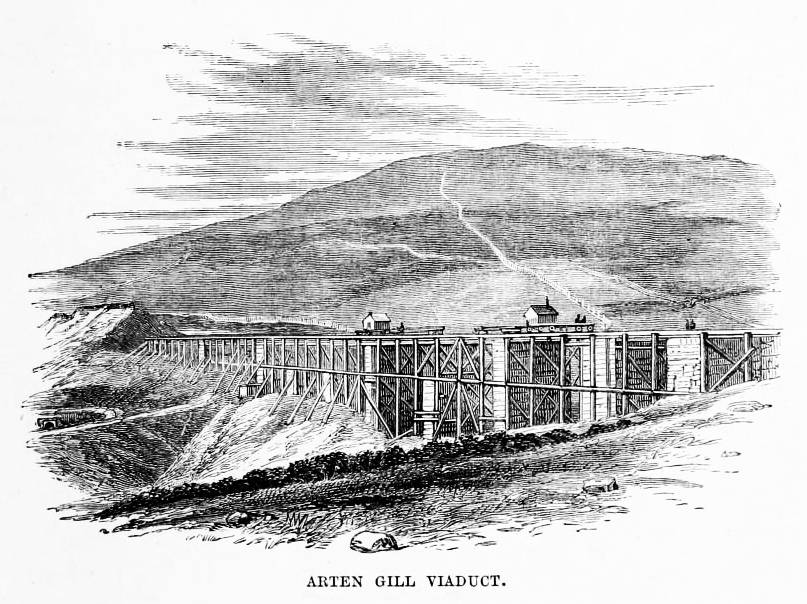 Arten Gill Viaduct under construction, Cowgill, Dent, West Riding of Yorkshire. Engineer, John Sydney Crossley, 1871-1875. Rock-faced limestone (according to Leach and Pevsner 233; elsewhere described as fossilised black limestone, Toothill and Armstrong 8). Following close on Dent Head Viaduct on the Settle-Carlisle Railway, going towards Carlisle, this has just one more arch — eleven; but it was even more testing for Crossley:
The gill is deep; the banks on each side are steep; and before the viaduct was commenced there was a waterfall of 60 feet descent. The stream is spanned by a viaduct 660 feet long, of eleven arches, each of 45 feet span, and the rails are 117 feet above the water. The viaduct is built of the same sort of stone as that which, when cut and polished at Mr. Nixon's marble quarries close by, is known by the name of black or Dent marble. Great difficulty was experienced in obtaining a firm foundation for several of the piers, and then they had to be sunk in some cases as much as 55 feet. "It would be impossible," said the resident engineer, " to build piers to such a depth in loose ground like this, and to keep the sides from falling in; we therefore use strong and numerous supports; and to look down some of these foundations ready for putting in the masonry, it seems like one confused mass of timber and strutting." The foundations were, however, eventually laid on the rock, and then the lofty superstructure was reared. The method by which the erection of such works is carried on in the case of these high viaducts, is indicated by our drawing. A light timber stage, called a "gantry," is constructed on each side of the work, sufficiently wide to allow of the piers and abutments being built between. A jenny, or crane, is then placed on a movable platform extending from one stage to the other. The materials are wound up either by hand or steam power, and are then moved slowly along till they can be lowered to the exact position they are to occupy. As soon as the masonry is built up to the height of the gantry, a fresh lift of timber is put on, the crane is raised to the new height, and so the work is continued to another stage. By these means stones of great size can be used: one in this viaduct measures fourteen feet by six feet, is a foot thick, and weighed more than eight tons; and the total amount for this work alone was upwards of 50,000 tons. Dent Dale is about ten miles in length. "It is," said a writer fifty years ago, "entirely surrounded with high mountains, and of difficult access to carriages, having few openings where they can enter with safety. In this secluded spot landed property is greatly divided; the estates are very small, and for the most part occupied by the owners." Yet in this "secluded spot," the engineer has come, and where "carriages could scarcely find a safe entry," he has laid down his paths of iron, and run his mighty trains. (Williams 503-05).
At 117' high, Arten Gill is the second highest of the twenty-four viaducts along the line, the highest of all being Smardale at 131', further along towards Carlisle, for which Crossley's wife Agnes laid the last stone on 8 June 1875. The next highest are Ribblehead at 104' and Dent Head at 100' (see "Viaducts"). If anything, Arten Gill Viaduct is even more dramatic though, because it stands against such a gap in the skyline, and is "magnificently set against a background of dun-coloured slopes" (Scholes 40).
Illustration from Williams p. 503, and text by Jacqueline Banerjee. [You may use this image without prior permission for any scholarly or educational purpose as long as you (1) credit the source and (2) link your document to this URL in a web document or to the Victorian Web in a print document. Click on the image for a larger picture.]
Related Material
Sources
Leach, Peter, and Nikolaus Pevsner. Yorkshire West Riding, Leeds, Bradford and the North. The Buildings of England series. New Haven & London: Yale University Press, 2009.
Scholes, Ron. Yorkshire Dales. 3rd ed. Ashbourne, Derbyshire: Landmark, 2008.
Toothill, David, and Marian Armstrong. The Settle-Carlisle Railway: A Guide to Your Journey: Leeds. Settle. Carlisle. The Settle-Carlisle Railway Development Company, 2010.
"Viaducts." The Settle-Carlisle Railway. Web. 20 August 2011.
Williams, Frederick Smeeton. The Midland Railway: Its Rise and Progress. A Narrative of Modern Enterprise. London: Strahan & Co., 1876. Internet Archive. Web. 20 August 2011.
---
Last modified 22 August 2011