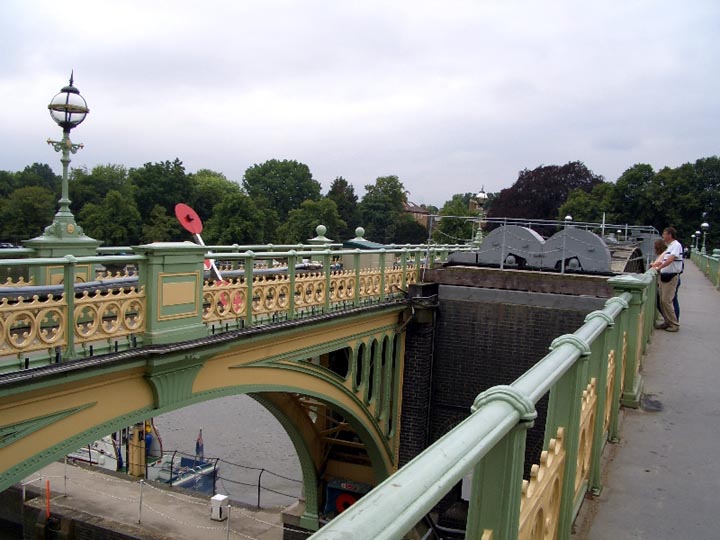 Lock Mechanism, Richmond Lock, London. 1894. Engineer: F.G.M. Stoney. Photograph and text 2006 by Jacqueline Banerjee. [This image may be used without prior permission for any scholarly or educational purpose.]
This is an impressive yet visually appealing complex at a point where the Thames is now tidal. The last lock downstream, it is the only one operated by the Port of London Authority (since its institution in 1909). There used to be a charge for passing through it, hence the little ticket office, similar in design to a railway station ticket office.
As it says in The Queen's London: A Pictorial and Descriptive Record of the Streets, Buildings, Parks and Scenery of the Great Metropolis.... (Cassell, 1896): "Across the river, which is wide at this point, stretch three steel sluices, each weighing 32 tons and measuring 66 feet in width and 12 feet in depth; and as these, when raised, remain in a horizontal position, neither the view of this picturesque neighbourhood nor the headway is obstructed.... The five arches of the footbridge are of steel, while the piers are of concrete" (JB).
Other views of Richmond Lock
Related Web Resources
---
Last modified 6 August 2007