[From Samuel Smiles's Self-Help (1859). Text courtesy of Professor Professor Mitsuharu Matsuoka of Nagoya University, Japan. Translation to html and links by GPL.]
We next turn to a career of a very different kind, that of the illustrious but unfortunate Jacquard, whose life also illustrates in a remarkable manner the influence which ingenious men, even of the humblest rank, may exercise upon the industry of a nation.
Jacquard was the son of a hard-working couple of Lyons, his father being a weaver, and his mother a pattern reader. They were too poor to give him any but the most meagre education. When he was of age to learn a trade, his father placed him with a book-binder. An old clerk, who made up the master's accounts, gave Jacquard some lessons in mathematics. He very shortly began to display a remarkable turn for mechanics, and some of his contrivances quite astonished the old clerk, who advised Jacquard's father to put him to some other trade, in which his peculiar abilities might have better scope than in bookbinding. He was accordingly put apprentice to a cutler; but was so badly treated by his master, that he shortly afterwards left his employment, on which he was placed with a type-founder.
His parents dying, Jacquard found himself in a measure compelled to take to his father's two looms, and carry on the trade of a weaver.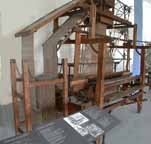 An Eightenth-century Jacquard Punch Card Loom. [Click on thumbnail for larger image.]
He immediately proceeded to improve the looms, and became so engrossed with his inventions that he forgot his work, and very soon found himself at the end of his means. He then sold the looms to pay his debts, at the same time that he took upon himself the burden of supporting a wife. He became still poorer, and to satisfy his creditors, he next sold his cottage. He tried to find employment, but in vain, people believing him to be an idler, occupied with mere dreams about his inventions. At length he obtained employment with a line-maker of Bresse, whither he went, his wife remaining at Lyons, earning a precarious living by making straw bonnets.
We hear nothing further of Jacquard for some years, but in the interval he seems to have prosecuted his improvement in the drawloom for the better manufacture of figured fabrics; for, in , he brought out his contrivance for selecting the warp threads, which, when added to the loom, superseded the services of a draw-boy. The adoption of this machine was slow but steady, and in ten years after its introduction,of them were found at work in Lyons. Jacquard's pursuits were rudely interrupted by the Revolution, and, in , we find him fighting in the ranks of the Lyonnaise Volunteers against the Army of the Convention under the command of Dubois Crance. The city was taken; Jacquard fled and joined the Army of the Rhine, where he rose to the rank of sergeant. He might have remained a soldier, but that, his only son having been shot dead at his side, he deserted and returned to Lyons to recover his wife. He found her in a garret still employed at her old trade of straw-bonnet making. While living in concealment with her, his mind reverted to the inventions over which he had so long brooded in former years; but he had no means wherewith to prosecute them. Jacquard found it necessary, however, to emerge from his hiding-place and try to find some employment.
He succeeded in obtaining it with an intelligent manufacturer, and while working by day he went on inventing by night. It had occurred to him that great improvements might still be introduced in looms for figured goods, and he incidentally mentioned the subject one day to his master, regretting at the same time that his limited means prevented him from carrying out his ideas. Happily his master appreciated the value of the suggestions, and with laudable generosity placed a sum of money at his disposal, that he might prosecute the proposed improvements at his leisure.
In three months Jacquard had invented a loom to substitute mechanical action for the irksome and toilsome labour of the workman. The loom was exhibited at the Exposition of National Industry at Paris in , and obtained a bronze medal. Jacquard was further honoured by a visit at Lyons from the Minister Carnot, who desired to congratulate him in person on the success of his invention. In the following year the Society of Arts in London offered a prize for the invention of a machine for manufacturing fishing-nets and boarding-netting for ships. Jacquard heard of this, and while walking one day in the fields according to his custom, he turned the subject over in his mind, and contrived the plan of a machine for the purpose. His friend, the manufacturer, again furnished him with the means of carrying out his idea, and in three weeks Jacquard had completed his invention.
Jacquard's achievement having come to the knowledge of the Prefect of the Department, he was summoned before that functionary, and, on his explanation of the working of the machine, a report on the subject was forwarded to the Emperor. The inventor was forthwith summoned to Paris with his machine, and brought into the presence of the Emperor, who received him with the consideration due to his genius. The interview lasted two hours, during which Jacquard, placed at his ease by the Emperor's affability, explained to him the improvements which he proposed to make in the looms for weaving figured goods. The result was, that he was provided with apartments in the Conservatoire des Arts et Metiers, where he had the use of the workshop during his stay, and was provided with a suitable allowance for his maintenance.
Installed in the Conservatoire, Jacquard proceeded to complete the details of his improved loom. He had the advantage of minutely inspecting the various exquisite pieces of mechanism contained in that great treasury of human ingenuity. Among the machines which more particularly attracted his attention, and eventually set him upon the track of his discovery, was a loom for weaving flowered silk, made by Vaucanson the celebrated automaton-maker.
---
Last modified 22 December 2005