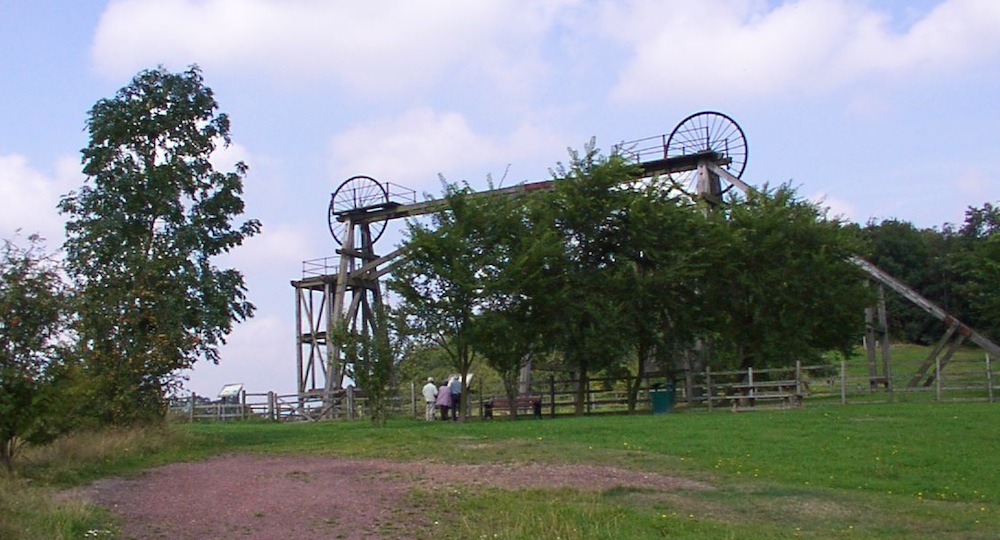 Brinsley Headstocks, in the village of Brinsley near Eastwood, in west Nottinghamshire. These carried winding mechanism for the colliery, and were first used for Brinsley Colliery itself (from 1872-1934) and then to access two other pits. In 1970 they were removed and taken to the National Coal Museum at Retford. When the museum closed, they were returned, and re-erected in 1991 as part of a heritage site, along with the old mineral railway line (see Brinsley Headstocks Heritage Site).
This was Lawrence country, where D. H. Lawrence's great-grandparents and grandparents lived and worked, and where his father and uncles worked in the mines. It could be lively and pretty here: "At Brinsley pit the white steam melted slowly in the sunshine of a soft blue sky; the wheels of the headstocks twinkled high up; the screen, shuffling its coal into the trucks, made a busy noise" (Lawrence 136). In Sons and Lovers, Lawrence often refers to the wider setting, too, describing how the Morel children gathered mushrooms and blackberries round about, noticing tiny pansies and forget-me-nots on the grassy banks, and seeing larks rising from the wet grass. But it was far from being an easy life, even in summer, because then
the pits are slack. Often, on bright sunny mornings, the men are seen trooping home again at ten, eleven, or twelve o'clock. No empty trucks stand at the pit-mouth. The women on the hillside look across as they shake the hearthrug against the fence, and count the waggons the engine is taking along the line up the valley. And the children, as they come from school at dinner-time, looking down the fields and seeing the wheels on the headstocks standing, say:
"Minton's knocked off. My dad'll be at home."
And there is a sort of shadow over all, women and children and men, because money will be short at the end of the week. [Lawrence 17]
Growing up in a context where industrialisation and nature were so much at odds, and the latter was made so much more touchingly beautiful by the former, had a tremendous impact on Lawrence.
Photograph c.2005 and text by Jacqueline Banerjee. [You may use the image without prior permission for any scholarly or educational purpose as long as you credit the photographer and link your document to this URL in a web document or cite the Victorian Web in a print one. [Click on the image to enlarge it.]
Bibliography
Brinsley Headstocks Heritage Site. Web. 4 March 2017.
Lawrence, D. H. Sons and Lovers. London: Duckworth, 1913. Interent Archive. Contributed by University of California Libraries. Web. 4 March 2017.
---
Created 4 March 2017