Image scan 2011 and caption by Philip V. Allingham; commentary below by Stuart Durant. Photographs by Robert Freidus 2011. Formatting and perspective correction by George P. Landow. [You may use these images without prior permission for any scholarly or educational purpose as long as you (1) credit the photographer and (2) link your document to this URL in a web document or cite the Victorian Web in a print one.]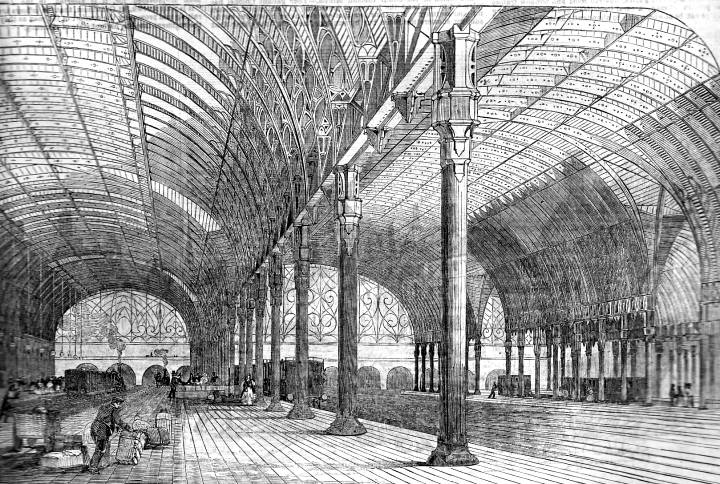 The Great Western Railway Terminus, at Paddington. London. Designed by I. K. Brunel and M. D. Wyatt. Source: The Illustrated London News (8 July 1854): 14.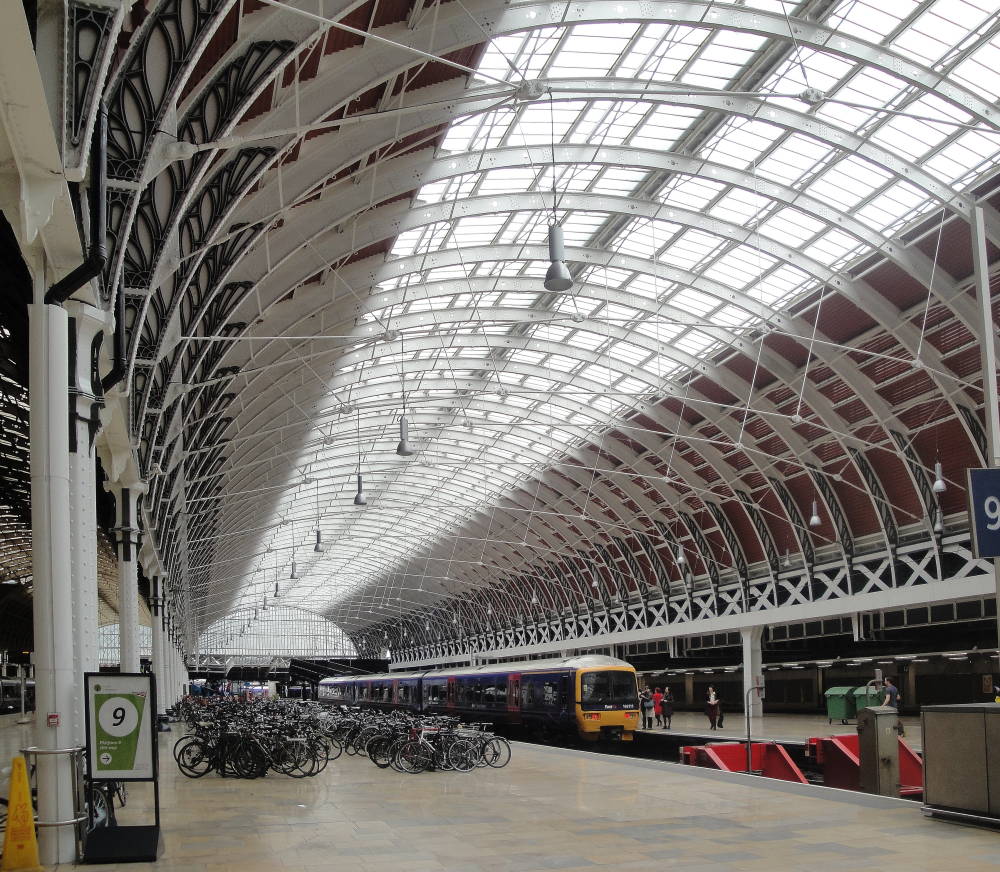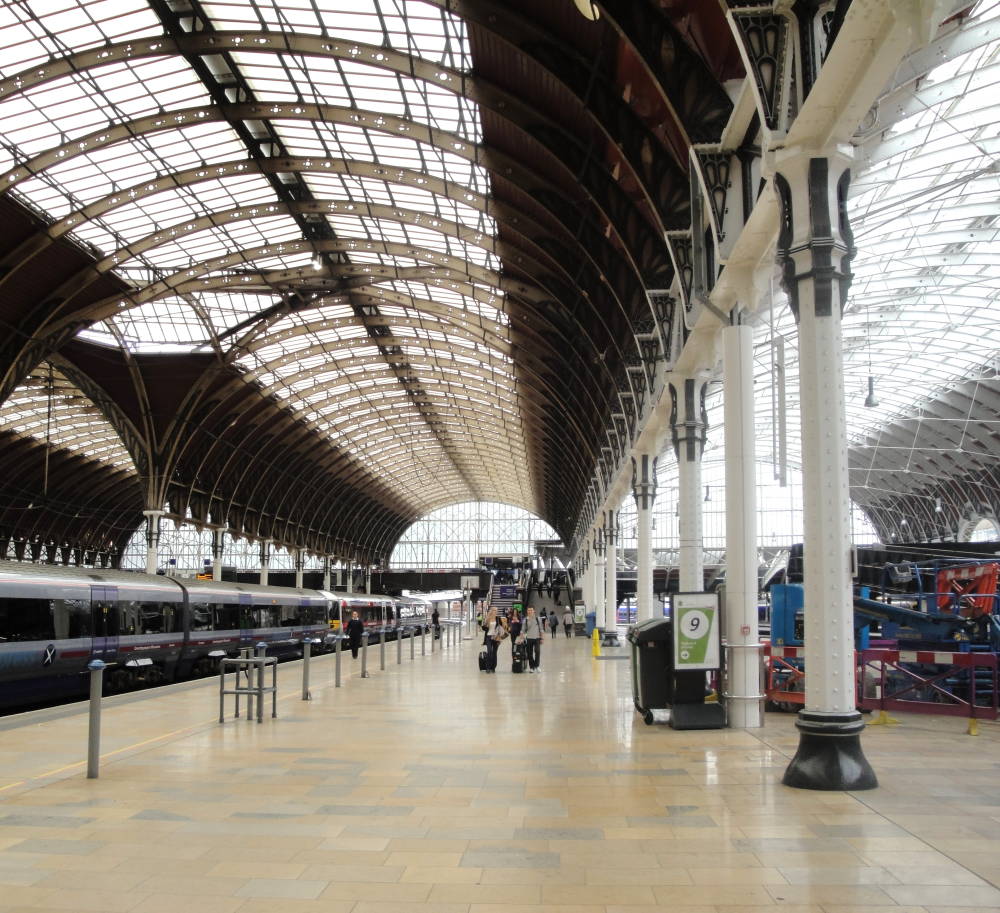 Two photographs of the train shed interior. [Click on these images and those below to enlarge them.]
Commentary by Stuart Durant
Here is Brunel writing to Matthew Digby Wyatt on Paddington — months before the completion of Paxton's Crystal Palace , which housed the Great Exhibition of 1851.
I am going to design, in a great hurry, a station after my own fancy . . . with engineering roofs etc., etc.. It is at Paddington, in a cutting, and admitting of no exterior, all interior and all roofed in . . . Now such a thing will be entirely metal as to all the general forms, arrangements and design; it almost of necessity becomes an Engineering Work, but, to be honest, even if it were not, it is a branch of architecture of which I am fond, and, of course, believe myself to be fully competent for, but for detail of ornamentation I neither have time nor knowledge, and with all my confidence in my own ability I have never any objection to advice and assistance even in the department which I keep to myself, namely the general design. Now, in this building which, entre nous, will be one of the largest of its class, I want to carry out, strictly and fully, all those correct notions of the use of metal which I believe you and I share (except that I should carry them sill farther than you) . . . I want to show the public that colour can be used . . . " (quoted also by L T C Rolt, Isambard Kingdom Brunel, London, 1957.)
The colour scheme of Paddington — long since vanished — was by the architect, historian and theoretician, Owen Jones, who was responsible for the colouring of Paxton's Crystal Palace. Jones, whose stature has yet to be fully recognised, was as progressive as Brunel. He moved in advanced intellectual circles and was a close friend of the novelist George Eliot (Marian Evans, 1819-80) and her consort George Henry Lewes (1817-78), the writer and biographer of Goethe. Matthew Digby Wyatt was a successful architect — Secretary of the Great Exhibition and Surveyor of the East India Company. He was also, in an era when art history was an emerging discipline, the first Slade Professor of Fine Art at Cambridge. Like Owen Jones he was an accomplished designer and, indeed closely associated with Jones. It is not difficult to detect the influence of Jones in the Moorish cast-iron capitals at Paddington. Jones' first great publication — the monumental two volume Alhambra, London, 1836-45, being the inspiration.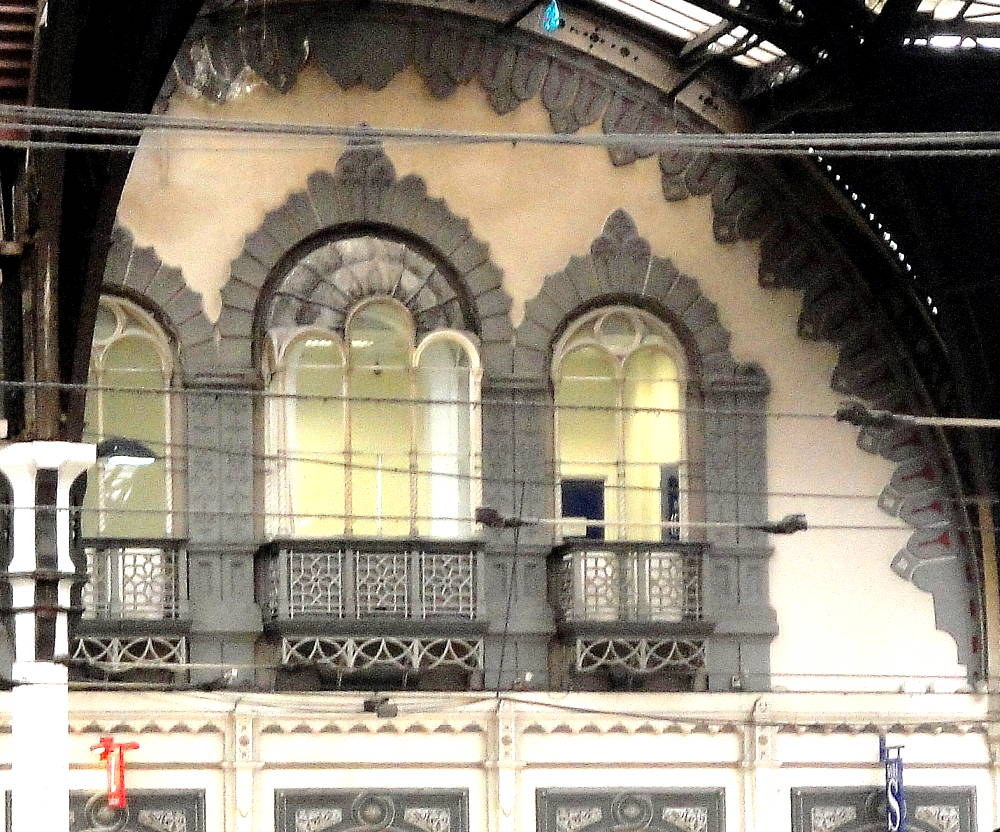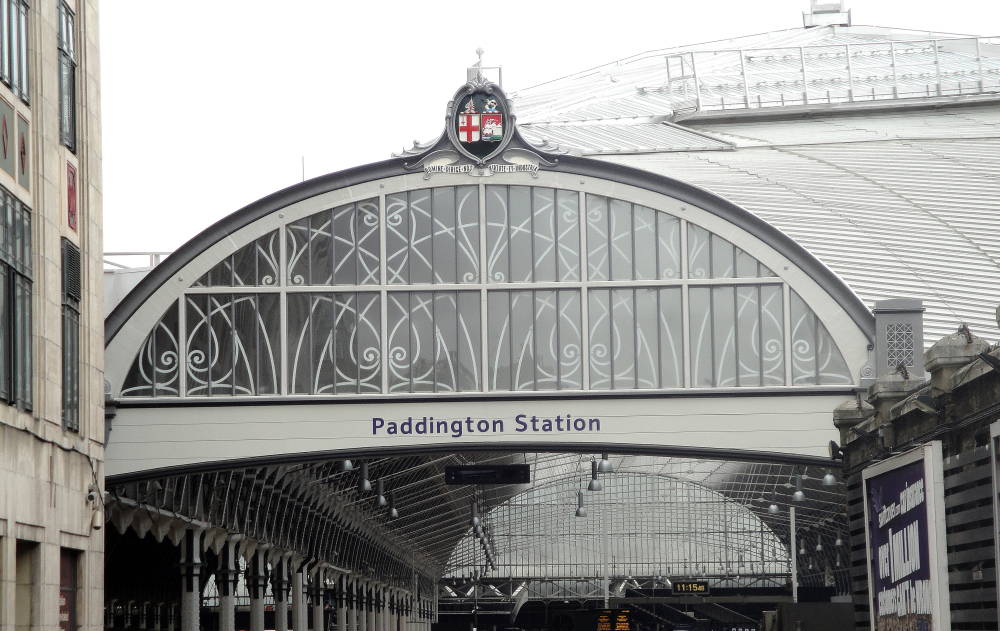 Left: Indo-Gothic window details inside the train shed. Right: Entrance for vehicles and roofline of Paddington Station.
Addendum
After reading Stuart Durant's commentary, Philip Allingham added that the writer for The Illustrated London News claimed that the Moorish columns disproved Ruskin's claim that these kinds of buildngs did not qualify as true architecture, and he did so on the grounds that Paddington fulfilled the critic's own functionalist aesthetic:
A certain critic of the day has asserted that railway buildings are scarcely worthy of the genius of architecture being employed upon them (or words to that effect); and in the present Station, though without the fear of the above dictum, the constructors have met the question by producing a design, which realises one of the first conditions of fitness, that it should at once convey a correct idea of the purpose for which it was erected, in this instance, a Railway Station. [14]
Related Material
---
Last modified 21 December 2011