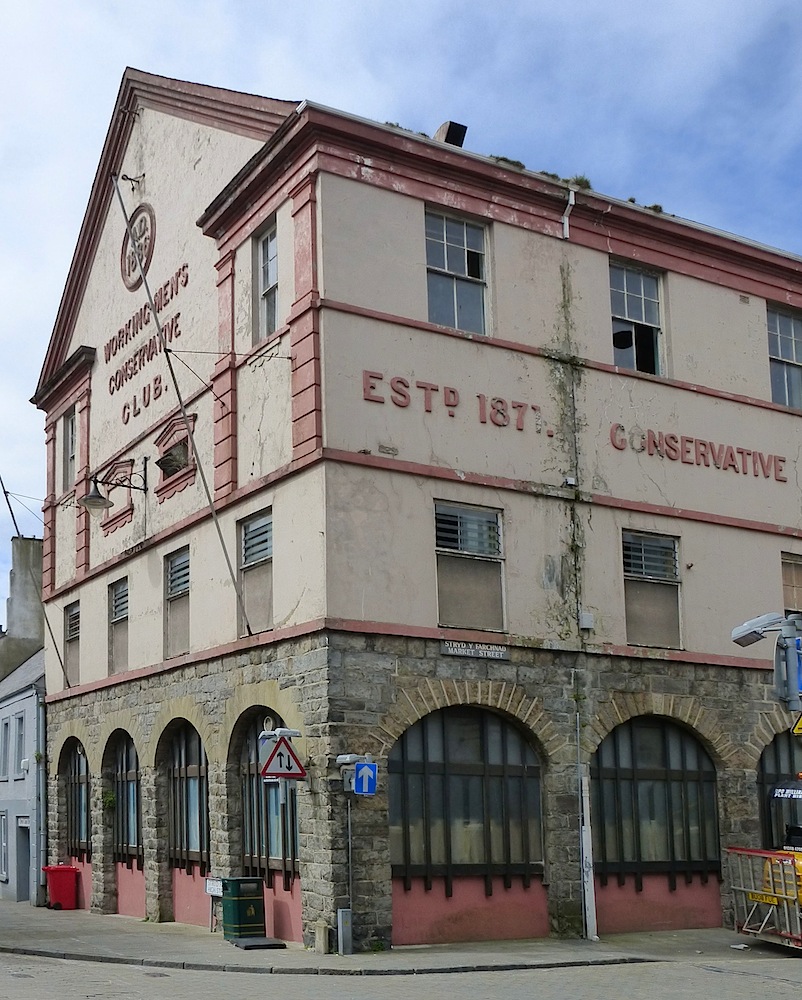 Caernarfon Royal Town Conservative Club, Caernarfon. This large Grade II listed building stands prominently on the corner of the town's High Street and Market Street, and in some sources has the unusual address of 14 Hole in the Wall St, Caernarfon, Gwynedd. More often and more prosaically its address is given as 1 Market Street. Photographs, captions, commentary and formatting by Jacqueline Banerjee. [Click on the images to produce larger pictures.]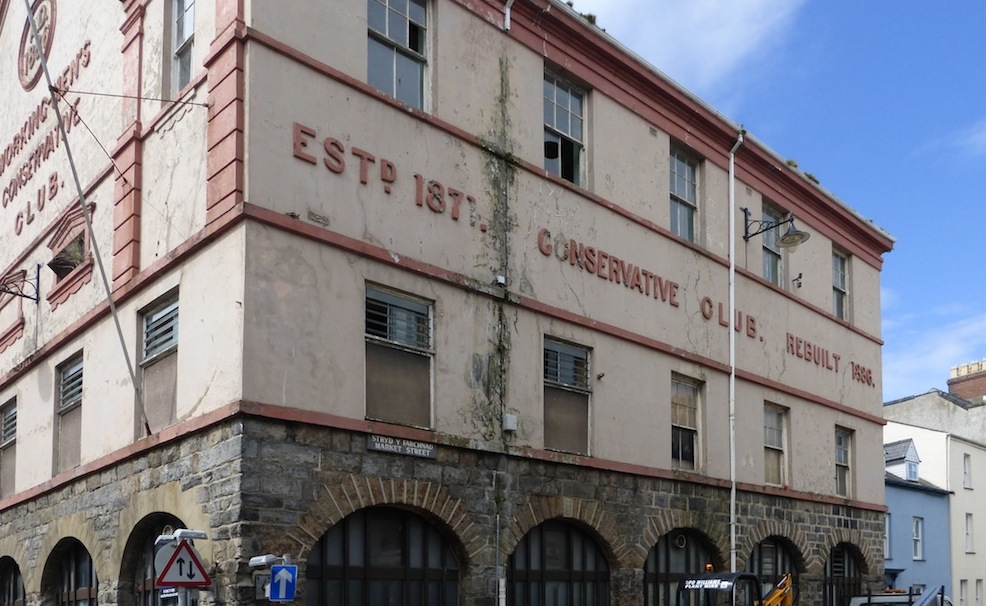 The premises are not all for the club: the lower storey, dating from about 1820, was a market hall, and continued to be used as a meat market even after the extension for the Conservative Club was added in 1886 (as shown in the roundel on the pediment). The listing text describes the building in this way:
A 3-storey club with simple classical detail, of 4 bays to High Street and 5 bays to Market Street, of roughcast in the upper storeys with slate roof and roughcast stacks.... The High Street elevation has a first-floor sill band with 4 replaced windows. The taller upper storey is treated as an open pediment. Pilasters to the outer bays support an entablature that continues as an eaves cornice in the Market Street elevation. These pilasters are rusticated below a string course, and turn to Tuscan pilasters above it, where they frame horned sashes of 6 over 2 panes and with shallow sinuous aprons.
Below the roundel is the raised inscription denoting the building's function, and on the Market Street side is another inscription, to the same effect. This is one of eleven Conservative Clubs in the North Wales and Borders area (see "Conservative Clubs").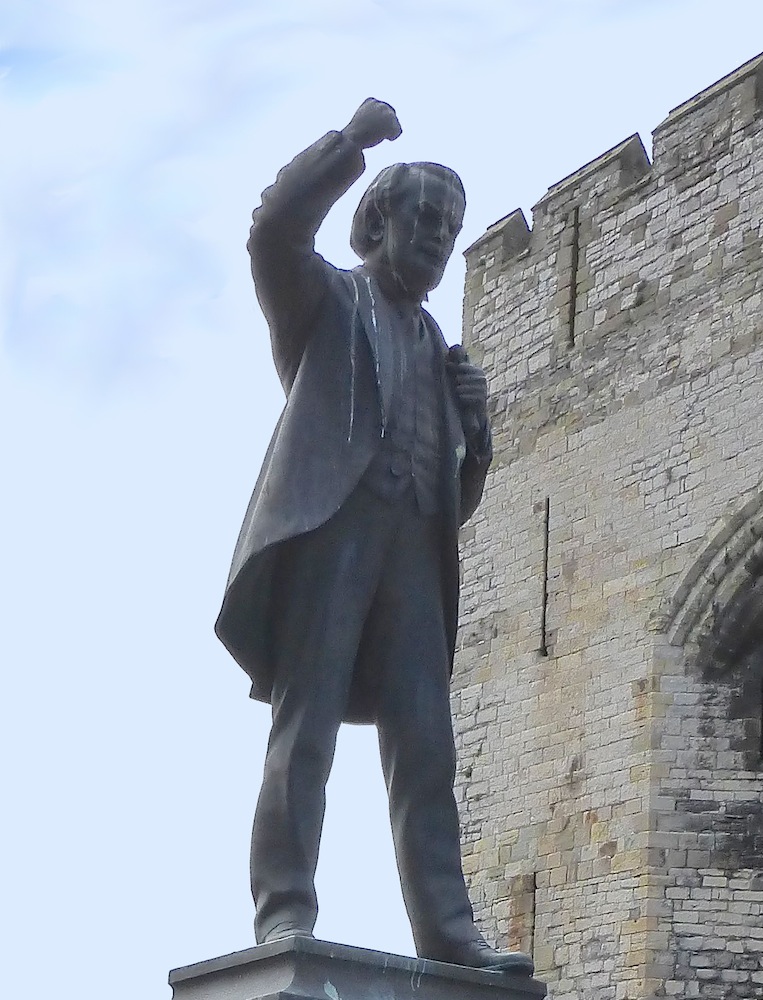 Nevertheless, by just eighteen votes the previously Conservative Caernarfon would return a Liberal MP in 1890 — one who as Chancellor of the Exchequer would lay the foundations of the welfare state. This was David Lloyd George, who became Prime Minister in 1916, making this the first Welsh constituency to be represented by a serving Prime Minister. His bronze statue, reflecting his dynamic personality, stands in Castle Square. The work of the great Welsh sculptor Sir William Goscombe John, it was unveiled in 1921, and is also Grade II listed. Perhaps it is worth adding that Lloyd George leant towards the right when occasion demanded!
To return to the building itself: as so often, there have been problems about preserving such a large historically interesting building and finding new uses for it. The Victorian Society, which considers it to be not just locally but "nationally important," has raised objections to certain aspects of its conversion to premises for shops and flats (see Hughes). At the time these photographs were taken (2016) it could still be hired for functions.
Related Material
Sources
"The ACC [Association of Conservative Clubs] and the North Wales & Border Federation." Llandudno Conservative Club. Web. 18 February 2017.
"Caernarfon Royal Town Conservative Club, Caernarfon." British Listed Buildings. Web. 18 February 2017.
Hughes, James. Letter to Eryl Williams (5 April 2016). Web. 18 February 2017.
"Statue of David Lloyd George, Caernarfon." British Listed Buildings. Web. 18 February 2017.
---
Created 18 February 2017