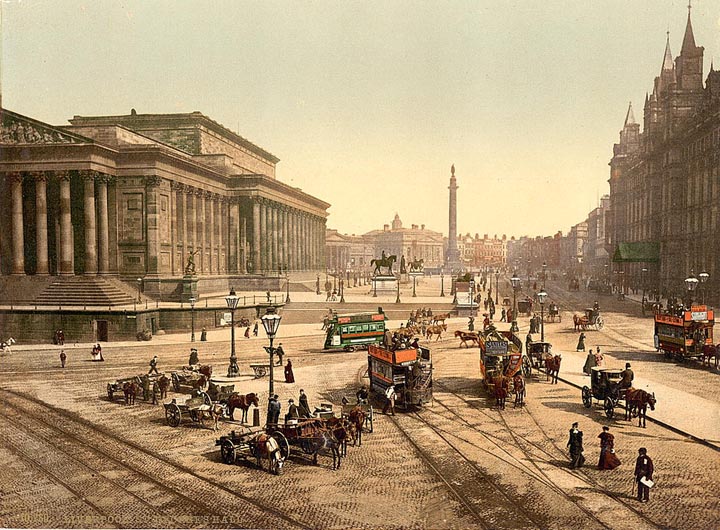 St George's Hall (1841-54), Lime Street, Liverpool. by Harvey Lonsdale Elmes and C. R. Cockerel. Photograph c.1890-1900 by the Detroit, Michigan: Detroit Publishing Company, 1905.
Source: Library of Congress LC-DIG-ppmsc-85555. [You may use this image without prior permission for any scholarly or educational purpose as long as you (1) credit the Library of Congress and (2) link your document to this URL.]
Commentary by Jacqueline Banerjee, PhD, Contributing Editor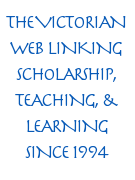 Amazingly, Elmes (1813-47) was only in his mid-twenties when he won the competition to build St George's Hall: it is the masterpiece of a young man who died of consumption less than ten years later. It has been compared to London's St Paul's and the British Museum in monumental grandeur. Bob Speel calls it unequivocally "one of the most important Neo-Classical buildings put up in the 19th Century"; indeed, Reginald Turnor describes it as having "a greater monumental scale than any other nineteenth-century building." Turnor continues, "It might seem that any architect of taste could have combined splendour with simplicity in the Corinthian medium with as much power; but in fact none of Elmes' time would have been at all likely to do so." Turnor feels that his sad story may have "served to exaggerate the merits of this great building," but concludes that "it is fine by any standard" (39). Dickens was a regular visitor here, giving readings in the "Small Concert Hall," and attending a banquet in his honour in 1869 at which he expressed the warmest feelings for his host city, saying "Liverpool stood foremost among the great places outside London to which I looked with eager confidence and pleasure" ("Speeches")
St George's Hall is on St George's Plateau opposite the large sandstone Gothic structure which fronts Liverpool's Lime Street Station. This is the old Lime Street Railway Hotel, later called the North-Western Hotel, which was designed by the Liverpool-born Alfred Waterhouse and opened in 1871. The juxtaposition of the two huge buildings in entirely different styles is similar to that of Cockerell's Ashmolean Museum (1845) and William Wilkinson's Randolph Hotel (1864) in Oxford: both sets of buildings neatly illustrate the two predominant styles of Victorian architecture which battled it out in the mid-nineteenth century. Writing around a century later, Turnor is no fan of the Gothic, and writes crossly about the "gloomy and horrible" Randolph Hotel in Oxford, but does not note, or say anything about, this even more striking contrast in Liverpool. Waterhouse's hotel is now a student residence for Liverpool John Moores University, and a more recent commentator is appreciative of its Gothic elevations, describing it as having "another of [Waterhouse's] Prague rooflines, with swirls of close-fitting slates like sleek armour, steeply pitched roofs and tiny spiky turrets" (Lewis 104).
This area is very rich in sculptures. Note the two equestrian statues facing Waterhouse's building. These are of Victoria and Albert (1870, by Thomas Thornycroft). The Wellington Monument on William Brown Street (1874-75, by G. A. Lawson) can also be seen in the background.
Other Views and Related Material
References
Library of Congress site. Library of Congress Prints and Photographs Division Washington, D.C. 20540 USA. Viewed 11 February 2009.
"St George's Hall." Viewed 11 February 2008.
"Speeches: Literary and Social: Liverpool, April 10, 1869." Viewed 11 February 2008.
Speel, Bob. "St George's Hall and St John's Gardens, Liverpool." Viewed 11 February 2008.
Sturrock, Neil S. "St George's Hall, Liverpool." The Victorian Web.
Turnor, Reginald. Nineteenth Century Architecture in Britain. London: Batsford, 1950.
Walker, David. Walks Through History: Liverpool. Derby: Breedon, 2007.
---
Last modified 9 June 2009