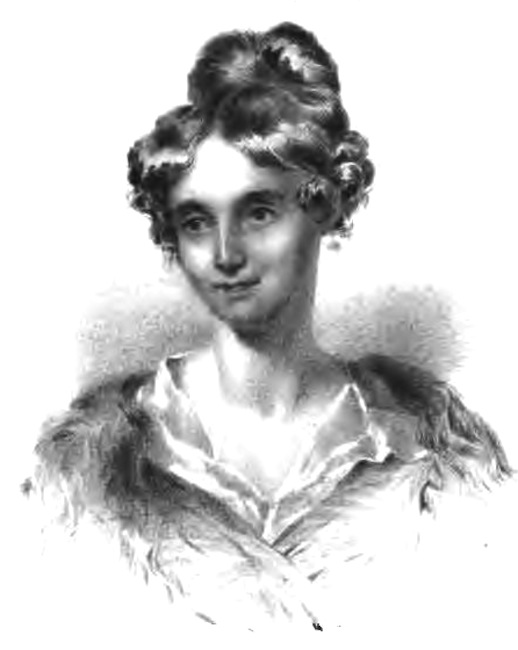 Portrait of Sarah Losh. Source: Lonsdale, facing p. 197.
Sarah Losh (1785-1853) signed herself Sara when she was younger, and Sarah in her "more mature years" (Lonsdale 198n.), so some accounts use the earlier spelling. Her family home was Woodside in the village of Wreay, near Carlisle and the Scottish border to the north, and Northumberland to the east. The Loshes were a long-established and highly cultured family: her father John and his next youngest brother James both went to Trinity College, Cambridge, and James, to whom she was very close, was a particular friend of Wordsworth's. The family was well-to-do. John, a progressive farmer, helped found a bank in Carlisle, and then alkali works on the Tyne. The Loshes later profited from shares in ironworks and the railways as well (see Uglow 57). Losh herself was serious, very advanced in her studies (including mathematics), and well-travelled, both locally and on the Continent. Like her uncle James, she was fascinated by architecture, not only for its own sake but "as a means to historical and cultural understanding" (Bullen 678).
Losh never married, but was deeply committed to family and community, and it was this twin commitment that set in motion her most remarkable project, St Mary's Church at Wreay. She and her younger sister Katherine had made substantial additions and improvements to Woodside, but had also built a new dame school for the village and a new "Free School" for the children of the poor. After Katherine's death in 1835, she was determined to carry on the good work, building a simple mortuary chapel for the village graveyard, with a sexton's cottage nearby. The larger project of the church, however, gave her much more scope for her creative impulses and energies, together with her antiquarian interests and love of the natural world. Paying for it out of her own pocket, she tackled every detail of its design herself, thinking it through into a coherent whole and thus realising in it "the fruits of a carefully considered view of architecture and its relationship with society and religion" (Bullen 678). In style, it provided an alternative to the Gothic, and is increasingly being recognised as a forerunner of the Byzantine Revival. But above all it expresses her personal vision of the "progressive forms and types of sacred worship ... from the earliest manifestations of the Judaic and Christian standards, down to the post-Reformation period" (Lonsdale 230).
St Mary's Church, Wreay: Photograph by Bob Morgan.
The comprehensive Dictionary of British Architects, a Royal Institute of British Architects production of 2001, has no entry for Losh, which seems ironic in view of her friend William Bell Scott's belief that she was "entitled to a place in artistic dictionaries" (qtd. in Bullen 684). For one thing, in employing local, sometimes quite untried artisans, and participating actively in the work herself, Losh anticipated the Arts and Crafts movement of later decades. As Simon Jenkins points out, "The Arts and Crafts Movement took half a century to catch up with her" (119). Her work also foreshadowed women's involvement in church decoration, a related feature of the late Victorian period — and it gave one of the few early indications that one day women would find their place in the profession of architecture itself. Considering that it was not until 1898 that Ethel Charles (1871-1962) became the first woman to join the Royal Institute of British Architects (Walker 134), Losh's success in this area was truly a remarkable achievement. — Jacqueline Banerjee.
Works
Sources
Brodie, Antonia. Dictionary of British Architects 1834-1914. Vol. 2, L-Z. London: Continuum, 2001. Print.
Bullen, J. B. "Sara Losh: Architect, Romantic, Mythologist." The Burlington Magazine. Vol. 143, No. 1184 (November 2001): 676-684. Accessed via JStor. Web. 1 May 2014.
Hyde, Matthew, and Nikolaus Pevsner. Cumbria: The Buildings of England (Pevsner Architectural Guides). New Haven: Yale University Press, 2010.
Jenkins, Simon. England's Thousand Best Churches. London: Penguin, 2009.
List Entry: Church of St Mary. National Heritage. Web. 1 May 2014.
Lonsdale, Henry, M.D. The Worthies of Cumberland: William Wordsworth, Susanna Blamire, Thomas Tickell, Jane Christian Blamire, The Loshes of Woodside, Sir Thomas Addison, Hugh Lee Pattinson. London: George Routledge and Sons, 1873. Internet Archive. Web. 1 May 2014.
"St. Mary's Church: The Church." St Mary's. Web. 1 May 2014.
Uglow, Jenny. The Pinecone: The Story of Sarah Losh, Forgotten Romantic Heroine — Antiquarian, Architect and Visionary. London: Faber, 2012 (essential reading!).
Walker, Lyn. "Women and Church Art." In Churches 1870-1914, the Victorian Society's journal, Studies in Victorian Architecture & Design, Vol. III (2011): 121-143.
---
Last modified 10 October 2015