illiam Ralston's authorship of a series of trade bindings was not known until 2003, when it was reasserted in an article by Gregory Jones and Jane Brown. Until then, his work had been attributed to William Henry Rogers, with most critics interpreting 'WR', the monogram usually appearing on the books' front cover, as a variant on 'WHR'. This was a major discovery, although a scan of contemporary periodicals reveals that the artist's identity as a book-cover designer was not entirely unknown at the time of production and was used in the later part of the century as a selling point for some of his publications. An advertisement for Summer Tours in Scotland (1901) in the Dundee Evening Telegraph is a typical example, promoting a new issue, 'under an entirely new cover, designed by William Ralston' (p.3). However, Ralston's earlier designs were obscure.
Of the 45 titles identified in Jones and Brown's bibliography (pp.183–86), 28 were produced in the years from 1866 to 1870 when Ralston was still practically an amateur and was learning to become a designer. Employed by an unidentified bindery in Glasgow, his covers were used for books issued by the mainstream London publishers, among them George Routledge, Cassell, Petter and Galpin, Frederick Warne and Ward and Lock. Producing the bindings and binding the books in Scotland was apparently cheaper than having it done in the capital; 'the advantages of cheap Scottish labour', Jones and Brown tell us, 'more than outweighed transit costs to London' (p.178). These savings, as the publishers would have viewed them, would have been achieved by paying a non-metropolitan rate to the craftsmen who cut the brass plates that were used to transfer the design to the boards, cut and dyed the cloth, printed the designs and glued the books together. Ralston's stipend, as an artist-cum-artisan, must have been in a similar range, perhaps in the form of a salary, and perhaps (much likelier) as fee-based piece-work, which might have earned him £15–£20 per design.
All of his books of the sixties were gift books. They share the characteristics of the genre and bear a close relationship to the works of the major practitioners in the field, notably those produced by John Leighton, Albert Warren and the designer to whom his work was previously attributed, William Harry Rogers. Jones and Brown identify a number of key characteristics of Ralston's design; two are them (lettering and colour) are essentially generic features of the idiom (p.179), although it is practical to examine his work in terms of the twin dimensions of pictorial imagery and ornament.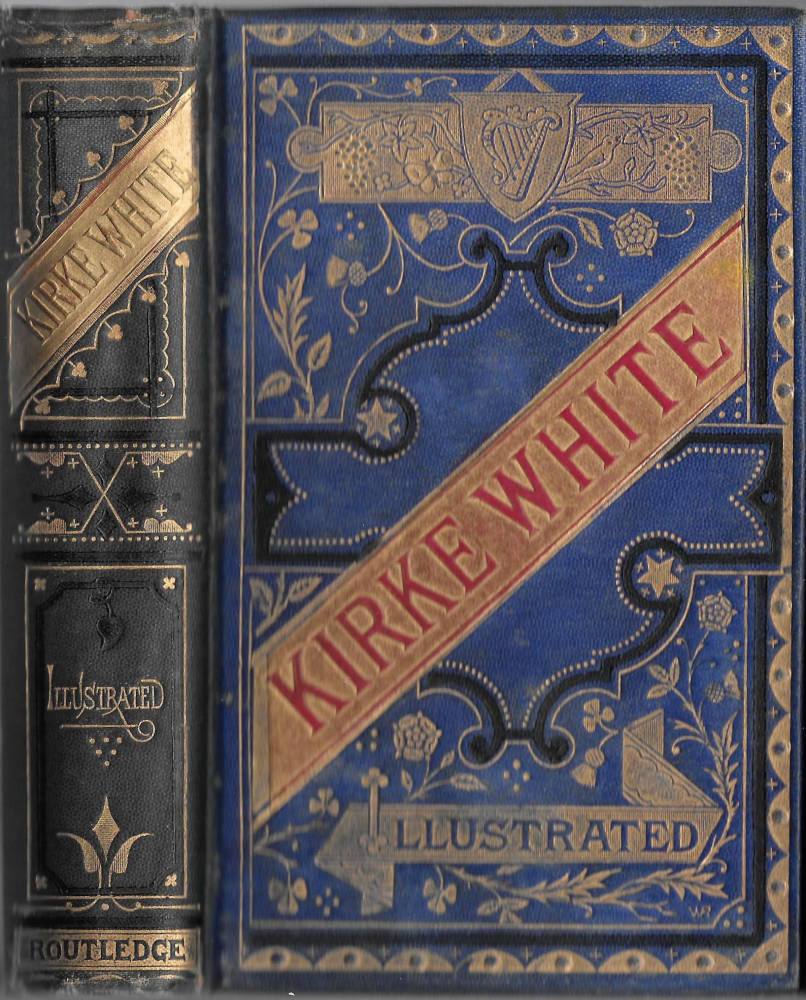 Left: Henry Kirke White's Poetical Works. 1867. Right: Golden Thoughts for Golden Fountains. c. 1868. [Click on images to enlarge them.]
Ralston's ornamental covers are an exuberant combination of naturalism, decorative devices and geometry (King, pp. 201–4). They are quite unlike the severity of bindings by John Sliegh and far less controlled than the work of either Warren or Leighton. There is a superficial similarity to designs by Rogers although their key quality, generally speaking, is their emphasis on overloading the surface with gilt motifs. Ralston's most characteristic cover is the one used to bind all of the books in Routledge's British Poets series, 1867–8. This design encased 16 works with minor changes for the spine (narrow or wide), and a different name for each of the title-sashes on the front board. Its features can be studied in The Poetical Works of Kirke White (1867).
Kirke White typically presents a dense surface. A gilt decorative border encloses the outer edges, with a classical mandorla in the centre, a banner near the bottom edge where 'WR' is inscribed, a panel near the top and, most imposingly of all, a golden sash with the author's name highlighted in red. This is the geometry of Ralston's design, creating a series of contrasts that are accentuated by oppositions of blue, gold and red. Within this frame Ralston positions emblematic detail: the singing bird, grapes and harp are conventional, classical signs of the gainfulness and lyricism of poetry, and floral accessories, in the form of foliate arabesques and flowers, stress the rusticity of the poems. The overall effect is luxuriously decorative, giving the book – a small octavo – the monumentality of quarto-sized gift books.
More austere, and more controlled, is the front cover for Golden Thoughts from Golden Fountains [1868]. This is a carefully organized design, with the title divided between two linear gilt panels at the top and bottom of the board, and a gilt circle placed between them; a border of decorative motifs encloses the whole. Routinely attributed to W. H. Rogers (Jervis, p.178). Golden Thoughts has a classical simplicity and directness that is not repeated elsewhere in Ralston's designs.
Ralston's designs of the sixties were mainly ornamental, while those after 1870 were primarily pictorial, repeating one of the book's illustrations or presenting an original scene. Tippoo [1886], The Demon Cat (1889) and Houp-La [1885] are each embellished with a colour design, and so are his later, sporting books for adults, such as North Again [1889] and Yachting Holiday [1896]. These are cheap imprints bound in paper and few survive in reasonable condition.
Ralston's distinctive 'WR' identifies most of this work though it is quite likely, as with the other outstanding cover designers of the period, that other titles remain to be found. As it stands, much of his work is distinctly rare; Golden Thoughts from Golden Fountains, perhaps his greatest design, is hard to find, and so are his minor juveniles. This relative scarcity has obfuscated his work as a book-artist. What we can say with certainly is that the range of Ralston's bindings is unusual. He engages with the elaborate gift-books of the sixties, creating some of the most ostentatious of a flamboyant genre; and he produces pared-down designs, printed on card, for publications of the eighties and nineties. In a career characterised by change, his bindings reflect an overall tendency.
Related material
---
Last modified 9 October 2016