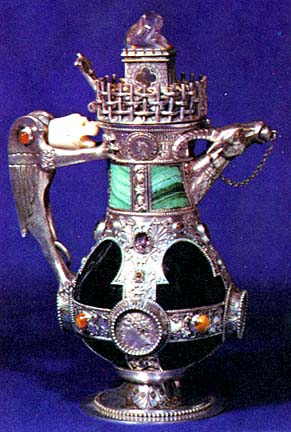 Decanter. Designer: William Burges, 1827-1881. 1865. Josiah Mendelson (maker), James Nicholson (retailer) and Richard A. Green (supplier). Materials and Techniques: Dark green glass bottle mounted in silver, parcel-gilt. 10.8 inches (26 cm.) 6 inches (15.3); diameter: 4 1/2 inches (11.5 cm.) Provenance: William Burges. Josiah Mendelson: the hoop over the finial of the cover by George Angell Silversmiths. Inscribed round the neck: WILLIELMUS BVRGES ME FIERI FECIT ANNO DI MDCCCLXV (indistinct) . . . VEX NON SAECULAE. Marks: London hallmark for 1865 on base, handle, spout and hoop. Maker's mark of JM everywhere except on the hoop, which bears the mark of George Angell. Collection: Courtesy of the Victoria & Albert Museum (2018).
The inscription, which is partly obliterated by the superimposition of coins, the horns of the animal head forming the spout and the claws of the lion handle, appears to indicate that the decanter was made from the proceeds of his drawings for the Crimea Memorial Church in Constantinople. Burges had won the competition for the church, announced in 1856, but although he subsequently modified his designs on five occasions, they remained too costly to execute from the funds available, and G. E. Street eventually replaced him as architect (see Victorian Church Art exhibition Catalogue No. D. 12). Nevertheless, according to Charles Handley-Read's notes, Burges prudently charged £100 for each set of drawings, and it is presumably part of this money which defrayed the cost of the decanter.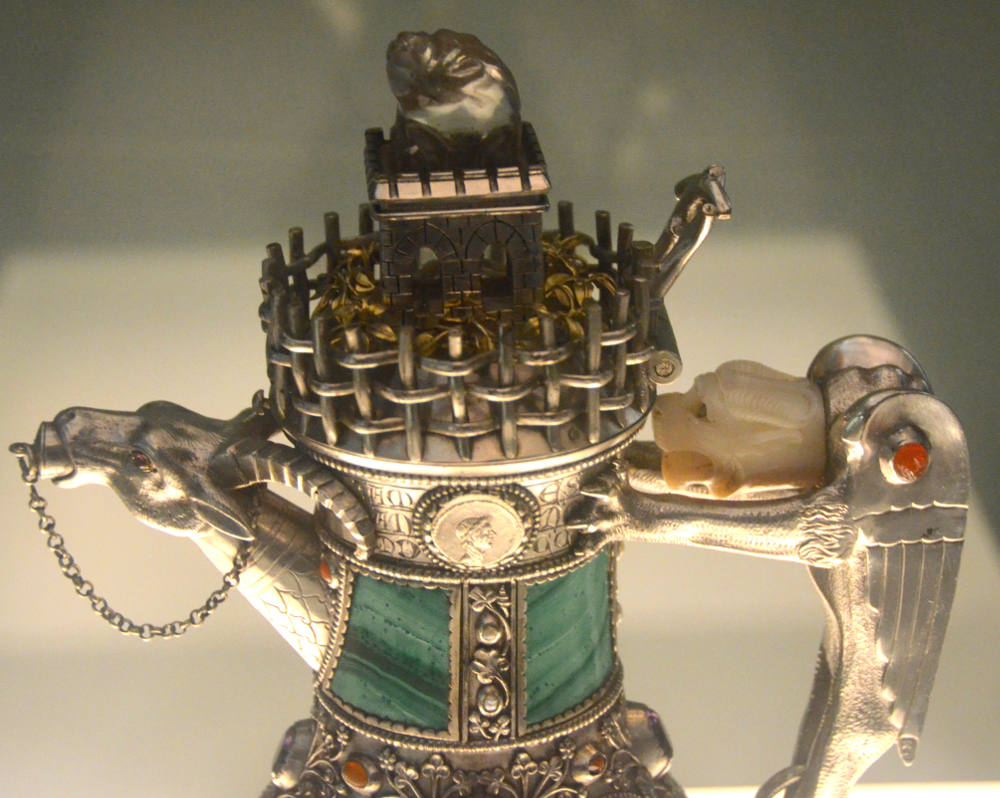 Two views of the metalwork on the top of the decanter. [Click on images to enlarge them.]
I believe the first image, which was added around 2000, comes from one of the Fine Art Society catalogues listed below. The the other three photographs, and the accompanying details of the maker etc. date from March and October 2018. The Fine Art Society, London, has most generously given its permission to use information, images, and text from its catalogues in the Victorian Web. This generosity has led to the creation of hundreds and hundreds of the site's most valuable documents on painting, sculpture,decorative arts, and the people who created them. The copyright on text and images from their catalogues remains, of course, with the Fine Art Society. [GPL]
Bibliography
Architect-Designers from Pugin to Mackintosh. Exhibition catalogue. London: The Fine Art Society with Haslam & Whiteway Ltd., 1981.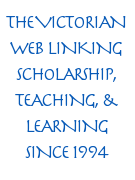 Crook, J. Mordaunt. "Two Pieces of Painted Furtniture by William Burges." Morris and Company. Exhibition catalogue. London: The Fine Art Society with Haslam & Whiteway Ltd., 1979.
---
Created January 2000

Last modified 11 October 2018