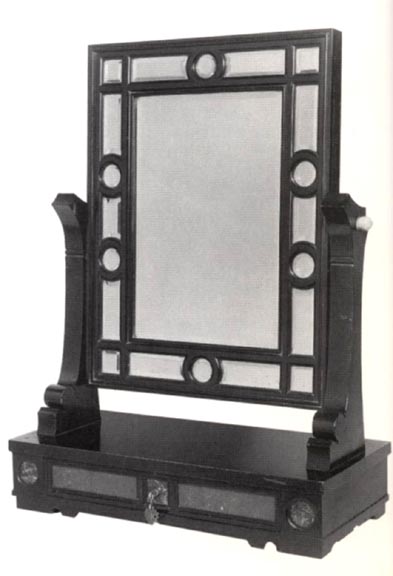 Mirror on Stand
Designer: William Burges, 1827-1881
The stand of ebonised wood inset with colored marbles and pietra dura, the drawer handle of silver in the form of a pendant with a pierced and fretted design, forming the monogram JAY (for J. A. Yatman) and hallmarked for London and with the maker's mark E.E.
29 1/4 inches, width 22 1/4 inches, depth 10 inches
The mirror formed part of Burges' wedding present to the Rev. J. A. Yatman pn the occasion of his wedding to Anna Turner in 1858. The Yatman family were considerable patrons of Burges'; The Rev. J. A. Yatman brother, Herbert George, was his principal client for painted furniture.
The Fine Art Society, London, has most generously given its permission to use information, images, and text from its catalogues in the Victorian Web. This generosity has led to the creation of hundreds of the site's documents on painting, drawing, sculpture, furniture, textiles, ceramics, glass, metalwork, and the people who created them. The copyright on text and images from their catalogues remains, of course, with the Fine Art Society. [GPL]