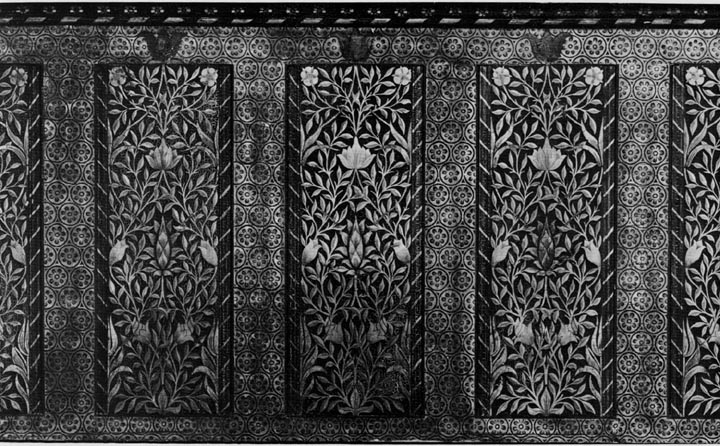 Panelling, Spandrels and Corbels by William Morris. Panels and spandrels of wood, gilded and painted, the corbels of reconstituted stone. The painted decoration was carried out by William Morris for the dining-room of George Howard's house, 1 Palace Green, Kensington, which Philip Webb designed in 1867. The dining-room, which Morris then decorated, incorporated the Cupid and Psyche frieze by Burne-Jones.
The Studio (1898) says: "It would be a rash statement to affirm of the decoration of any single apartment, that it was absolutely the best example of the style it obeyed. Yet if ever it were safe to speak thus unreservedly, it might be concerning the beautiful dining-room at the Earl of Carlisle's House, Palace Green, representing as it does the united efforts of Burne-Jones, William Morris, and Philip Webb."
The Fine Art Society, London, has most generously given its permission to use information, images, and text from its catalogues in the Victorian Web, and this generosity has led to the creation of hundreds and hundreds of the site's most valuable documents on painting, drawing, sculpture, furniture, textiles, ceramics, glass, metalwork, and the people who created them. The copyright on text and images from their catalogues remains, of course, with the Fine Art Society. [GPL]
References
The Fine Art Society Story. Part I. London: The Fine Art Society, 2001. Catalogue number 17.
---
Last modified 13 November 2006