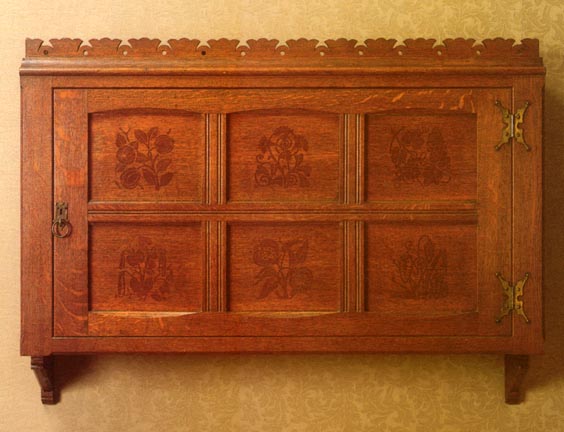 Hanging cabinet designed by W C Codman, 1839-1921; manufactured by Cox & Sons. Mahogany decorated with stencilled and carved floral designs, 1873. 31 x 42 x 11 inches (79 x 107 x 28 cm). Illustrated: Cox & Sons catalogue, 1873.
This piece provides a link between the earlier reformed gothic of Bevan and Seddon and the Aesthetic Movement pieces of the 1870s and 1880s. It is an excellent example of the simple and well-made furniture admired by Charles Lock Eastlake. Cox & Sons, originally ecclesiastical furnishers, developed a range of "artistic domestic furniture" in the 1870s. They employed a number of important designers and architects including B. J. Talbert, C. Rossiter, J. Moyr Smith and E. W. Godwin, as well as buying much of the stock of furniture and designs of E. W. Pugin for the Granville Hotel. Codman, a well-known designer who went on to work for the Gorham Manufacturing Co. in America, supplied a page of designs for their 1873 catalogue.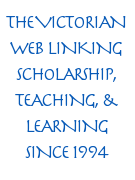 References
The Fine Art Society Story. Part I. London: The Fine Art Society, 2001. Catalogue number 15.
---
The Fine Art Society, London, has most generously given its permission to use information, images, and text from its catalogues in the Victorian Web, and this generosity has led to the creation of hundreds and hundreds of the site's most valuable documents on painting, drawing, sculpture, furniture, textiles, ceramics, glass, metalwork, and the people who created them. The copyright on text and images from their catalogues remains, of course, with the Fine Art Society. [GPL]
---
Last modified 29 August 2001