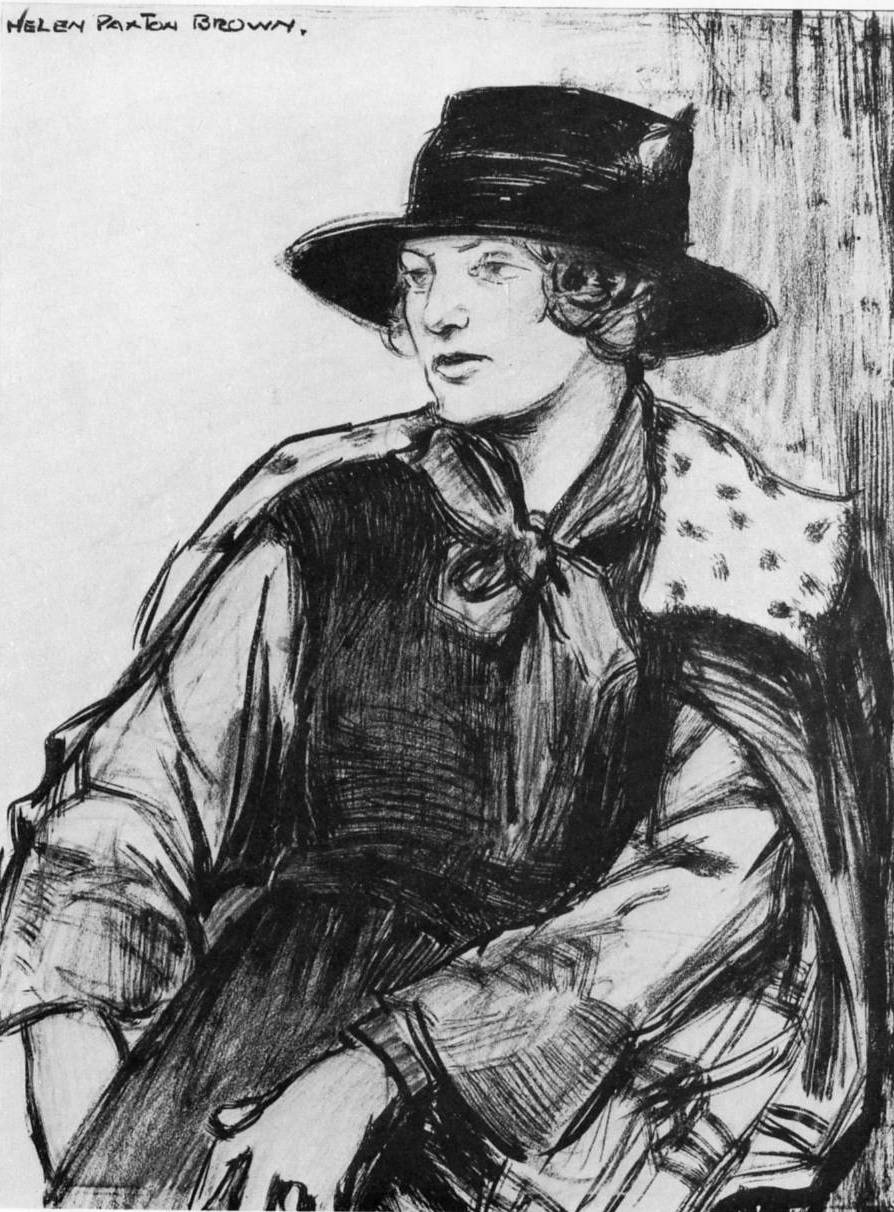 A photograph of King and portraits by her husband, E. A. Taylor, and by Helen Paxton Brown. [Click on these images for larger pictures.]
Jessie Marion King, the daughter of a minister, was born in Bearsden, near Glasgow. She entered the Glasgow School of Art as a full-time student in 1892, graduating with first class honours in 1902, the same year she won a fold medal at the International Exhibition of Decorative Art in Turin for a gold-tooled white vellum book cover. She taught book binding design at School of Art from 1900 and design for ceramic decoration during 1906-07. From the beginning her talent for drawing and distinctive style were apparent, with her early work created a fairy-tale feel with the use of dotted lines, often in black and white. A versatile artist, she designed costumes, gesso panels, wallpaper, fabrics, interiors, book illustration as well as enamel jewellery for Liberty & Company. She had a long career as a book illustrator, producing more than 80 titles, for some of which she wrote the texts as well as the illustrations.
She married the Glasgow Style designer E.A. Taylor in 1908, and in 1911 they moved to Paris where they opened an art school. At the outset of the World War I, the couple moved returned to Scotland, settling in Kirkudbright with her family where she dedicated much time to decorating pottery blanks for sale to tourists. King was recognised internationally, winning a number of awards and published regularly in The Studio. She appears to have enjoyed a long and successful career, perhaps due not only to her talent but also to her ability to adjust to the mood of the times.
Her work — in particular the painted pottery and books — appears at auction fairly regularly. Glasgow Museums holds over 200 items associated with her, of which 22 are on public display. — Colette Keaveny with Sally Burgess and Peter Nahum
Jewelry
Drawings and Illustrations
Book design including bindings
Textiles
Embroidery
Bibliography
Auld, A. "The Glasgow Style: 1890 – 1920." Glasgow Museums, Exhibition Catalogue (27 July – 7 October) . (1984).
Burkhauser, J. "Glasgow Girls - Women in Art and Design 1880 - 1920." Cannongate Press. Revised edition. (1993).
"Jessie M. King and E. A. Taylor: Illustrator and Designer. Sotheby's Sale of 21 June 1977 at the Charles Rennie Mackintosh Society. Glasgow." Auction Catalogue, Sotheby's Begravia . 169. (1977).
"Landscapes in pen and ink by Jessie M.King." The Studio. 36 (1906): 241-246.
"Seven happy days: A series of drawings by Jessie M. King." The Studio. 60 (1914): 193-208.
Watson, W.R. "Miss Jessie M. King and her work." The Studio. 26 (1902): 176-188.
White, Colin. "A guide to the printed work of Jessie M. King (1874-1949)." Canongate Books (1989).
White, Colin. "The Enchanted World of Jessie M. King." Oak Knoll Press (2007)
Wilhelm, M. "Jessie M. King, Glasgow." Deutsche Kunst und Dekoration . 19 (21906/07): 17-23.
---
Last modified 23 March 2018