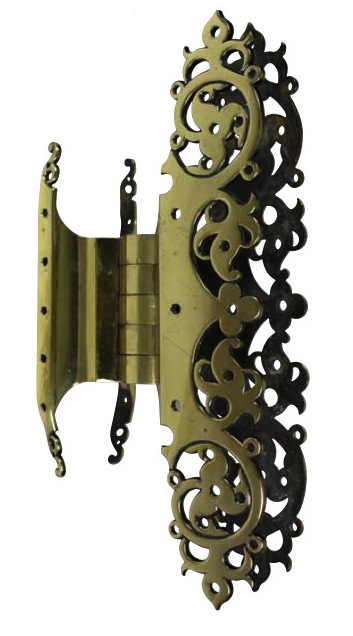 Hinges for the Palace of Westminster, designed by A. W. N. Pugin (1812-52), both in about 1845. The pair shown on the left are made of brass, and are 15" (39 cm) long and 6" (15 cm) wide. The single hinge shown on the right is made of bronze, and stamped J. James. It is 20" (51 cm) long and 13" (33 cm) wide. [Images and caption © copyright The Fine Art Society with Haslam & Whiteway Ltd. Click on both images for larger pictures.]
Michael Whiteway reminds us of that Pugin "designed the interiors of the New Palace of Westminster, including over 300 designs for furniture, and all the metalwork, tiles and wallpapers." He also reminds us of the "two great rules for design" advanced by Pugin in his True Principles of Pointed or Christian Architecture:
1. There should be no features about a building which are not necessary for convenience, construction, or propriety.
2. That all ornaments should consist of enrichment of the essential construction of the building.
These elegant, beautifully detailed hinges illustrate his philosophy well. When Henry Cole's Journal of Design reviewed Pugin and John Hardman's autumn 1849 exhibition of metalwork in Birmingham, the reviewer commented: "Scarcely any object, however humble its uses, seems to escape Mr. Pugin's vivifying hand: locks, keys, hinges, screw and nail-heads, knockers, latches, &c., all bear the impress of his individuality" — although, before going on to talk about Elkington, the reviewer slips in a protest against the view held, even then, by the "more zealous than well-informed of [Pugin's] admirers, that no air can possibly be melodious unless set in his key" (55). — Jacqueline Banerjee.
Related Material
References
"Exhibition of arts and manufactures, Birmingham." The Journal of Design and Manufactures (1850): 51-69. University of Wisconsin Digital Collections. Web. 25 May 2014.
Whiteway, Michael. A. W. N. Pugin 1812-1852: An Exhibition Catalogue. London: The Fine Art Society with Haslam & Whiteway Ltd., 7-23 December 2011.
The Fine Art Society, London, has most generously given its permission to use information, images, and text from its catalogues in the Victorian Web. This generosity has led to the creation of hundreds and hundreds of the site's most valuable documents on painting, drawing, sculpture, furniture, textiles, ceramics, glass, metalwork, and the people who created them. The copyright on text and images from their catalogues remains, of course, with the Fine Art Society.
---
Last modified 25 May 2014