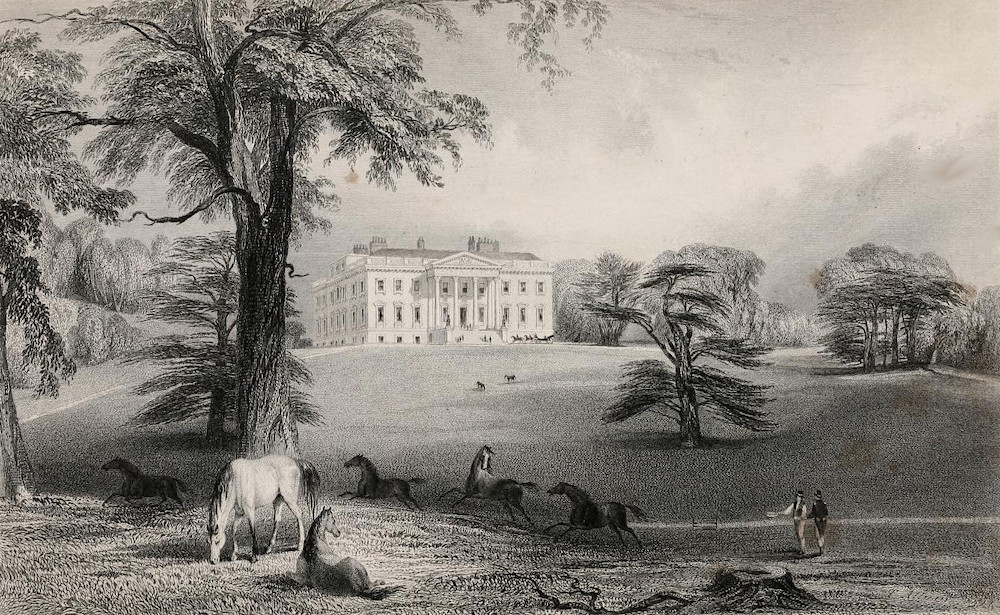 Claremont, illustrated by Thomas Allom (1804-1872), whose name is given below the illustration. The engraver was T(homas) A(biel) Prior (1809-1886). Source: Brayley and Mantell, facing p. 445. The house at Claremont, Esher, was originally a small box-like building designed for his own use by the dramatist Sir John Vanbrugh. When he sold the estate to his friend, the Earl of Clare and future Duke of Newcastle, in 1714, Vanbrugh enlarged it for him, and helped to landscape the grounds. This is when the house acquired its present name. But it was still not grand or convenient enough for its next owner — the wealthy Lord Clive. Clive had it rebuilt in 1771-79 by Lancelot "Capability" Brown, assisted by his partner Henry Holland and Holland's pupil, John Soane. This was when it became the dignified neo-classical house that we see today, with "massive and lofty Corinthian columns" (Kilvert 114), and views across the extensive, sweeping grounds that Allom depicts.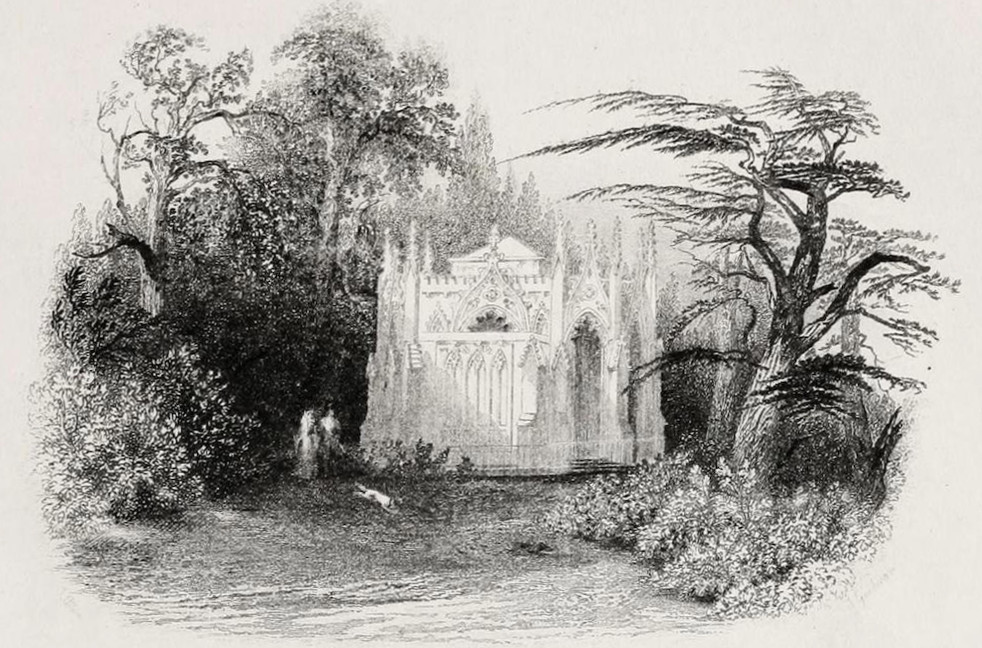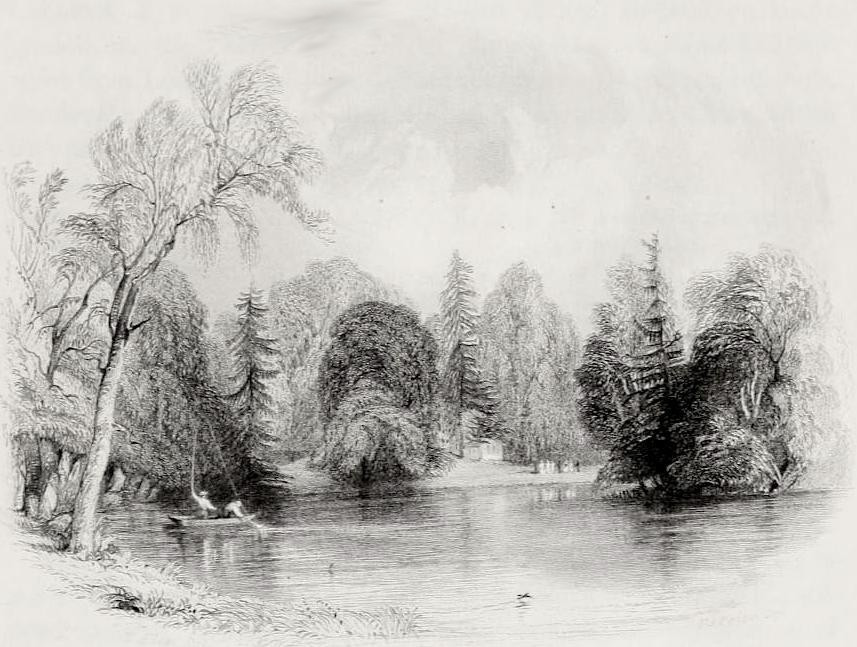 Two unsigned illustrations of the grounds of Claremont. They would either have been the work of Allom himself, or work carried out under his supervision. Left: Princess Charlotte's mausoleum (only the foundations remain now). Source: Brayley and Mantell 447. Right: The lake in Claremont Park. Source: Brayley and Mantell 449.
Lord Clive died before the rebuilding was fully completed, and in the early nineteenth century Claremont became a royal estate, first as the home of Queen Victoria's uncle Leopold, whose wife Charlotte, heir to the British throne, died in childbirth here in 1817. The young Princess Victoria often visited her widowed uncle, and played happily in his grounds, as her own children would do later, on family visits. After Leopold became King of the Belgians in 1831, Claremont was used (from 1848) as the home-in-exile of Louis Philippe, King of the French, and his family and retinue. Later in the Victorian period (from 1879), it was the home of Victoria's youngest son, Prince Leopold.
The main illustration nicely captures the effect of Claremont's honey-coloured brick in its lush, undulating green setting, punctuated by tall cedars. It was a paradise for horses, and Queen Victoria's one addition to the estate was a "handsome" stable block, as noted by the Reverend Kilvert on his visit in 1871 (110). On the other side of the house, Claremont's beautifully landscaped grounds still include an belvedere, ampitheatre and lake, with pleasant walks. Although hidden from the road by a long drive, the house stands close to the main London-Portsmouth Road. It is therefore in a prime position on the southern border of Esher, Surrey, easily accessible from both London and Windsor. After changing hands a few times, it is now an excellent private school, its grounds partly managed by the National Trust as "Claremont Landscape Gardens."
Text by Jacqueline Banerjee [You may use this image without prior permission for any scholarly or educational purpose as long as you (1) credit the Robarts Library, University of Toronto, and the Internet Archive and (2) link your document to this URL in a web document or cite it in a print one.]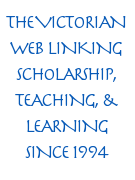 Related Material
Bibliography
Brayley, E. W., and Gideon Mantell. A Topical Hisotry of Surrey. Vol. 2. London: G. Willis, 1850. Internet Archive. Contributed by Robarts Library, University of Toronto. Web. 10 April 2020.
Chessum, Sophie, Kevin Rogers and Christopher Rowell. Claremont, Surrey. London: The National Trust, 2000 (see useful chronology at the end).
Kilvert's Diary (a selection). Ed. William Plomer. Harmondsworth: Penguin, 1977.
---
Created 11 April 2020