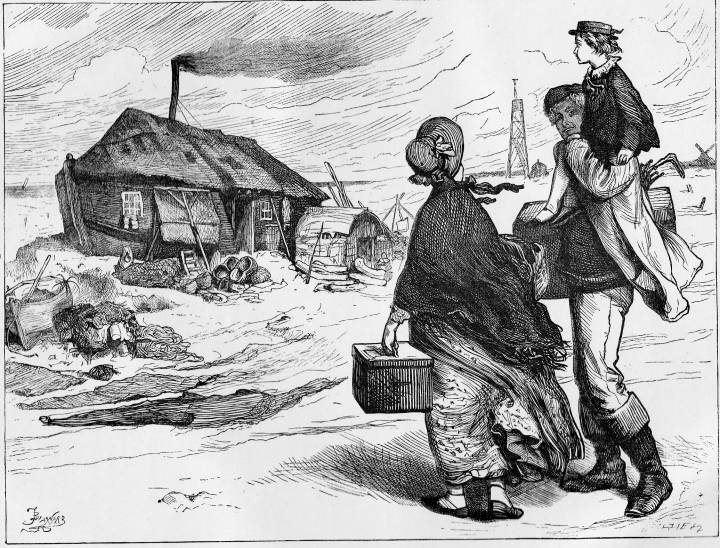 "That's not it?" said I, "that ship-looking thing?" "That's it, Mas'r Davy," returned Ham. (1872) Fourth illustration by Fred Barnard (engraved by the Dalziels) for the Household Edition of David Copperfield (Chapter III, "I Have a Change," facing p. 15). 13.1 x 17.3 cm (5 ⅛ by 6 ¾ inches) framed. [Click on the image to enlarge it.]
Passage Illustrated: David is not prepared for a houseboat
Phiz's 1850 title-page vignette for the volume is his clearest exterior view of the houseboat on the Yarmouth sands.
Ham carrying me on his back and a small box of ours under his arm, and Peggotty carrying another small box of ours, we turned down lanes bestrewn with bits of chips and little hillocks of sand, and went past gas-works, rope-walks, boat-builders' yards, shipwrights' yards, ship-breakers' yards, caulkers' yards, riggers' lofts, smiths' forges, and a great litter of such places, until we came out upon the dull waste I had already seen at a distance; when Ham said,
"Yon's our house, Mas'r Davy!"
I looked in all directions, as far as I could stare over the wilderness, and away at the sea, and away at the river, but no house could I make out. There was a black barge, or some other kind of superannuated boat, not far off, high and dry on the ground, with an iron funnel sticking out of it for a chimney and smoking very cosily; but nothing else in the way of a habitation that was visible to me.
"That's not it?" said I. "That ship-looking thing?"
"That's it, Mas'r Davy," returned Ham.
If it had been Aladdin's palace, roc's egg and all, I suppose I could not have been more charmed with the romantic idea of living in it. There was a delightful door cut in the side, and it was roofed in, and there were little windows in it; but the wonderful charm of it was, that it was a real boat which had no doubt been upon the water hundreds of times, and which had never been intended to be lived in, on dry land. That was the captivation of it to me. If it had ever been meant to be lived in, I might have thought it small, or inconvenient, or lonely; but never having been designed for any such use, it became a perfect abode. [Chapter III, "I Have a Change," 15]
Commentary: An Unconventional Home for an Unusual Family: Not Just "Local Colour"
Peggotty, Ham, and a tiny David now arrive at an upside-down boat of good proportions on the Yarmouth shore in Norfolk. In this fishing community seaport, about 110 miles northeast of London, Dan'l Peggotty and his dependents constitute an unconventional family living in rather odd circumstances in a boathouse. When Little David arrives here with his nurse, Clara Peggotty, for a two-week visit, he is shocked that the family do not live in a proper house with a garden rather than a patch of waste-ground strewn with fishing gear, as in Barnard's realisation. When he returns to Blunderstone, childhood as he knows it will have changed dramatically as his stepfather will rule the Rookery with an iron rod. David, however, is delighted with the "Ark" when the Peggottys assign him his own special room and he acquires a playmate close to his own age.
Barnard and Phiz interpret the Peggottys' boathouse as a useful symbol of the atypical nature of the family grouping. It does not conform to David's conventional middle class constructions of "the family" (two married parents, children, and perhaps an unmarried sister of the mother, as was the case with Mrs. Dickens's companion and helper Mary Hogarth). Although Dan'l Prggotty is clearly the father figure and chief provider, Mrs. Gummidge is not even a relative, let alone Dan'l's wife, and Ham and Emily are not his children. But this unconventional family offers emotional and psychological comfort to its members, and to their young visitor from the upper middle class.
Other Illustrators' Depictions of David's Visits to the Peggottys (1849 to 1910)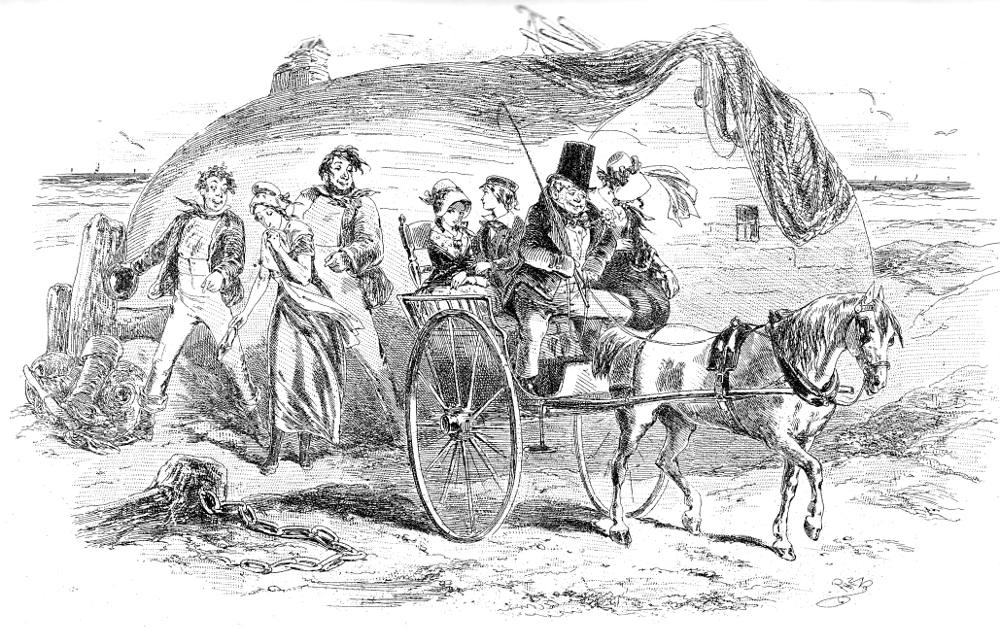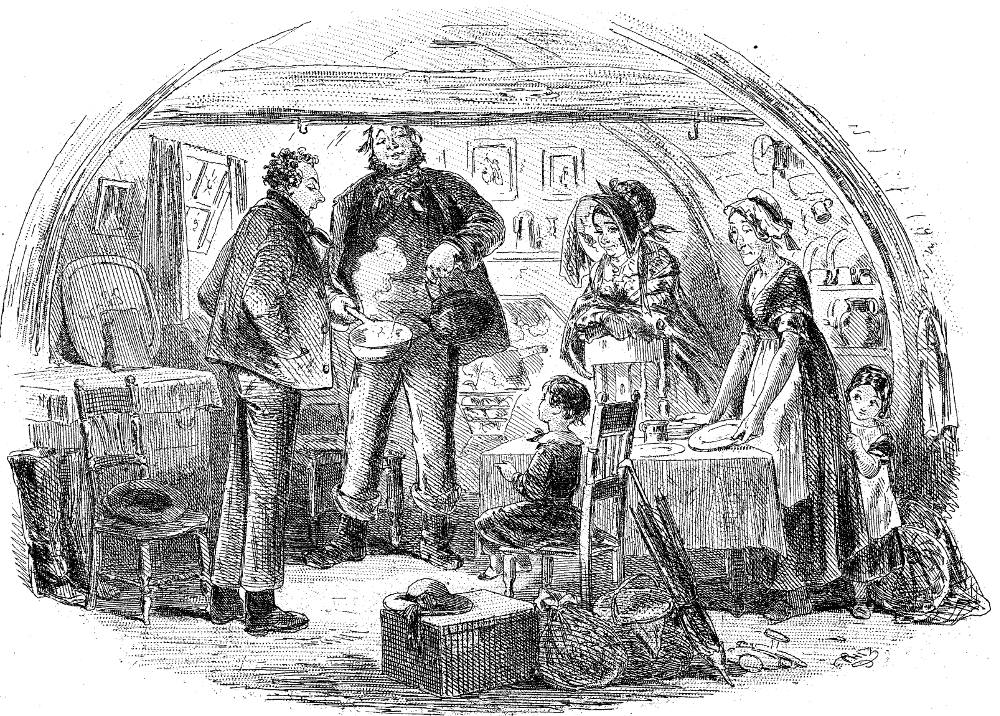 Left: Phiz's August 1849 illustration Mrs. Gummidge casts a Damp on our Departure offers a view of the houseboat that is inconsistent with the size of the interior I am hospitably received by Mr. Peggotty (May 1849), the initial depiction view of the houseboat on the Yarmouth sands in the serial. Right: Phiz's original illustration of David with Little Em'ly at the Peggottys' fireside: I am hospitably received by Mr. Peggotty (May 1849).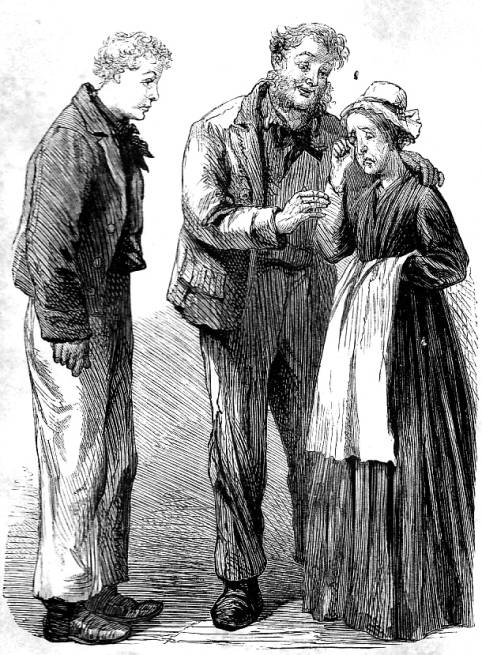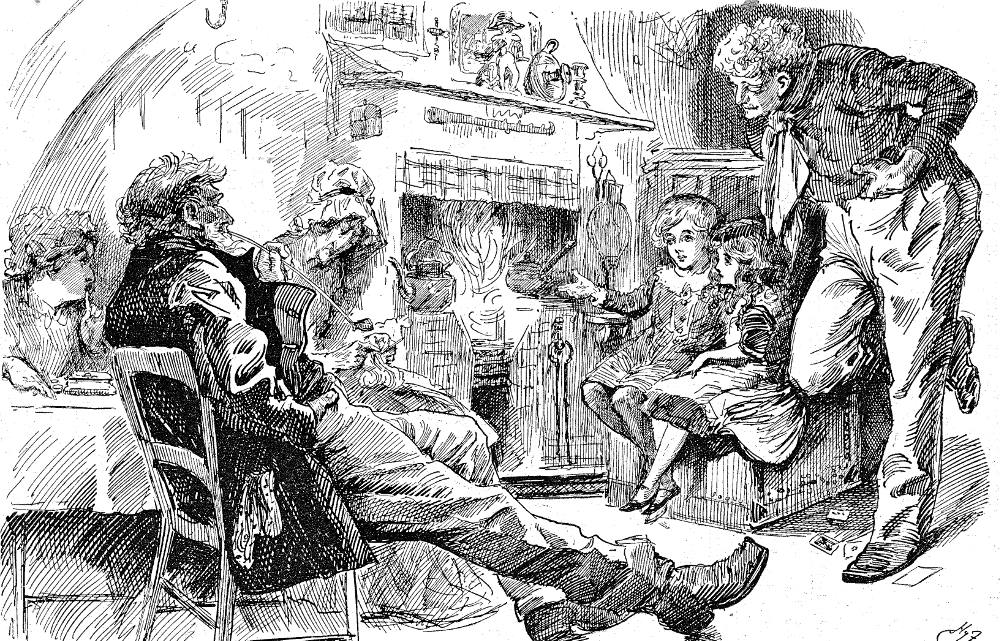 Left: Sol Eytinge, Junior's portrait of the Peggottys: Mr. Peggotty, Ham, and Mrs. Gummidge (Diamond Edition, 1867). Right: Harry Furniss's version of the family aboard the houseboat: Little David in the Peggotty Household (Charles Dickens Library Edition, 1910).
Related Material
Scanned image and text by Philip V. Allingham. [You may use this image without prior permission for any scholarly or educational purpose as long as you (1) credit the person who scanned the image and (2) link your document to this URL in a web document or cite the Victorian Web in a print one.]
Bibliography
Dickens, Charles. The Personal History of David Copperfield, illustrated by Hablot Knight Browne ("Phiz"). The Centenary Edition. London & New York: Chapman & Hall, Charles Scribner's Sons, 1911 [rpt. from 1850]. 2 vols.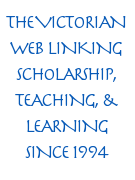 _______. The Personal History of David Copperfield. Illustrated by Sol Eytinge, Jr. The Diamond Edition. Boston: Ticknor & Fields, 1867. Vol. V.
_______. The Personal History of David Copperfield, with 61 illustrations by Fred Barnard. Household Edition. London: Chapman and Hall, 1872. Vol. III.
_______. David Copperfield. Illustrated by W. H. C. Groome. London and Glasgow: Collins Clear-type Press, 1907. No. 1.
_______. The Personal History and Experience of David Copperfield, with 29 illustrations by Harry Furniss. The Charles Dickens Library Edition. London: Educational Book Company, 1910. Vol. X.
The copy of the Household Edition from which this picture was scanned was the gift of George Gorniak, Editor of The Dickens Magazine, whose subject for the fifth series, beginning in January 2010, is this novel.
---
Created 17 August 2016 Last modified 9 July 2022