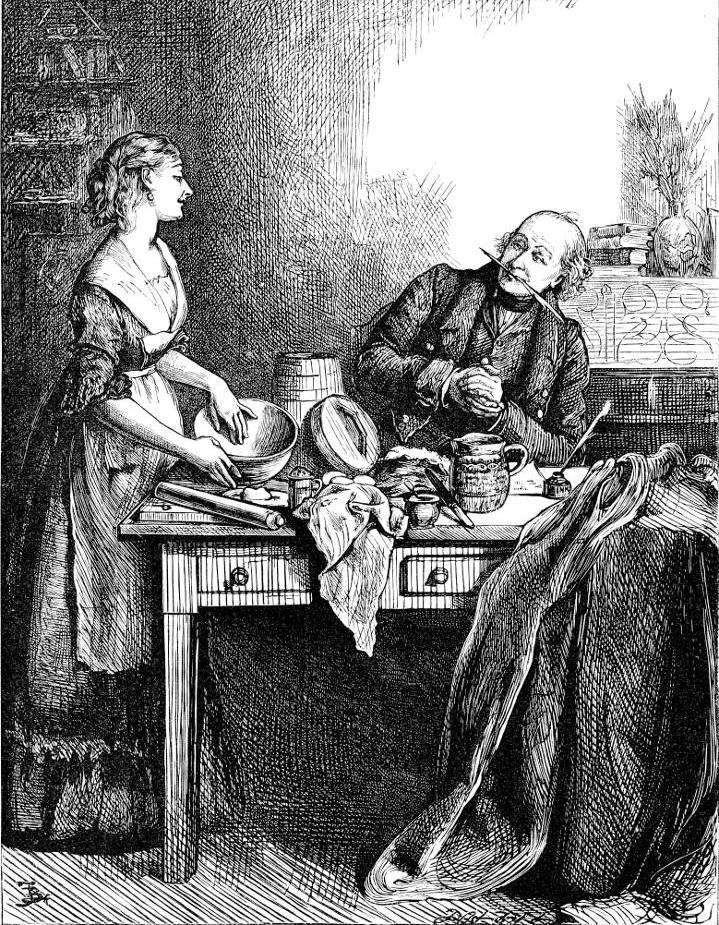 "I am going to begin, Tom. Don't you wonder why I butter the inside of the basin?"
Fred Barnard
1872
16.5 cm high x 12.7cm wide, framed.
composite wood-block engraving
Frontispiece, "I am going to begin, Tom. Don't you wonder why I butter the inside of the basin?" said his busy little sister, "Eh, Tom?" in Dickens's Martin Chuzzlewit, the second volume of the Household Edition.
Scanned image and text by Philip V. Allingham.
[You may use these images without prior permission for any scholarly or educational purpose as long as you (1) credit the photographer and (2) link your document to this URL in a web document or cite the Victorian Web in a print one.]
Passage Illustrated
"You will call it a pudding, Tom. Mind! I told you not!"
"I may as well call it that, till it proves to be something else," said Tom. "Oh, you are going to work in earnest, are you?"
Aye, aye! That she was. And in such pleasant earnest, moreover, that Tom's attention wandered from his writing every moment. First, she tripped down-stairs into the kitchen for the flour, then for the pie-board, then for the eggs, then for the butter, then for a jug of water, then for the rolling-pin, then for a pudding-basin, then for the pepper, then for the salt; making a separate journey for everything, and laughing every time she started off afresh. When all the materials were collected she was horrified to find she had no apron on, and so ran up-stairs by way of variety, to fetch it. She didn't put it on up-stairs, but came dancing down with it in her hand; and being one of those little women to whom an apron is a most becoming little vanity, it took an immense time to arrange; having to be carefully smoothed down beneath — oh, heaven, what a wicked little stomacher! and to be gathered up into little plaits by the strings before it could be tied, and to be tapped, rebuked, and wheedled, at the pockets, before it would set right, which at last it did, and when it did — but never mind; this is a sober chronicle. And then, there were her cuffs to be tucked up, for fear of flour; and she had a little ring to pull off her finger, which wouldn't come off (foolish little ring!); and during the whole of these preparations she looked demurely every now and then at Tom, from under her dark eyelashes, as if they were all a part of the pudding and indispensable to its composition.
"For the life and soul of him Tom could get no further in his writing than, "A respectable young man, aged thirty-five," and this, notwithstanding the show she made of being supernaturally quiet, and going about on tiptoe, lest she should disturb him: which only served as an additional means of distracting his attention, and keeping it upon her.
"Tom," she said at last, in high glee. "Tom!"
"What now?" said Tom, repeating to himself, "aged thirty-five!"
"Will you look here a moment, please?"
"As if he hadn't been looking all the time!
"I am going to begin, Tom. Don't you wonder why I butter the inside of the basin?' said his busy little sister.
"Not more than you do, I dare say," replied Tom, laughing. "For I believe you don't know anything about it."
"What an Infidel you are, Tom! How else do you think it would turn out easily when it was done! For a civil-engineer and land-surveyor not to know that! My goodness, Tom!"
It was wholly out of the question to try to write. Tom lined out "respectable young man, aged thirty-five;' and sat looking on, pen in hand, with one of the most loving smiles imaginable.
Such a busy little woman as she was! So full of self-importance and trying so hard not to smile, or seem uncertain about anything! It was a perfect treat to Tom to see her with her brows knit, and her rosy lips pursed up, kneading away at the crust, rolling it out, cutting it up into strips, lining the basin with it, shaving it off fine round the rim, chopping up the steak into small pieces, raining down pepper and salt upon them, packing them into the basin, pouring in cold water for gravy, and never venturing to steal a look in his direction, lest her gravity should be disturbed; until, at last, the basin being quite full and only wanting the top crust, she clapped her hands all covered with paste and flour, at Tom, and burst out heartily into such a charming little laugh of triumph, that the pudding need have had no other seasoning to commend it to the taste of any reasonable man on earth.
"Where's the pudding?" said Tom. For he was cutting his jokes, Tom was.
"Where!" she answered, holding it up with both hands. "Look at it!"
"That a pudding!" said Tom.
"It will be, you stupid fellow, when it's covered in," returned his sister. Tom still pretending to look incredulous, she gave him a tap on the head with the rolling-pin, and still laughing merrily, had returned to the composition of the top crust, when she started and turned very red. Tom started, too, for following her eyes, he saw John Westlock in the room. — Chapter 39, "Containing some further particulars of the domestic economy of the Pinches; with strange news from the city, narrowly concerning Tom," p. 305-306.
Commentary
The relationship between doting Tom and domesticated, charming, diminutive Ruth, a governess suddenly without employment, is a Dickensian idyll, for the pair are unremittingly happy once Tom is hired to organize a private library in The Temple. The task of the realist illustrator was challenging: Barnard had to make Tom's "Pleasant little Ruth! Cheerful, tidy, bustling, quiet little Ruth" (Chapter 39, p. 303) believable in light of the New Woman, and yet consistent with the 1843-44 images of her by Phiz (Hablot Knight Browne), Dickens's original illustrator. In contrast to Barnard's sentimental-comic choice for this chapter, Phiz and Dickens had elected to depict the scene in which the lawyer, Mr. Fipps, shows Tom his Herculean task, Mysterious Installation of Mr. Pinch (March 1844) and the interruption of the brother and sister engaged simultaneously in cookery and self-promotion for employment, Mr. Pinch and Ruth Unconscious of a Visitor (also Chapter 39, March 1844).
References
Dickens, Charles. The Dickens Souvenir Book. Household Edition. London: Chapman and Hall, 1871-1880. The copy of The Dickens Souvenir Book from which these pictures were scanned is in the collection of the Main Library of The University of British Columbia, Vancouver, B. C.
_____. Life and Adventures of Martin Chuzzlewit. Illustrated by Fred Barnard. Household Edition. 22 vols. London: Chapman and Hall, 1872. Vol. 2.
_____. Life and Adventures of Martin Chuzzlewit. Illustrated Sterling Edition. Illustrated by Hablot K. Browne and Frederick Barnard. Boston: Dana Estes, n. d. [1890s]
---

Victorian
Web

Visual
Arts

Martin
Chuzzlewit

Fred
Barnard

Next
Last modified 6 July 2016