Suffering him to clasp her round the waist, as they moved slowly down the dim wooden gallery — Fred Barbard's illustration for Dickens's The Cricket on the Hearth in Christmas Books, p. 104. Engraved by one of the Dalziels, and signed "FB" lower right. [Click on the image to enlarge it.]
Barnard's crucial illustration in "Chirp the Second" of A Cricket on the Hearth shows the youthful and blithe couple observed by Tackleton and Peerybingle (left rear). Dot and Edward Plummer are innocently discussing May's forthcoming marriage to Tackleton. However, the mischief-making toymaker attempts to make John believe that the reappearance of the handsome youth — disguised as an elderly traveller — has rekindled an old flame for John's much younger wife.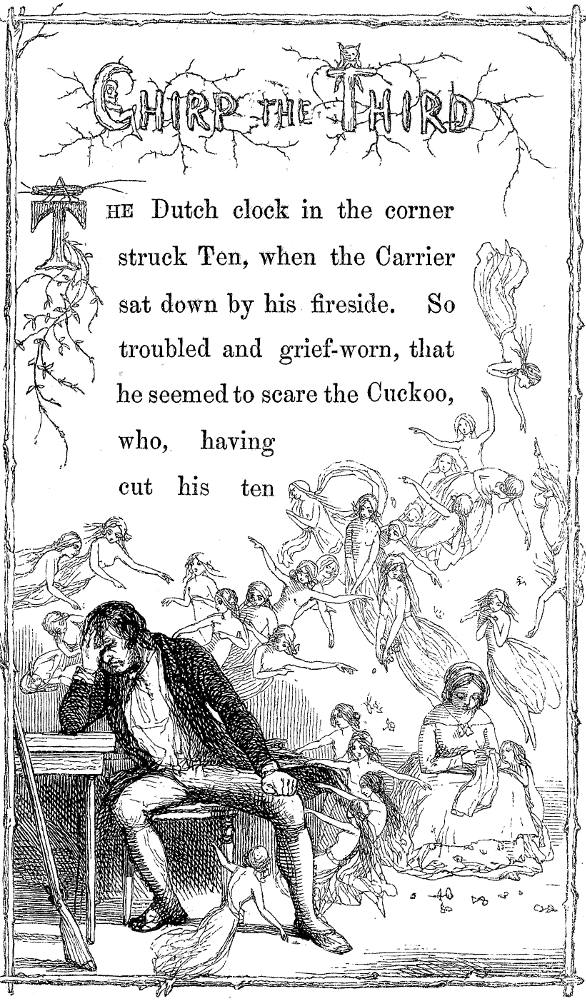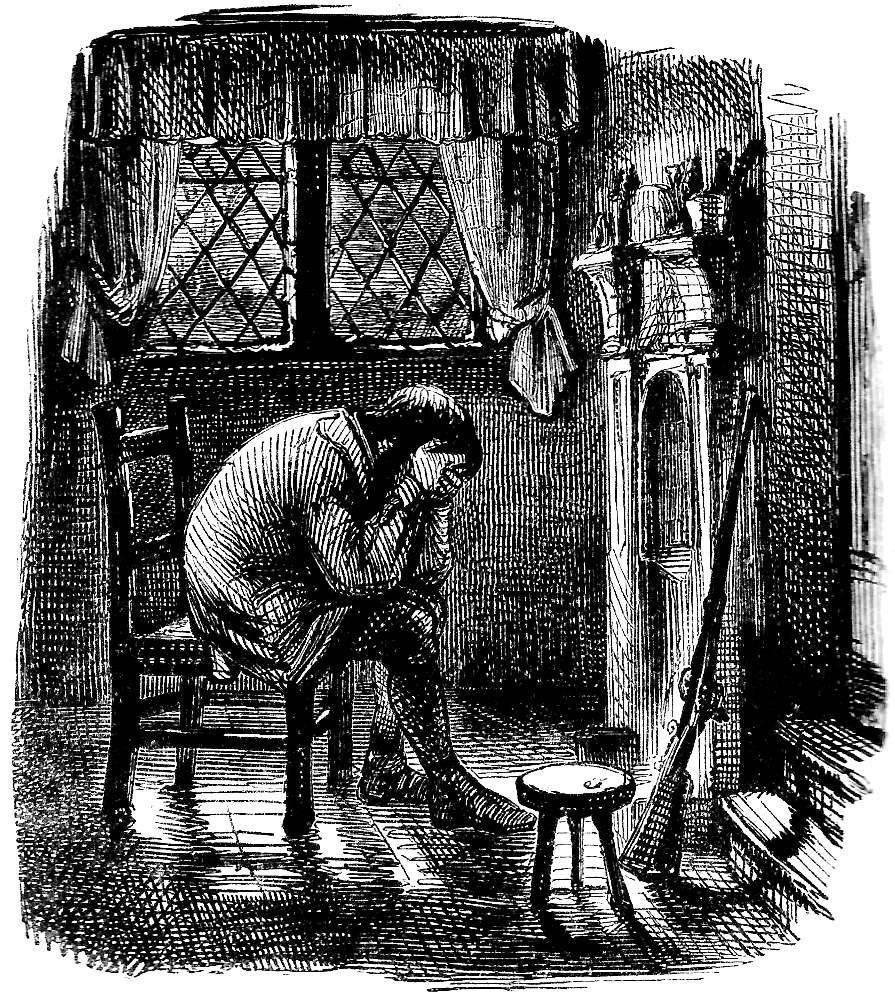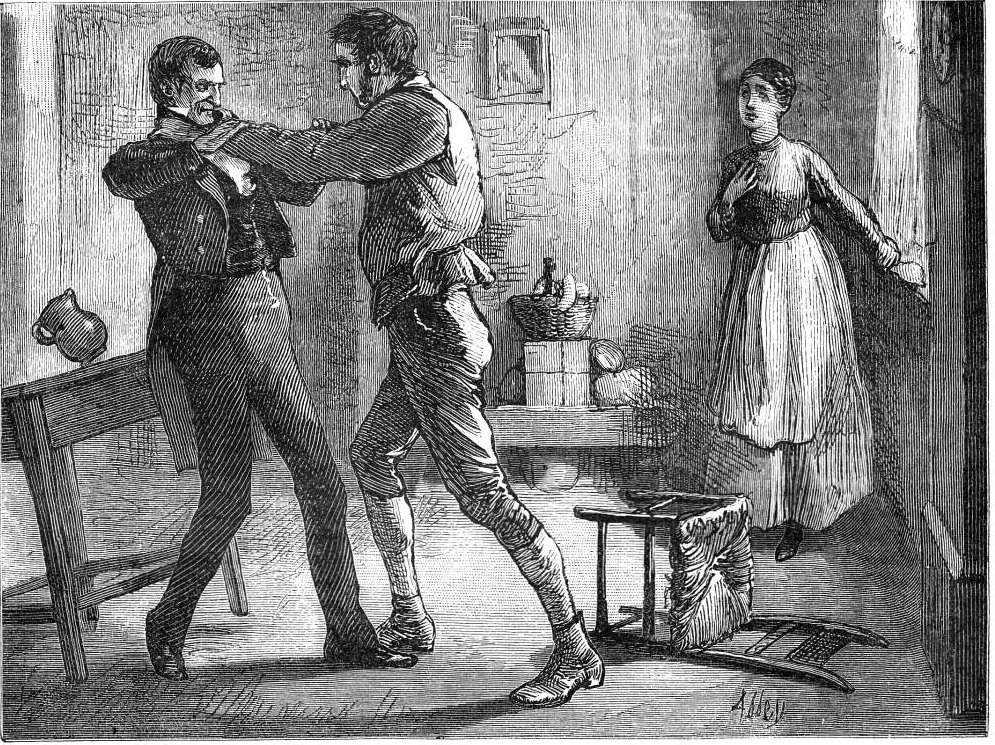 Three illustrations of John Peerybingle's moral and emotional conflict: Left: Richard Doyle's "Chirp the Third". Centre: John Leech's "John's Reverie". Right: E. A. Abbey's "'Listen to me!' he said. 'And take care you hear me right'".
Barnard's illustration of putative adultery and the husband's reaction complemented in plates by Richard Doyle, John Leech, and E. A. Abbey.
The Barnard and Abbey Household Edition illustrations reify the central issue of The Cricket on the Hearth: in a confusion typical of domestic melodrama, is John Peerybingle's misinterpretation of this scene in the "ware-room" or storeroom of Tackleton's toy manufactory about to result in the husband's murdering his young wife and her putative lover? The shotgun posed near John in Doyle's and Leech's illustrations suggest the possibility of violent action. Seeing his wife with a handsome youth, the supposed elderly stranger to whom he earlier gave a ride in his carrier's van, John incorrectly concludes that his wife is guilty of adultery. Acting the role of Satanic tempter, the misanthropic Tackleton seems to feel that showing John such a sight will prompt him to violence, but John surprises him by refusing to exact vengeance. In Abbey's rather more dramatic scene, John vents his anger and frustration on Tackleton himself. In contrast, the illustrators of the 1845 edition showed the consequences of this disclosure scene, for Doyle shows an anguished husband wrestling emotionally before the hearth with his feelings of rejection and betrayal. The textual passage which Barnard is realising here is this:
"Hush! John Peerybingle," said Tackleton. "I am sorry for this. I am indeed. I have been afraid of it. I have suspected it from the first."
"What is it?" asked the Carrier, with a frightened aspect.
"Hush! I'll show you, if you'll come with me."
The Carrier accompanied him, without another word. They went across a yard, where the stars were shining, and by a little side-door, into Tackleton's own counting-house, where there was a glass window, commanding the ware-room, which was closed for the night. There was no light in the counting-house itself, but there were lamps in the long narrow ware-room; and consequently the window was bright.
"A moment!" said Tackleton. "Can you bear to look through that window, do you think?"
"Why not?" returned the Carrier.
"A moment more," said Tackleton. 'Don't commit any violence. It's of no use. It's dangerous too. You're a strong-made man; and you might do murder before you know it."
The Carrier looked him in the face, and recoiled a step as if he had been struck. In one stride he was at the window, and he saw — —
Oh, Shadow on the Hearth! Oh, truthful Cricket! Oh, perfidious Wife!
He saw her, with the old man — old no longer, but erect and gallant — bearing in his hand the false white hair that had won his way into their desolate and miserable home. He saw her listening to him, as he bent his head to whisper in her ear; and suffering him to clasp her round the waist, as they moved slowly down the dim wooden gallery towards the door by which they had entered it. He saw them stop, and saw her turn — to have the face, the face he loved so, so presented to his view! — and saw her, with her own hands, adjust the lie upon his head, laughing, as she did it, at his unsuspicious nature!
He clenched his strong right hand at first, as if it would have beaten down a lion. But opening it immediately again, he spread it out before the eyes of Tackleton (for he was tender of her, even then), and so, as they passed out, fell down upon a desk, and was as weak as any infant. [British Household Edition, "Chirp the Second," p. 102]
The Leech illustration, somewhat less refined than Doyle's version of John's internal conflict, specifically situates the husband's contemplation of a barren future before the familial hearth, now shrunken from its previous proportions. Leech may be implying that John's doubting his younger wife's fidelity has diminished the hearth as a symbol of the power of the domestic ideal to which the middle-aged carrier has heretofore subscribed unquestioningly. The fireplace offers neither heat nor light, reflecting John's own bleak assessment of his family's solidarity. Leech, as in "The Dance", has dressed John in a smockfrock, indicative of his rural and working class origins and occupation, rather than in the middle-class garb of the same character in Doyle's "Chirp the Third." The conspicuous stool, highlighted by moonlight and positioned by John's right foot and immediately in front of his shotgun, sits empty, a reminder of the intimate relationship he previously enjoyed with the diminutive Dot.
Whereas Dickens's original illustrators emphasized the supernatural dimension of the story by surrounding the characters with goblin or fairy presences, as in Doyle's "Chirp the Third" (in which the carrier's agony is reflected by the agitation of the fairies above him and to the right), Barnard (with this exception of his fairy cricket title-page vignette) and Abbey eschew the supernatural altogether. And, indeed, both Household Edition illustrators seem to have felt that the challenge to John Peerybingle's peace of mind posed by his wife's supposed infidelity was important enough to be underscored by a pertinent illustration. Since Dickens supplies no details about the contents of "the long narrow ware-room" (102), Barnard has supplied such toys as Dickens has mentioned that Bertha and her father produce: four rockinghorses (left), a yacht, and a substantial dolls' house (right). Although Dot wears the same cap and gown as in "John Peerybingle's Fireside", Barnard has dressed Edward (wig in hand) in an elegant Regency costume that is inconsistent with what one would expect an elderly traveller to be wearing — although, indeed, Dickens's description of the old man's clothing (including "gaiters" [83], and "His garb was very quaint and odd — a long, long way behind the time") hardly suggests the costume that Barnard has given Edward in this scene.
Scanned image and text by Philip V. Allingham. Formatting, color correction, and linking by George P. Landow. [You may use these images without prior permission for any scholarly or educational purpose as long as you (1) credit the person who scanned the image, and (2) link your document to this URL in a web document or cite the Victorian Web in a print one.]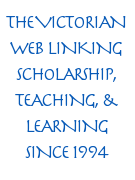 References
Cohen, Jane Rabb. Charles Dickens and his Original Illustrators. Columbus: University of Ohio Press, 1980.
Cook, James. Bibliography of the Writings of Dickens. London: Frank Kerslake, 1879. As given in Publishers' Circular The English Catalogue of Books.
Dickens, Charles. The Cricket on the Hearth. Christmas Stories. Il. E. A. Abbey. The Household Edition. New York: Harper and Brothers, 1876.
Dickens, Charles. The Cricket on the Hearth. Christmas Books. Il. Fred Barnard. The Household Edition. London: Chapman and Hall, 1878.
Dickens, Charles. The Cricket on the Hearth. Il. John Leech, Richard Doyle, Daniel Maclise, Clarkson Stanfield, and Edwin Landseer. London: Bradbury and Evans, 1845.
Hammerton, J. A. The Dickens Picture-Book. London: Educational Book, 1912.
Kitton, Frederic G. Dickens and His Illustrators. 1899. Rpt. Honolulu: U. Press of the Pacific, 2004.
Parker, David. "Christmas Books and Stories, 1844 to 1854." Christmas and Charles Dickens. New York: AMS Press, 2005. Pp. 221-282.
Patten, Robert L. Charles Dickens and His Publishers. University of California at Santa Cruz. The Dickens Project, 1991. rpt. from Oxford U. p., 1978.
Slater, Michael. "Introduction to The Cricket on the Hearth." Dickens's Christmas Books. Harmondsworth, Middlesex: Penguin, 1971. Rpt., 1978. Vol. 2: 9-12.
Slater, Michael. "Notes to The Cricket on the Hearth." Dickens's Christmas Books. Harmondsworth, Middlesex: Penguin, 1971. Rpt., 1978. Vol. 2: 363-364.
Solberg, Sarah A. "'Text Dropped into the Woodcuts': Dickens' Christmas Books." Dickens Studies Annual 8 (1980): 103-118.
Thomas, Deborah A. Dickens and The Short Story. Philadelphia: U. Pennsylvania Press, 1982.
---
Last modified 2 August 2012